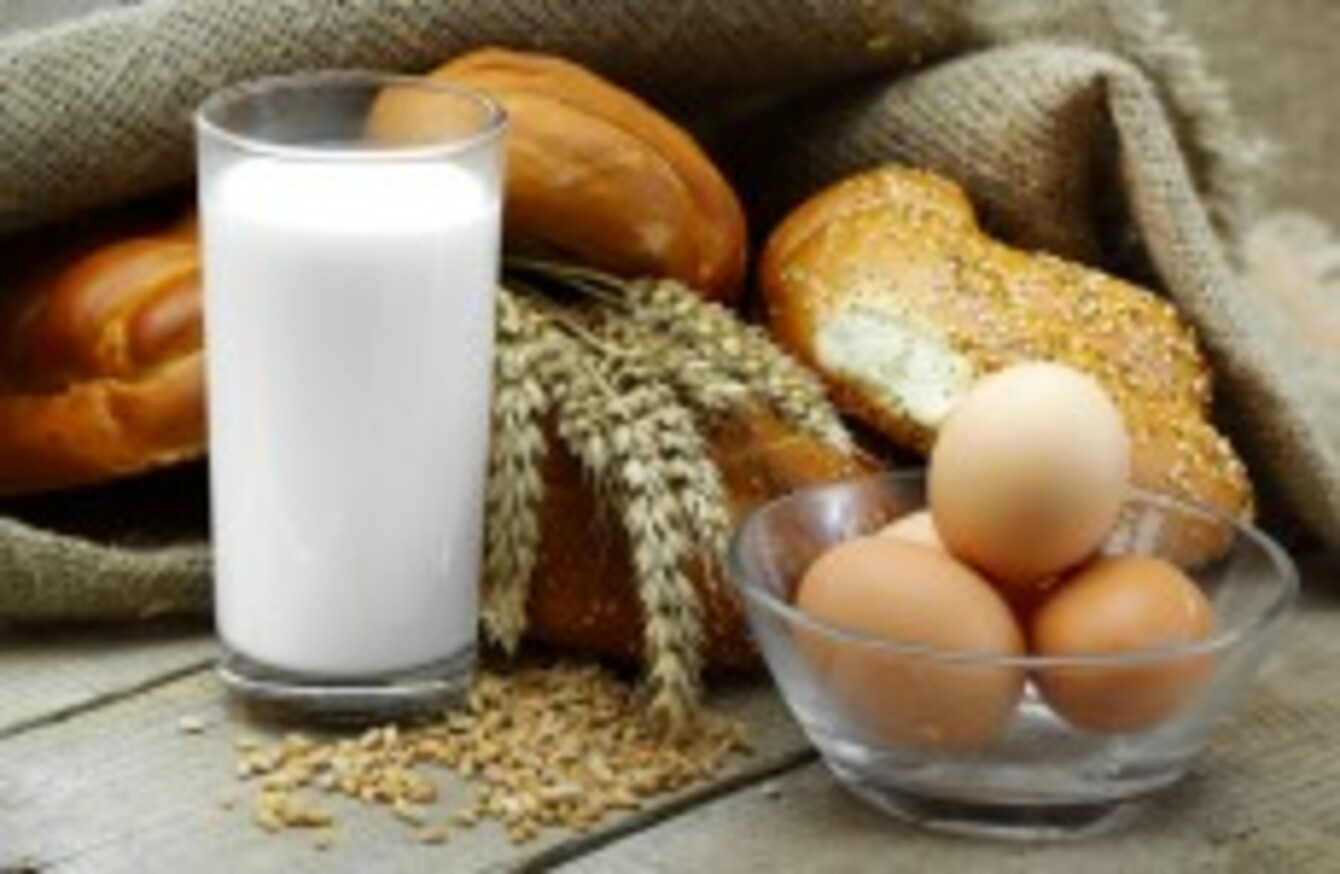 John Halligan wants basic foods like milk, bread and eggs to be subject to a price format.
John Halligan wants basic foods like milk, bread and eggs to be subject to a price format.
AN INDEPENDENT TD has urged the government to start negotiations with the country's main grocery chains to encourage a price freeze on basic foodstuffs for two years.
John Halligan said the cost of essential items had risen by up to 30 per cent in the last few years, and that almost all household products now cost considerably more than they have cost during the economic boom.
"The profits they are extracting from the country are colossal," Halligan told the Dáil this morning. "Isn't it time they gave something back?"
Halligan said the current communications minister Pat Rabbitte had been able to secure a prize freeze on alcohol in the 1990s, and asked Tánaiste Eamon Gilmore if similar tactics could now be used to ask the major retail chains to freeze prices for two years.
He asked prices for 19 basic items – like bread, milk, butter and baby food – to be among those frozen.
Tánaiste Eamon Gilmore said the CSO figures for inflation – which said the cost of living was now 1.6 per cent higher than last year – incorporated over 50,000 prices, and said the government preferred to tackle profiteering or price matching by recruiting new staff for the Competition Authority.
"I've no doubt in my minds that we're in the midst of a nutritional recession," Halligan insisted, pointing out that those who were suffering food deprivation were among those feeling the cuts while supermarket chains "increase profits year after year after year".
"Will you consider bringing in the Tescos, the Aldis, the Lidls… they're still going to be making astronomical profits. We should be asking them to make their contribution," the Waterford deputy said.
Gilmore said the government's commitment was to legislate for increased power to deal with anti-competitive behaviour and that this would have the effect of stopping informal price-matching in the retail sector so that chains became more competitive.
"The message should be very clear to them, [and] to their pricing policy," Gilmore said. "I would expect that they would act accordingly."
What do you make of Halligan's idea? Let us know in the comments.