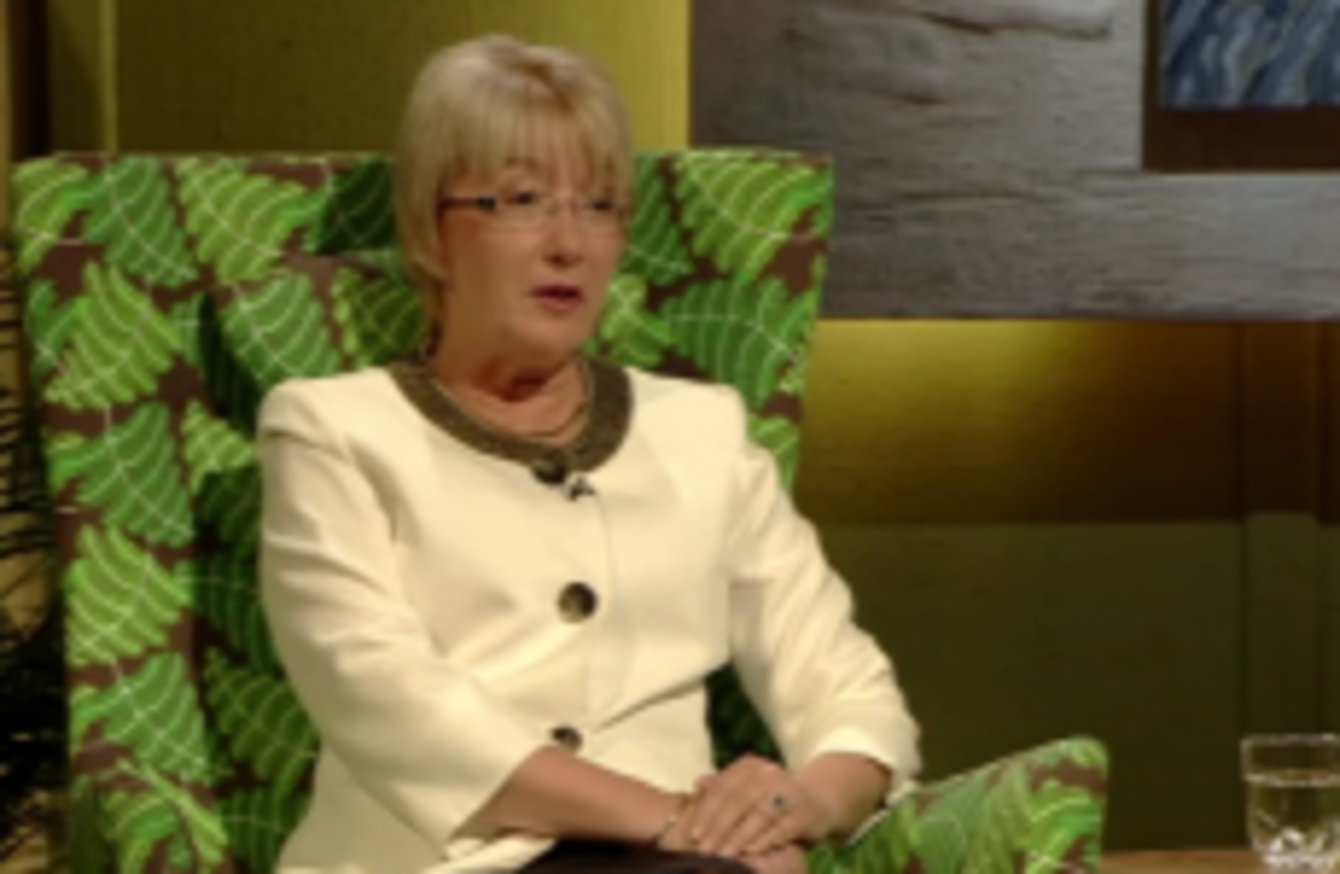 Image: Comhrá via TG4
Image: Comhrá via TG4
FORMER FIANNA FÁIL Minister Mary Hanafin has said she would like to run in the next general election but she is not sure if people would vote for her.
In an interview with TG4′s Comhrá, Hanafin said she thinks an election will be held before 2016, mainly because of the cold weather.
She said she believes the government will continue until September or October 2015 but added it was unlikely that another election would be held in the middle of winter because "it was so cold last time".
The former minister, who lost her seat in Dún Laoghaire to Richard Boyd Barrett in the last general election, said she would "love to stand for election again" but was not sure about how successful she would be.
I'd love to win but I don't know if people will vote for me.
Hanafin has also been mentioned as a possible Fianna Fáil candidate in Dublin for the European elections but that was not raised in the interview.
"We did a lot of things right"
Commenting on the public's attitude towards her since leaving office, she said that while people had expressed gratitude for the work she did, particularly as Minister for Education, she understood that "people don't have much time for politicians".
Although she asserted there were "several reasons" she had lost her seat in Dún Laoghaire, she said the "biggest reason was that people were fed up with Fianna Fáil".
We did a lot of things right, but we did a lot of things wrong too and that's affecting people. There are people who have lost their jobs, their money and there are families whose children have had to emigrate.
Hanafin said there was a consensus at the end that the coalition was "the Titanic".
It was very difficult towards the end undoubtedly. Trust had been broken, not only between the government and the people, but between the government itself – between the two parties. It's hard to get work done when that happens.
It's very difficult to work with the Greens
Speaking about working with the Green Party as coalition partners, she said she does not believe it is a political party.
"The party comprises different groups with diverse interests in the environment, nature, farming and so on," she commented.
"However it is not a political party. So it's very difficult to work with them. I thought the same when I was in government with them too."
#Open journalism No news is bad news Support The Journal

Your contributions will help us continue to deliver the stories that are important to you

Support us now
Separately, her party leader Micheál Martin did not rule out Hanafin being the Fianna Fáil candidate when speaking to the media at Leinster House yesterday.
He said that "anyone can go forward" for the candidacy and that the current names linked to running for the Dublin seat make up an "interesting mix".
Others linked to the Dublin nomination include senator Averil Power while gay rights campaigner Tiernan Brady and former senator Geraldine Feeney have said they will also seek the party's nomination.
-  additional reporting from Hugh O'Connell
Comhrá's full interview with Hanafin, which features snippets about her childhood, her late husband and more about her political life, can be viewed this evening on TG4 at 7.30pm.