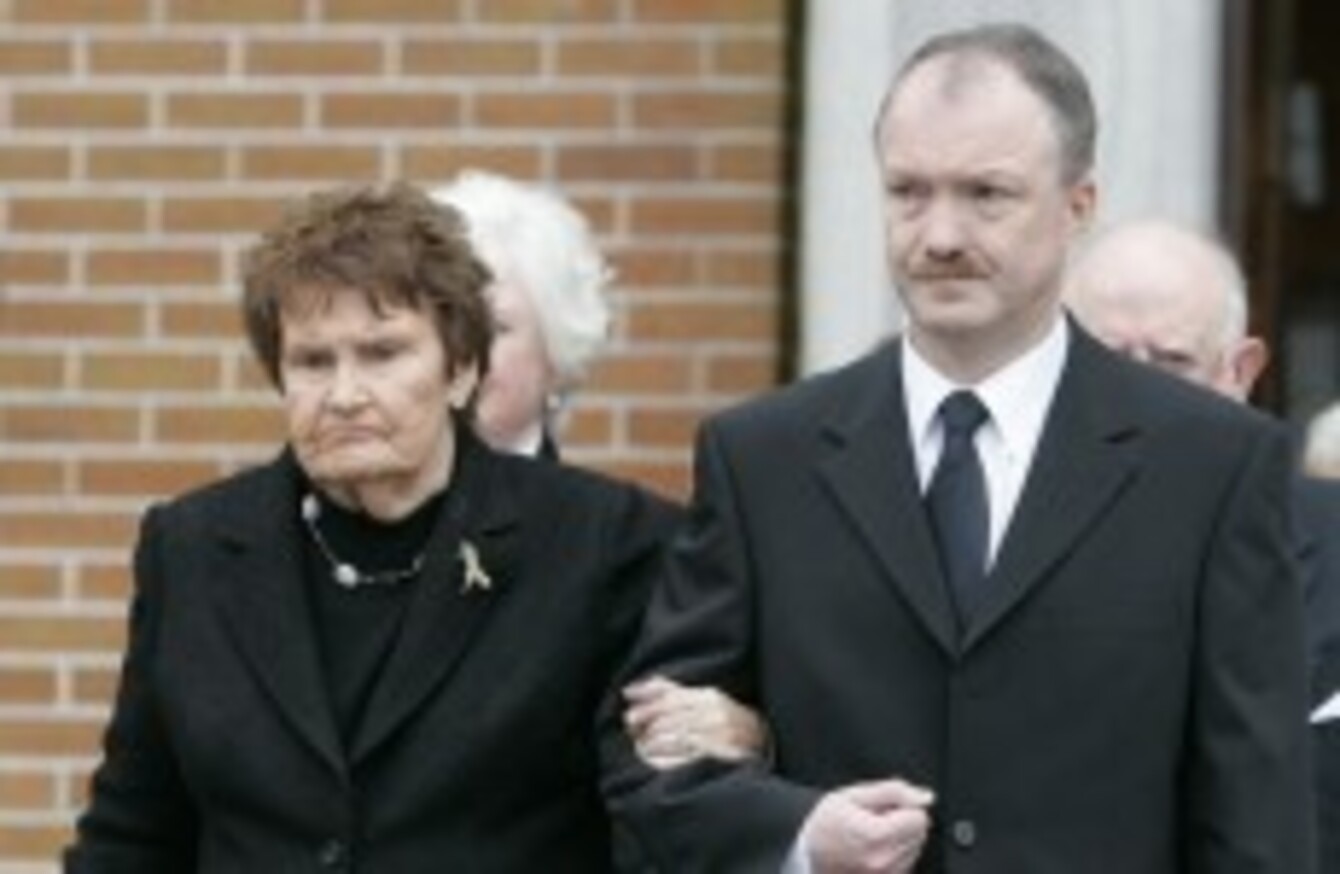 Sean Haughey with his mother Maureen at the funeral of John Mulhearn in 2010.
Image: Eamonn Farrell/Photocall Ireland
Sean Haughey with his mother Maureen at the funeral of John Mulhearn in 2010.
Image: Eamonn Farrell/Photocall Ireland
Updated at 2.50pm
CHARLES HAUGHEY'S WIDOW "wasn't ecstatic" about how her late husband was depicted in RTÉ's recent drama about former Taoiseach, Sean Haughey has said.
The late Fianna Fáíl leader's son — who himself is a former junior minister and now sits on Dublin City Council — was speaking to Joe Duffy's Liveline programme this afternoon.
The family were, initially, "horrified" by the drama, he said.
It's the first time a member of the Haughey family has spoken publicly about the drama — although he did issue this Tweet in the wake of last Sunday's finale…
Asked whether Maureen Haughey, who's now aged 89, had watched it, he told Duffy:
She did. She's a divil for punishment. She always reads everything that's ever written about him, so she watched the three episodes alright with my sister Emer.
The whole family had been "dreading" the broadcast, he said.
"The main thing we were dreading was that it would give rise to a new round of debate and people arguing for and against the Charles Haughey legacy."
He said the family were shocked by the first episode of the drama, and noted that the drama had been "hyped up" for months in advance.
"The main shock was the prominence given to Terrry Keane, and the pillow talk scenes and so forth. I think that was quite explicit so I think that was quite a shock alright."
His mother would have ignored any advice not to watch the drama, Haughey said.
She felt she ought to view it "in case there was something that needed to be contradicted".
"As the series went on I thought it wasn't too bad, particularly the last episode. But I don't think it captured my father's personality at all.
"He came across as a very unlikeable character that was power hungry, and that's all that made him tick.
For me, I knew a completely different person — someone kind and compassionate and caring and emotional and fun.
The Aidan Gillen-fronted drama — shown on Sunday nights over the past three weekends — made only passing reference to the former Taoiseach's family.
Commentators have noted that anyone not familiar with the period might have thought Haughey was a bachelor who spent most of his time shuffling around his country pile, occasionally stepping out for clandestine meetings with his gossip-columnist girlfriend.
The programme was unfair and, in many ways, inaccurate, Sean Haughey said this afternoon.
He said the broadcast had been an intrusion on his and his family's lives.
"We had to batten down the hatches for the month of January," he added, noting he was glad the programme was over.
He stressed that it had been a "particularly difficult" time for his mother.
"That's the overwhelming view that's been conveyed to me… As somebody with all her faculties — she's 89 years of age — she has done the State some service as well.
"I think the bottom line was that it was bit unfair on her."