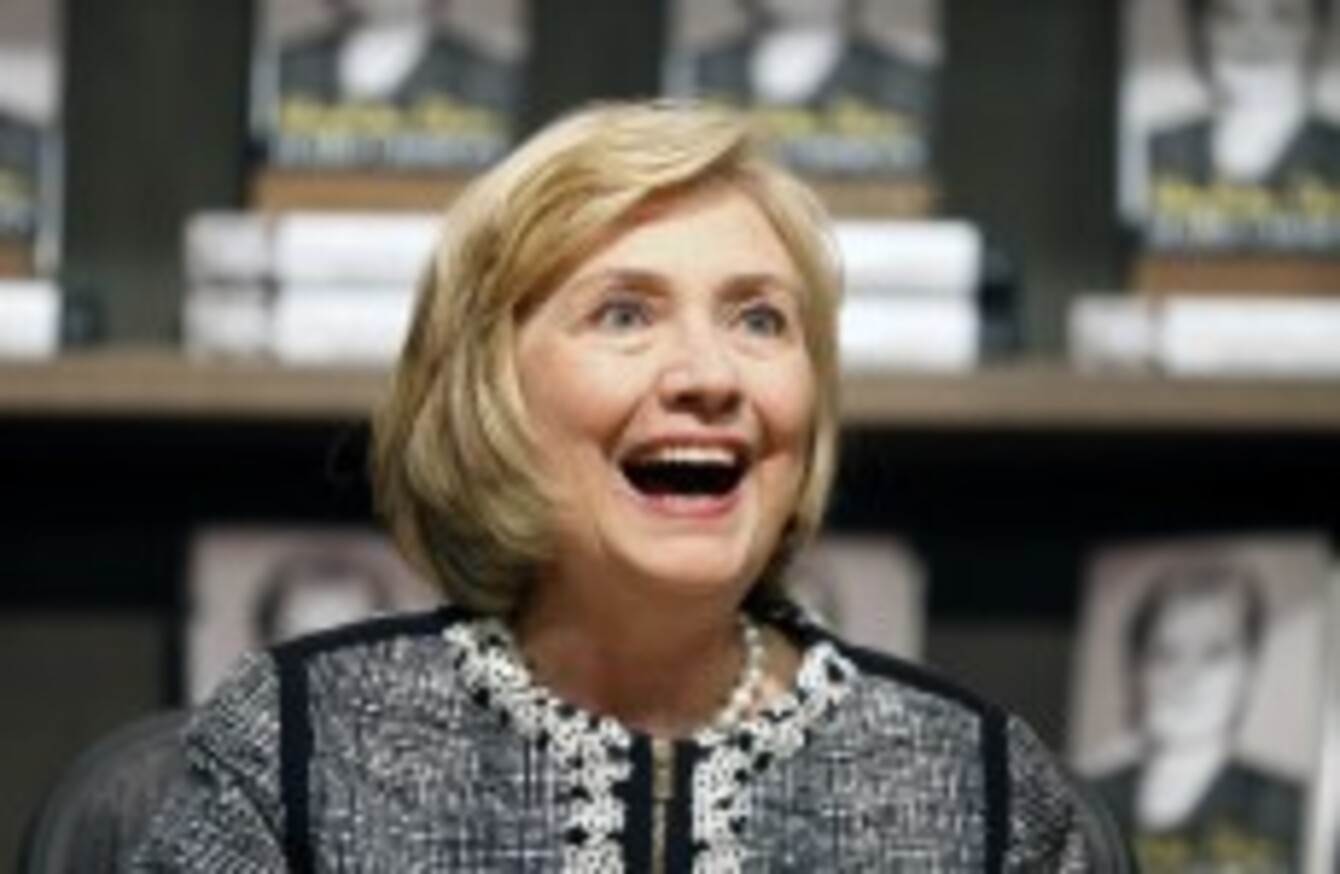 The former First Lady will not be in attendance.
Image: AP/Press Association Images
The former First Lady will not be in attendance.
Image: AP/Press Association Images
THE READY FOR Hillary Super PAC is hosting a "lavish event" at a private home in Dublin this evening, but all you Clinton-ites relax, you can only donate if you're a US citizen or have a Green Card.
The Ready for Hillary (RFH) Super PAC is the largest and most vocal of the non-official fundraising groups for the former First Lady and comes to Dublin after hitching the wagon in London and Paris.
"If Irish people could contribute we'd get about $100 million," Brian O'Dwyer of RFH's national fundraising committee tells TheJournal.ie with his tongue-in-cheek.
"We're constrained by American Law in that we can only take money from American citizens or Green Card holders…Irish citizens can't (donate) it's as simple as that and American laws are quite clear on that."
"If they do want to contribute, we'd encourage those with American relations to convince them to donate."
The restrictions won't stop tonight's event which is being held at the home of Linda O'Shea Farren and Brian Farren on Dublin's Raglan Road and will see guests contributing up to $5,000 to the cause.
It's being held on the same weekend as tomorrow's Croke Park Classic between Penn State and the University of Central Florida which is expected to attract up to 17,000 visitors from the US.
The Farrens also hosted a similar event for Bill Clinton in 2007 and O'Dwyer says that the event is more about explaining to people where their donations will go as opposed to preaching to people who are already committed to the Clintons.
The former Secretary of State has, of course, not formally announced her candidacy but RFH is fundraising so it is prepared for when the expected announcement comes.
O'Dwyer says that they want to have a campaign ready that is way ahead of what happened in 2008, when Clinton lost out to the current president who in many ways revolutionised grassroots fundraising.
"I think that's what we're trying to address," O'Dwyer explains. "It's a whole new way of campaigning. We've already got about 800,000 people signed up to our digital lists and we have about 2.5 million people visiting our website. It's something we didn't pay much attention to last time."
The Super PAC system is not to everybody's liking in the US with many arguing that it massively inflates election spending and leads to more negative campaigning from non-official sources.
O'Dwyer is not opposed to this view: "I'm not sure I'd be in favour of it if I was asked but that's the system we find ourselves in at the moment."
#Open journalism No news is bad news Support The Journal

Your contributions will help us continue to deliver the stories that are important to you

Support us now
2016
On the election itself, O'Dwyer says that he feels Clinton is performing well in the phoney campaign after she's hit headlines with her opinions on Israel, a tiff with President Obama and yesterday's comments on Ferguson:
I think particularly since she left as Secretary of State she's spoken out more. Americans are looking for strong decisive leadership that's not ideological. Particularly among women who feel that it's long overdue that we have a female president.
As for Ireland, Dwyer (who is a New York lawyer and prominent within the Irish-American community) says that "the Irish are like any other people, they appreciate when people pay attention to them and take their issues seriously".
He says that Irish-America has always had great affection for both Clintons with Irish people were only behind African-Americans in the loyalty they showed to the former President Clinton.
As for whether Hillary Clinton will make a trip to Ireland before 2016, O'Dwyer says he will be lobbying for this but is confident that "some member of the Clinton family" will make it here in the next 18 months.