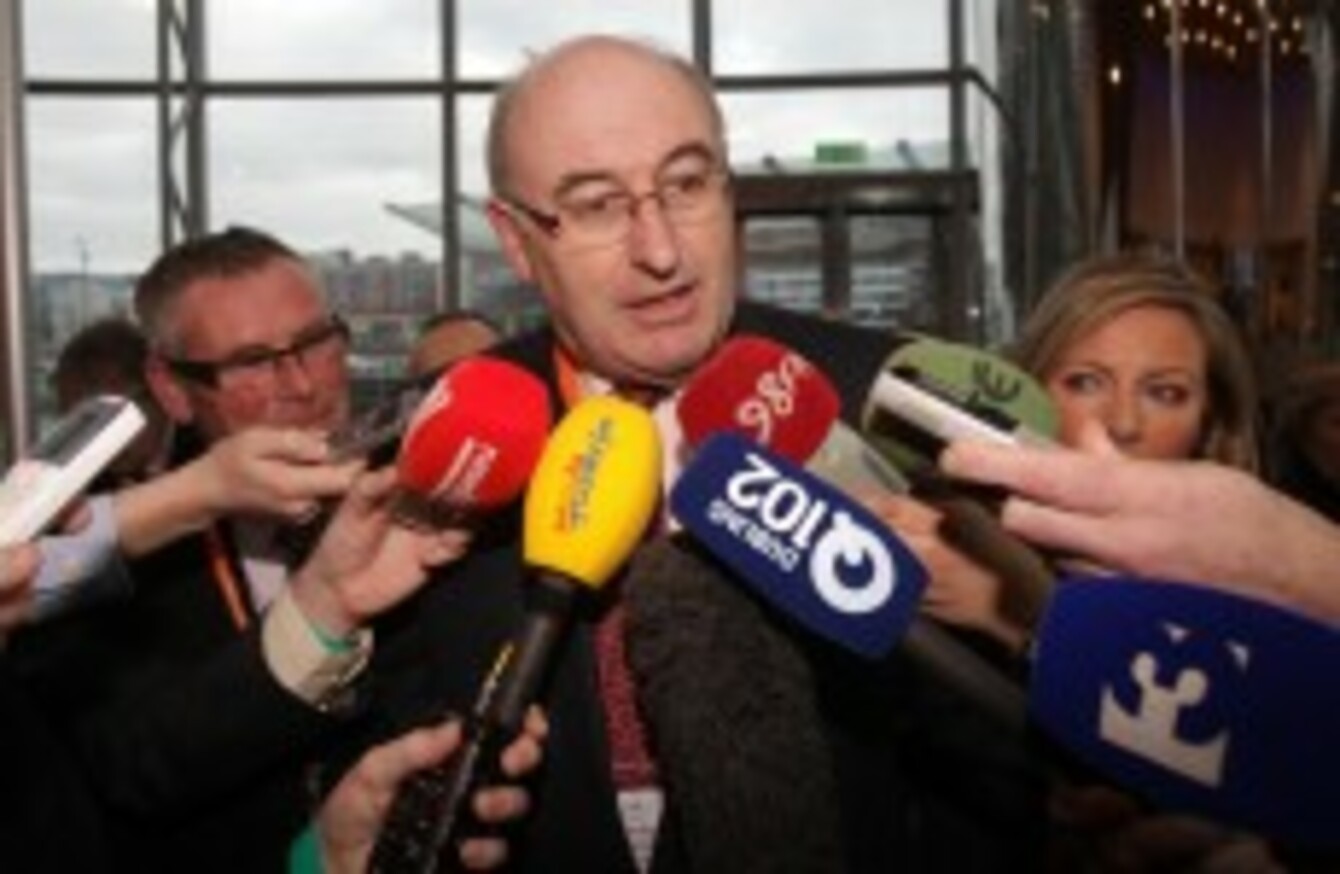 Image: Niall Carson/PA Wire
Image: Niall Carson/PA Wire
Updated, 23:30
ENVIRONMENT MINISTER Phil Hogan has thanked those who have registered for the €100 household charge for their "genuine patriotism", as latest figures showed the number of registrants creeping upward.
Figures as of 11pm showed that  households had registered centrally or online to pay for the €100 charge, with around another 89,000 postal applications on hand and still waiting to be processed.
In addition, another 12,677 properties which were entitled to waivers had also registered as of 2pm this afternoon, and an estimated 82,167 properties had been registered with local authorities which had yet to process their paperwork.
The overall total, therefore, was 798,957 households - 49.9 per cent of the 1.6 million households which the government believes to be in the country, and 44.4 per cent of the 1.8 million which opposition parties claim is a more accurate number.
Speaking at the Fine Gael Árd Fheis in Dublin this afternoon, Hogan thanked those who had registered so far – saying he wished to acknowledge their "genuine patriotism" in paying up despite their financial pressures and the "newness of the concept".
He added that the charge was a "legacy left behind by the last government", and which the Fine Gael-Labour coalition had to deliver as part of its bailout agreement with the EU and IMF.
"If there was a credible alternative, we would have pursued it," he added.
Paul McSweeney of the Local Government Management Agency, which is collecting the charge, earlier told the Marian Finucane show on RTÉ Radio 1 that the agency was responsible only for the collection and IT systems backing the charge.
"I can certainly tell you that from our point of view, advisors advised government," he said. "Government made a decision as to how this should operate and we just implemented the IT. Everything else I suppose is an ecumenical matter."
"In terms of government decisions, etcetera, that's a matter for government," he added, noting that his newfound fame as a result of his role in the LGMA meant he was now the "most notorious public servant in Ireland".
615,105