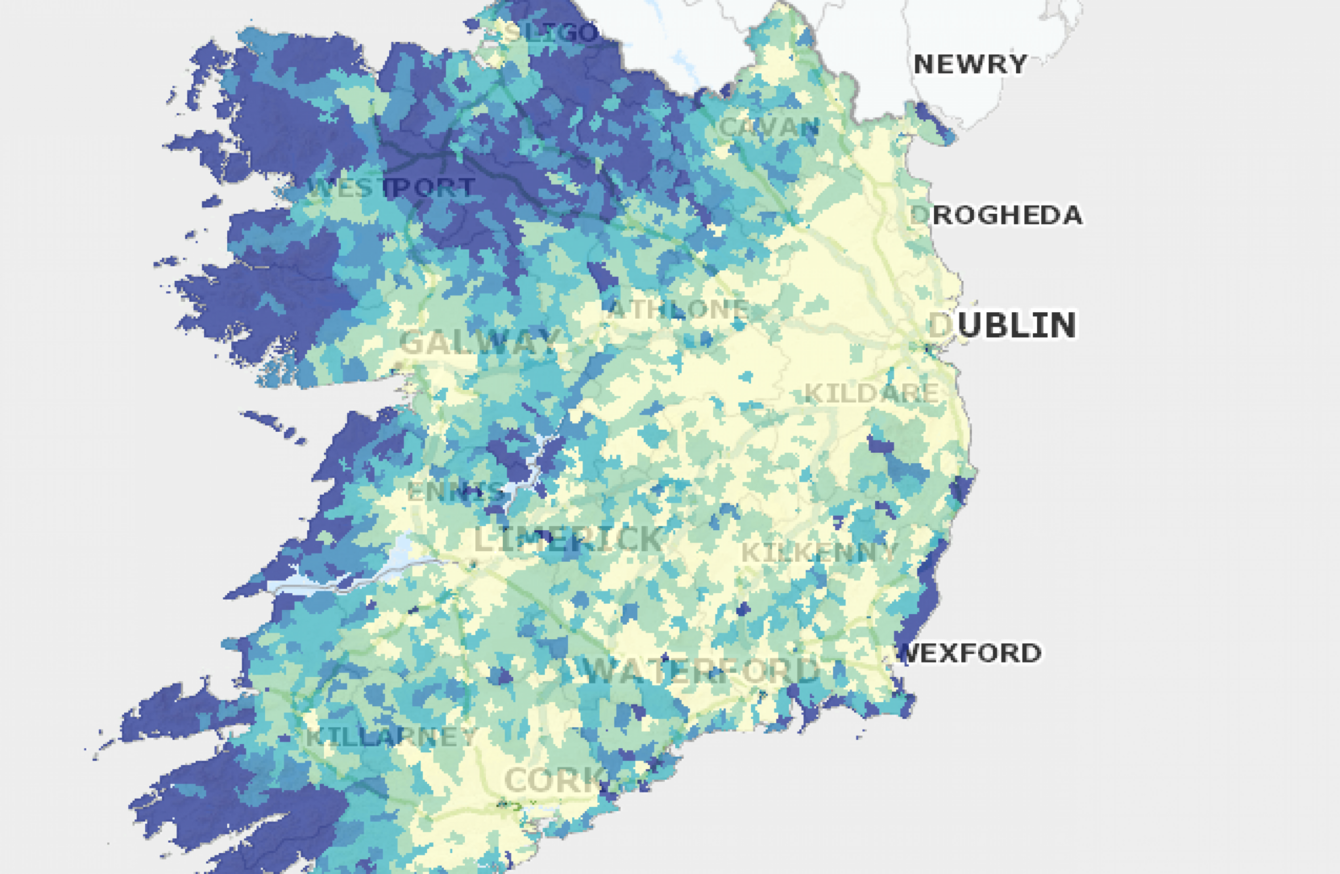 The percentage of vacant dwellings in each electoral division, as per this year's census.
Image: Central Statistics Office
The percentage of vacant dwellings in each electoral division, as per this year's census.
Image: Central Statistics Office
THERE ARE 30,000 fewer vacant houses in Ireland than previously thought.
Last May, a report from the Housing Agency prepared for the Oireachtas housing and homelessness committee put the figure of vacant houses at 230,000, or 289,451 including holiday homes.
The results of the 2016 census put the figure at 198,358 – or 259,000 including holiday homes.
A spokeswoman from the Housing Agency confirmed to TheJournal.ie that the figure in their May report was based on the 2011 census.
It said that this was the best available data to hand at the time, and it made this clear in their submission to the committee.
Overall, the number of vacant dwellings has fallen over the last five years by 29,889 (-13.8%) between 2011 and 2016.
There remain almost 6,000 homeless people in Ireland.
Housing action plan
It remains to be seen whether the updated figures will affect the forthcoming housing action plan, due to be announced by Minister For Housing, Planning and Local Government Simon Coveney next Tuesday.
Almost one in every 10 (9%) dwellings in Dublin City are empty, a higher rate than each of counties Kildare, Meath or Wicklow.
Of the vacant housing stock, over 2,751 units are owned by local authorities, according to recent statistics released by local authorities to Fianna Fáil under Freedom of Information legislation.
Homeless charities and Sinn Féin want compulsory purchase orders or levies on some vacant dwellings, a plan that was considered 'extreme' by the Housing Agency in May.
Economic growth
The county with the highest percentage of empty dwellings remains Leitrim, with a 29.5% vacancy rate.
Next come Donegal, Kerry, Mayo, Roscommon, Sligo, Clare, Wexford, Cavan, County Galway, Longford and County Waterford, North Tipperary and County Cork.
Multinationals are increasingly viewing the homelessness crisis in Ireland as an obstacle to economic growth.
Intel and Apple recently called on the government to address the lack of housing for staff, while business lobby group Ibec wants €1 billion to be spent on social housing to boost the economy.
In a statement on the 2016 census data, the Housing Agency said we need to bring as much vacant housing back into use as realistically possible, to help address the housing shortage.
Drops in population
Agency spokesman David Silke said: "These figures show that stock management must be a priority, alongside building new homes.
"There are homes out there that can be accessed quickly, and relatively cheaply if we can put in place a system to manage this process."
Overall, more people left Ireland in the period from 2011 to 2016 than returned or arrived here, according to Census 2016. The overall net migration was -28,558.
#Open journalism No news is bad news Support The Journal

Your contributions will help us continue to deliver the stories that are important to you

Support us now
Galway, Limerick, Mayo, Donegal – and South County Dublin – saw the largest drops in population.
County Donegal lost 6,731 people, more than double the net outflow of Co Limerick (-3,375), County Galway (-3,168), and Co Mayo (-3,246).
South County Dublin – which includes the suburbs of Tallaght, Lucan, Clondalkin, Rathfarnham and Terenure – saw net outward migration of 4,271 people from 2011 to 2016.
Only three counties "experienced net inflows of any meaningful amount", the census report added.
Cities
The five cities of Dublin, Cork, Galway, Limerick and Waterford have all grown faster than their surrounding counties.
After falling during the previous census period of 2006 to 2011, by -0.2 per cent, Cork City has grown 5.4 per cent, compared with 4.2 per cent for the county.
Dublin City gained 7,257 people, while Dun Laoghaire-Rathdown administrative area, also in south Dublin, gained 4,066.