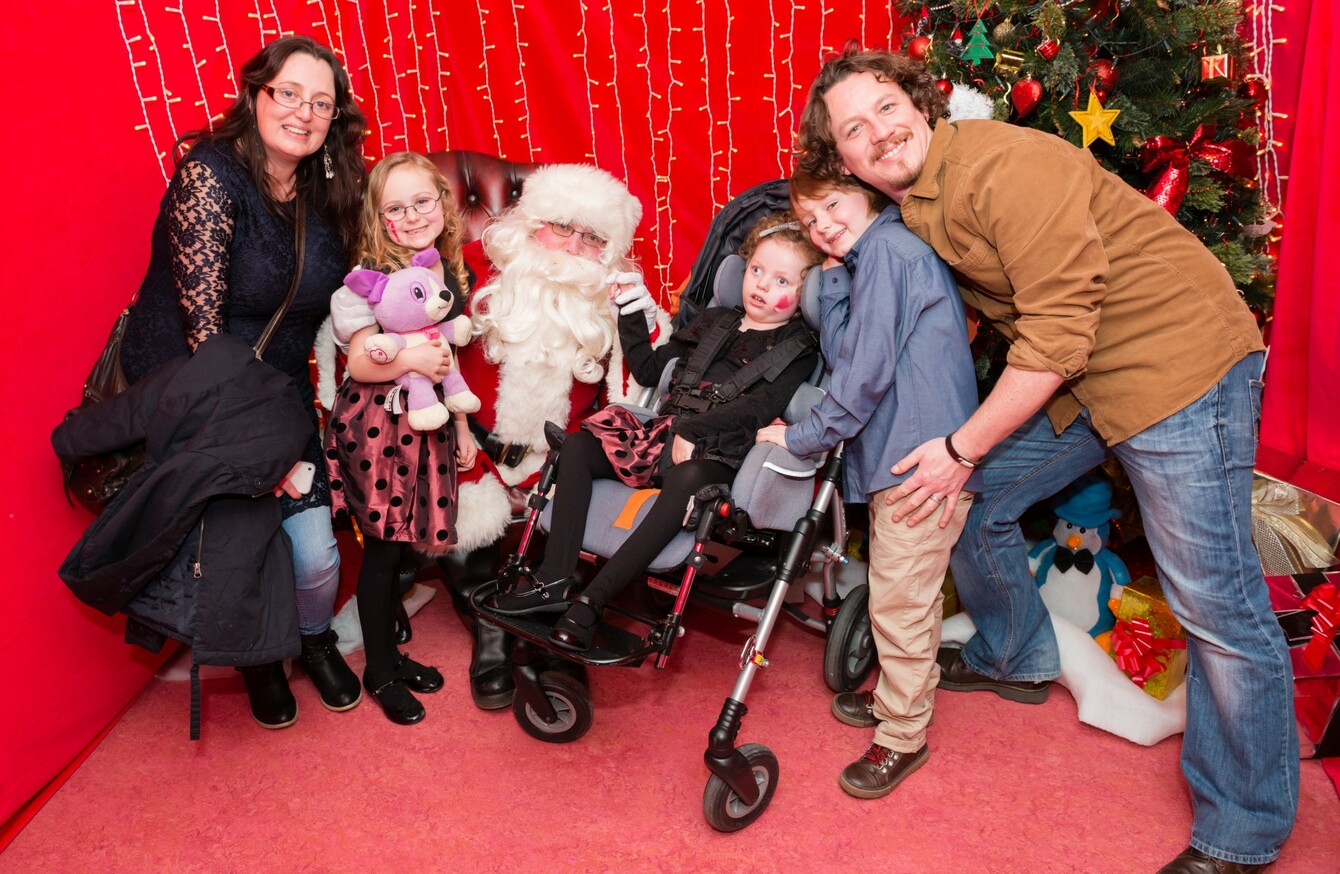 Image: Noel Hillis/LauraLynn
Image: Noel Hillis/LauraLynn
CHRISTMAS 2014 WAS a quiet one in the Curran house. It was just three months since they lost six-year-old Erin, a little girl who had fought on despite a prognosis from doctors that she would not live past two years of age.
As a baby, Erin had been diagnosed with Miller Dieker, a rare syndrome that deletes the chromosome responsible for brain growth. She began to become very ill when she was two-years-old and that is when the Curran family first went to LauraLynn.
Over the years that followed, the charity provided an invaluable respite service to Tara, her husband Derek and their two other children Finn and Aoife.
"They provided us with emergency respite when my dad passed away in April 2014. We were very stuck at the time and there are no words to say what that meant to us at the time. It was just an extra stressful time in our lives," Curran explained.
Erin was very sick at the time, she had just been discharged from the hospital in Drogheda and was very unwell. She was in the last months of her life at that stage – not that we were aware of that at the time. That fell over Easter week, which I knew was a horrendous time for LauraLynn to be providing respite because everybody wants it during school breaks. They took Erin into one of their emergency beds for a week to allow us to deal with the wake and funeral arrangements and to give us breathing space afterwards.
'The numb period' 
When Erin was coming to the end of her life, her family decided they wanted her to die in her own home and when they arrived back from Temple Street hospital, nurses from LauraLynn were already there, waiting to give their support.
"On the last evening – they do this for all the families – they did a canvas painting of a tree, with all of our hand prints as the leaves. It's a treasured piece from them."
Erin passed away in September 2014 and three months later, the family was facing its first Christmas without her, and their first Christmas without Tara's father.
"We were still very much in the numb period, where you don't know whether you're coming or going."
On Christmas Eve, the family received a visit from one of the home care nurses from the hospice. She presented them with a framed word butterfly, with words that represented the little girl.
Her curly hair, her big smile, her brother and sister's names, little toys she loved, things she loved to do. It was such a thoughtful and personalised gift for us. It really lifted us on Christmas Eve, which was quite a sad day for us.
Christmas will "never be the same" for the family, she said.
"There is a child missing in this house and that's very unnatural and always very sad. I miss her every day and it's times like this that you really struggle, it's just an incredibly difficult time. The other children keep us going and you try to focus on the memories you have and remember those Christmases we had together."
"All you want is for people to remember them," Curran said. "A lot of people find it difficult to talk to us about her because they think it upsets us. It upsets us more not to talk about her because then it's like she was never here."
LauraLynn provides a number of aftercare supports to grieving families after they have lost their children. This Christmas, the charity said it will be reaching out to families just like the Currans, to let them know that they remember their children and they are still here for them.