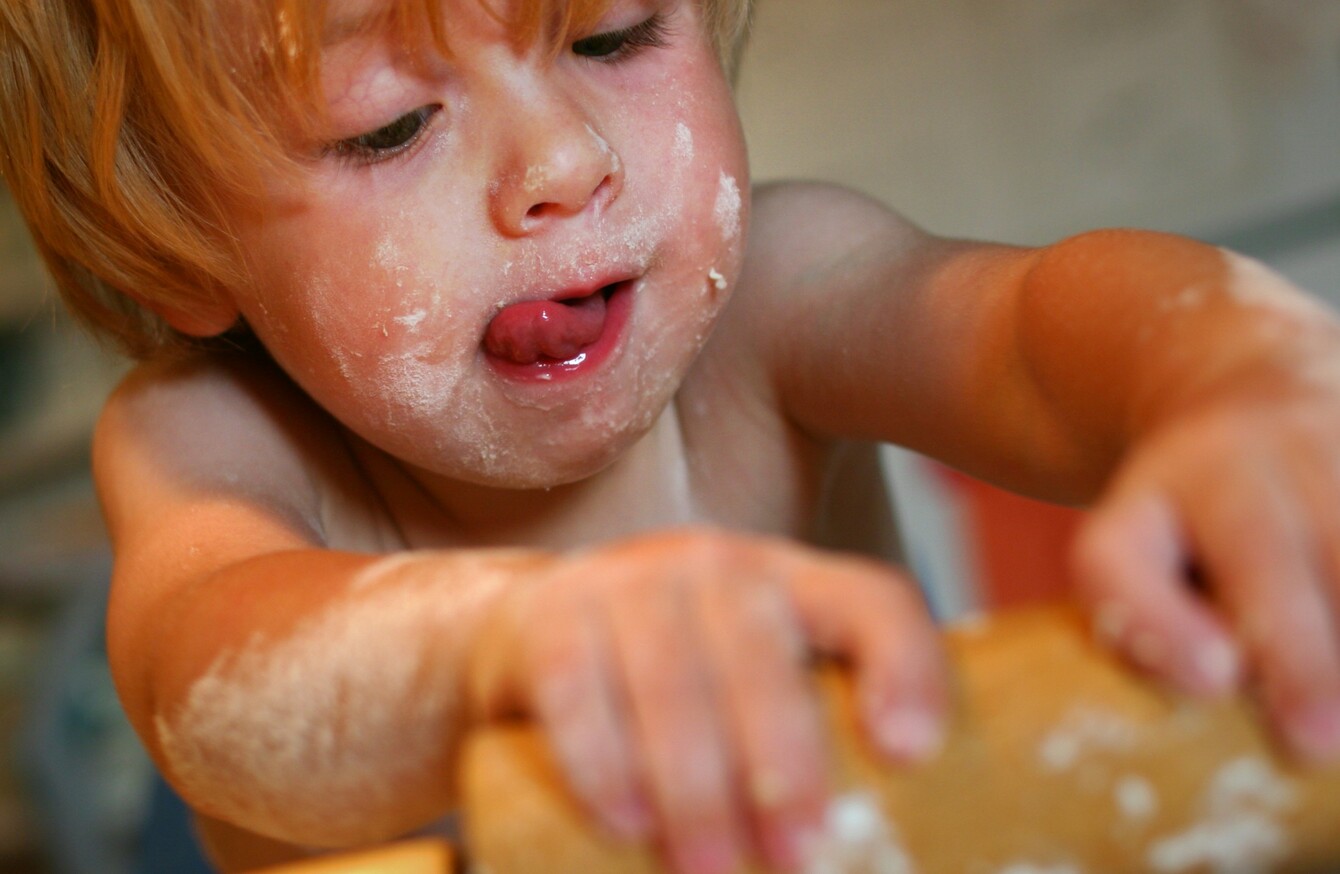 Image: Shutterstock/Suzanne Tucker
Image: Shutterstock/Suzanne Tucker
SOME OF MY loveliest memories are of helping my mum bake cookies and muffins when I was small, although mostly of licking the batter from the bowl. So once my first child was old enough, I decided to bring her in on my own kitchen activities.
I soon realised that my mum was a saint, with far more patience than I could ever muster.
Attempting to include my kids (now four and two) in baking and cooking has meant lots of spilled flour, several eggs cracked, shell and all, into the batter, and even one recipe where I accidentally swapped the sugar with salt while trying to keep my kids from diving into the mixing bowl.
I remind myself, though, that there are huge benefits to getting my kids in the kitchen; they learn about counting and measuring, and it helps introduce their taste buds to new flavours in a fun way. It gives everyone an activity to break up the day, with the promise of something tasty to munch on at the end (provided there are no disasters).
With kids on their second week away from creche, preschool and school due to COVID-19, most parents are aiming to keep tantrum levels down and keep distraction levels up. Cooking and baking can tick both of those boxes, once you follow a few basic guidelines.
Below is my advice, based on kitchen endeavours with varying degrees of success, for cooking and baking with your kids. Done right, it'll be wildly enjoyable for them, reasonably enjoyable for you, and will hopefully give you all a delicious end result.
1. Start with a guaranteed win: If you're just starting to get your kids involved in cooking or baking, begin with a recipe that's going to be a guaranteed win. Do not start with something complicated, because a failed cooking or baking project can be disappointing for everyone (although learning that not every recipe works perfectly is a lesson they should learn eventually). If you are a master of a veggie frittata or a Victoria sponge, bring them in on that recipe first. Not a regular baker? Muffins are a good entry point because they come together in one bowl and bake quickly.
2. Assign a designated scooper/dumper: When it comes to cooking and baking with your kid, the easiest way to have them help is to enlist them as your scooper or dumper — or both. While small toddlers aren't always able to scoop out ingredients without spilling them all over the counter, they can almost always grab a cup or bowl and dump it into something else. Older toddlers are often able to spoon dry ingredients into a larger vessel before adding to the main bowl.
3. Enlist a chopping assistant, or a chief counting officer: Cutting and chopping are skills that older toddlers can start to learn, but they require a lot of attention and teaching by the parent which, honestly, not all of us have the patience for while bellies are getting hungrier by the minute. I usually work around this by giving my kids the option of filling a measuring cup with what I've chopped, or even counting out ingredients. Okay, you might not need the one chopped onion measured — but they don't know that. You chop the onion, they pick up the pieces and put them into a measuring cup that they can help you pour into the pan. Making blueberry muffins? Give each kid a dish and ask them to count 20 blueberries that they can dump in. 
4. Turn a chair around to make a stool: Kids need to be counter height in order to be helpful and involved in the kitchen, there's just no way around it. While you could order or DIY a kitchen helper (this IKEA stool hack is popular with parents of small kids), you could also simply turn a chair around so that the back is against the counter. This does require that your toddler or little kid is old enough not to walk off the back, but it's much more stable than risking them tipping the chair backwards.
5. Don't wait until everyone is hungry: A key rule for cooking or baking with kids is not to wait until everyone is hungry. Do not bake muffins with kids who are already desperate for a morning snack, and do not enlist the help of your toddler to get dinner on the table when they're already showing signs of being hangry. If your kids seem hungry once the cooking or baking project gets going, let them taste ingredients, like crunching a pepper while you're making bolognese. This can even be an opportunity to talk about the different tastes of cooked and raw food, and it won't spoil their appetite for the finished product.
#Open journalism No news is bad news Support The Journal

Your contributions will help us continue to deliver the stories that are important to you

Support us now
6. Get them involved in the washing up: If your little one is anything like my two-year-old son, they relish the idea of being left to a sink full of bubbles and a scrub brush. While my daughter helps spoon batter and set out muffin cups, my son takes washing up bowls and utensils very seriously.
7. Talk about the next steps: A lot of the frustration with cooking or baking with kids comes from kids wanting to go rogue on a recipe, especially when they can't yet read. My daughter is convinced that every recipe needs exactly one more of everything, which, much to her very vocal disappointment, is not always the case. I've found that reminding her of the next step can help her relinquish the measuring cups more easily. Try asking, "We don't need more flour, but can you find me the big spoon so we can scoop the cookies?"
8. Offer choices to encourage sharing: When you're cooking with multiple eager assistants, sharing and taking turns can get dicey very quickly. We do a strict back-and-forth rotation between kids, which often works well. However, there are always the more coveted assisting jobs, like cracking eggs or pouring in milk. When I know those are going to be points of contention between my kids, I offer choices if the ingredients can't be easily split. I'll usually say, "Would you like to crack the egg or whisk the milk?" You want two choices that are equally enticing, and you'll want to switch back and forth with who gets to make that choice.
More: 'Don't feel guilty about the TV': Essential rules for parents working from home this week>