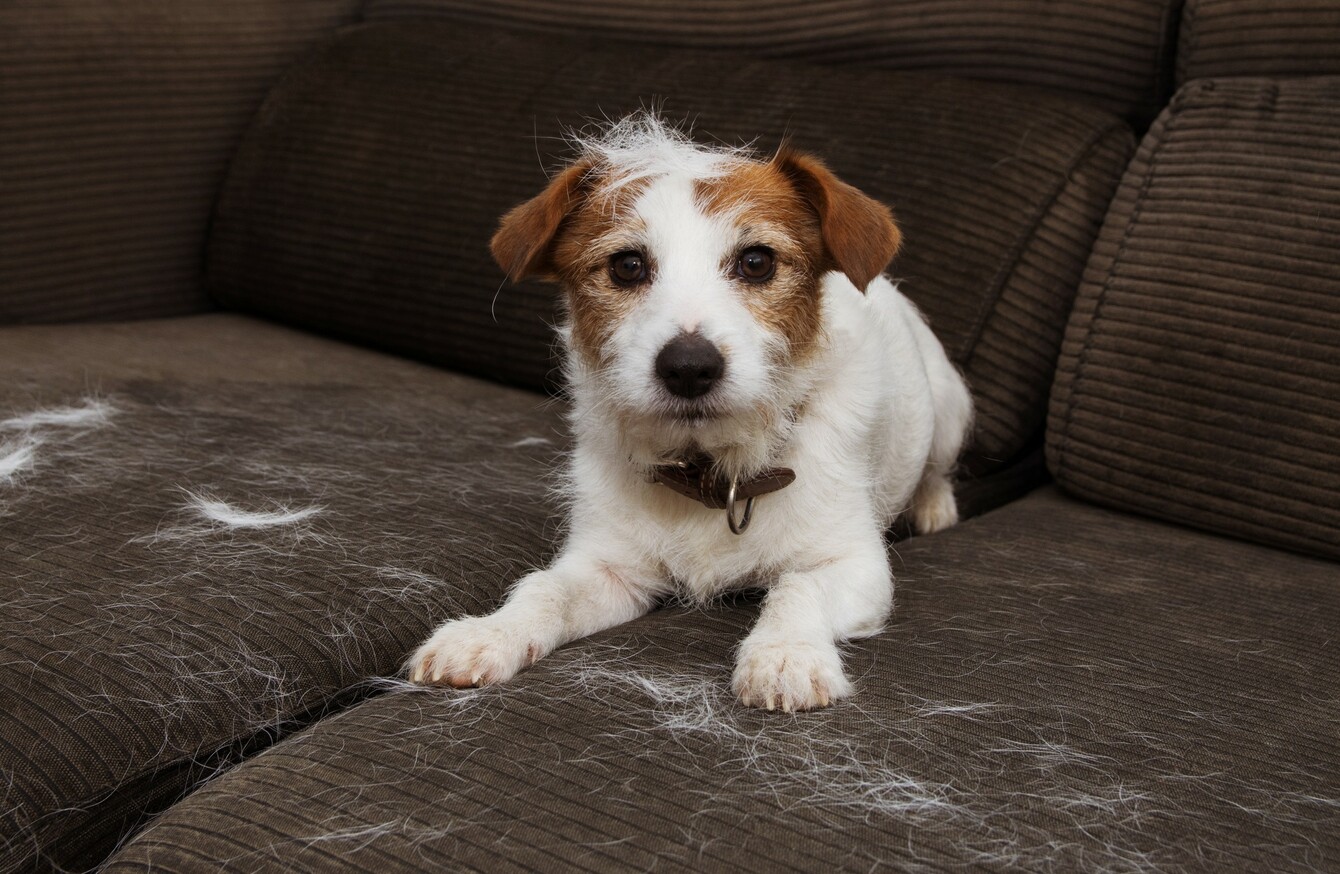 Image: Shutterstock/smrm1977
Image: Shutterstock/smrm1977
The last thing a pet owner wants is to spend time every day trying to get dog hair or cat fur out of the couch cushions or off the coffee table. Pet hair can really cover your house if you don't know the right ways to clean it. 
Each fortnight, Laura de Barra brings her lifestyle and home maintenance expertise to the Glenveagh Home Magazine on TheJournal.ie – and this week she's sharing her advice for getting your home into tip top shape in the new year.
This week: Removing pet hair from your furniture and floors.
OUR PETS BRING us so much joy, happiness… and hair.
First things first, one of the fastest ways to reduce the amount of cat or dog hair in the home is to make sure you're regularly brushing your pet. It'll give you some good bonding time as well as prevent the spread of hair through to the home. 
Now that we've tackled prevention, let's now talk about the cure for the hair that will inevitably slip through between brushes.
Here's what to do when you find those telltale hairballs and tufts…
1. Have the right equipment on hand for tackling fabrics and carpets
Fabric and carpets will always have the worst hair build-up and are the hardest to keep clear. If you find your pet likes to sit or sleep on particular spot, think about getting a blanket or fabric to lay here that can be washed easily and avoid hair sticking to your upholstery itself. 
A lot of people love lint rollers and tapes for removing pet hair, but I find that they lead to a lot of unnecessary waste and can take an age to do over a whole surface. I like to recommend alternatives that are not one-use wonders.
Rubber gloves: This is the cheapest and easiest way to remove pet hair from sofas and chairs. Dry rubber gloves work a charm but when they are damp, they work even better. Run the glove under water then shake to dampen it. Then, working in one direction sweep your gloved hand and arm across the fabric. You'll be amazed at how much hair this removes. Wash the hair off the glove as you go if you see that it is starting to build up. This is a great way to use up old rubber gloves and give them a second life – even those that are worn out or have burst a hole.

Window squeegee: Yes, really. Carpets and furniture can be hair-free in no time with the help of one of these. They are cheaper to buy than tools designed for pet hair removal but just as effective. Work in one direction and dump the gathered hair as you go. You'll find you will get through a whole sofa or carpet in no time.

An old sock: If you want to take action right now and are without a squeegee or rubber glove to hand, turn an old sock inside out, run it under water so it's a little damp and wipe the surface as you would with a rubber glove. It's a simple, cheap alternative with great results. 
#Open journalism No news is bad news Support The Journal

Your contributions will help us continue to deliver the stories that are important to you

Support us now
2. Be mindful of static on hard surfaces
Find it impossible to get all the hair away when you hoover or clean? That's because the electrical charge makes gathering up all hair on flooring surfaces and wooden furniture difficult. To combat this, we need to eliminate the static. Try this: 
For floors, use a dry microfibre mop, which is charged so the hair will be more attracted to it than it will be to the surface, and it will lift hairs away easily. 

For surfaces, use a microfibre cloth. This will help prevent the hair from flying around as you wipe and grab it instantly. It's super handy for skirting boards. 

Wooden furniture can be wiped down with an antic-static polish to prevent it from gathering hair in future.
3. Watch out for hard-to-see areas
So that's the hair you do see, but what about the areas you are not cleaning? Here are a few to check.   
Rubber seals: As you see from above, the loose hair will be very attractive to rubber. For this reason, you need to give your fridge and washing machine door seals a good wipe down. Just use a mircofibre cloth (no product as these are delicate) and work into the folds. You'll be surprised at how much airborne hair these gather. 

Washing machine: Wipe out the drum of the machine while you're at it. Also, check your manual for how to clean its filter as pet hair from your clothing will gather here.

Odours: If you find your couch or carpet is holding on to odours, sprinkle on some bicarbonate of soda and leave overnight, then vacuum off. Instead of masking the scent, it will absorb it and take it away. It's also good to have some bicarb in your hoover for a while to absorb smells there too! 
Want more tips and hacks on caring for your home? Laura de Barra's book, Gaff Goddess, will be published on February 6 by Transworld Ireland. Pre-order it here – and follow her on Instagram for even more cleaning and lifestyle tips.