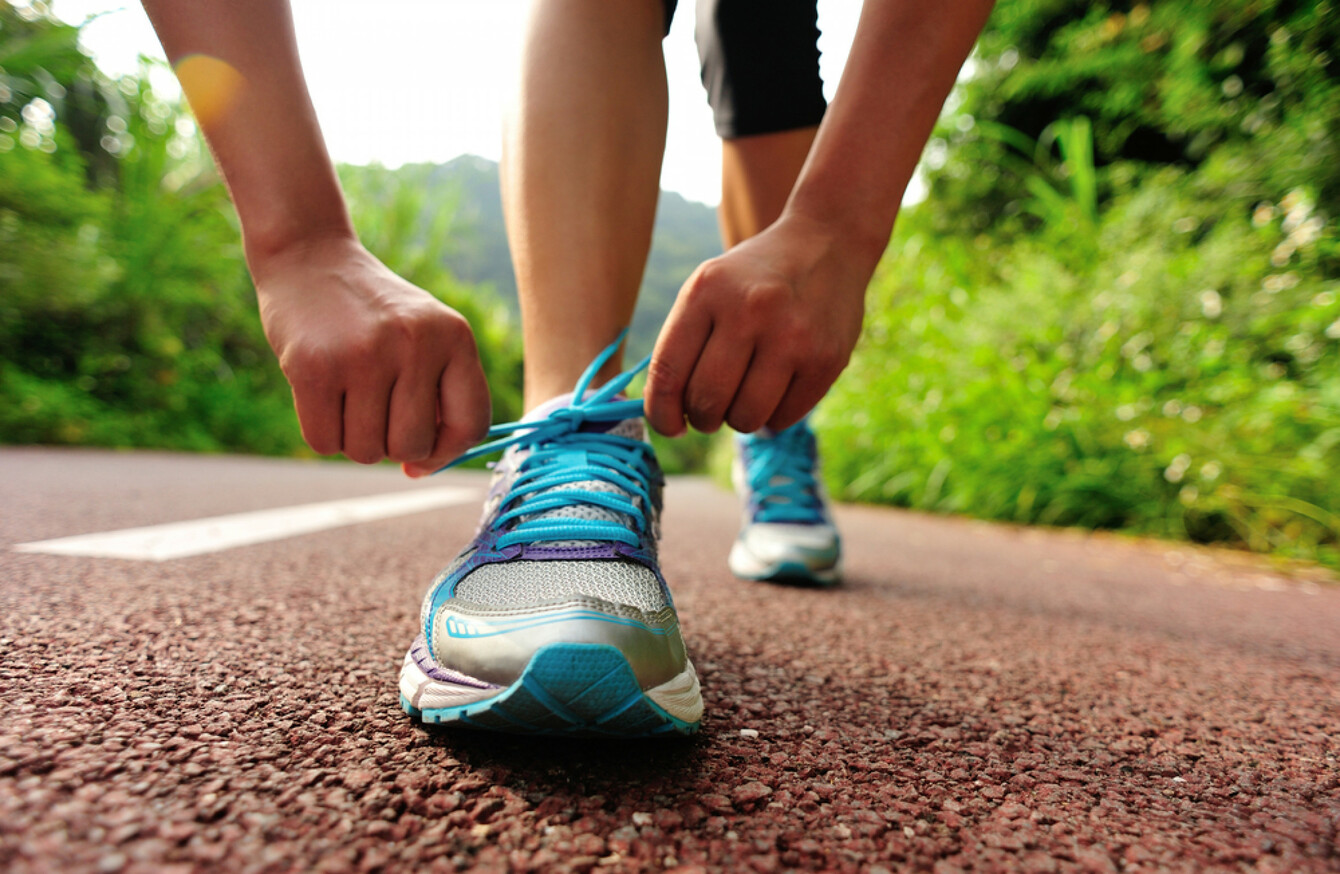 Image: Shutterstock/lzf
Image: Shutterstock/lzf
IF YOU'RE SITTING down right now reading this, you may be one of the many Irish people who are taking a risk by staying still.
That's according to The Irish Heart Foundation, which says that a standard working day (8-11 hours sitting) raises your risk of heart disease.
As fitness expert DCU Professor Niall Moyna explains, sitting for long periods of time can lead to a higher risk of muscular and skeletal disorders, obesity, diabetes and even cancer. Last week, we launched The Health Check with Irish Life Health to get to the bottom of what we really think about our health. First, we asked about your fitness. 
And the results are in. Overall, readers rated their fitness at 5.9 out of 10, but said that its importance for their mental health was 8.5. They supported mandatory exercise at work and worried about the impact of sitting so much. And our expert says this could all be improved by one simple message – move more.
Read on for the full story.
'The fitness contradiction'
For physiotherapist and personal trainer Sarah Cremen, the fact that readers rated their fitness at 5.9 was an interesting one. According to her, this reflects the fact that we're currently living in a 'fitness contradiction' – though the last decade has seen huge growth in health awareness, "our obesity, depression and anxiety levels are higher than ever". 
The reason that she thinks this rating is relatively low is due to a problem with access to fitness, says Cremen:
Devices like Fitbits have helped massively to drive awareness but potentially the execution isn't there. We need to increase the accessibility of fitness to the population as a whole, not just in Dublin and not just for those who can afford it.
However, it's clear that the impact on our mental health was huge – readers gave this 8.5. For Cremen this rating is very much in line with her experience – she frequently hears that mental health is a concern:
This rating is really reflective of what's out in social media – there's been a massive shift in becoming aware of mental health and how it's tied to fitness, thanks to campaigns around mental health for men and the LGBT community for example.
And fitness can solve all three. "Putting aside time for 45 minutes 2-3 times a week has a huge impact on both your physical and mental health and will actually energise you." When we put aside time for ourselves for exercise, "the decrease in stress and anxiety can be rapid", and should quickly become "a part of weekly self-care".
Work-workout balance
Though keeping active at work was high on the agenda (8/10), the majority of our readers admitted that their time spent commuting cuts into their time to keep fit. To Cremen, it's reflective of the growing importance we place on our health that the majority agreed with Sweden's mandatory exercise at work programmes:
The fact that people realise it's important doesn't surprise me because people don't move as much as they intend to in the workplace. When you're sitting at a desk for 8 hours you can end up feeling fatigued.
Moving on the other hand, increases both our energy and our productivity. So, how can we achieve it, with the invisible chain we often feel we have to our desks? There are actually lots of proactive things we can do at work to keep moving says Cremen:
If you're in a bigger company, ask for a standing desk
Otherwise, set an alarm to get up once an hour
Take calls while standing, rather than sitting down
Grab a colleague to go to for a walk at lunch or try a lunchtime class
Training with technology
It's not just your alarm clock that you can use to keep moving – the majority of our readers would be happy to use technology in their training (6.4/10). Cremen says that the majority of her clients wear tracking devices and it can have a very positive impact:
People are interested in the data because we're hardwired to have goals. It's easier to look down at your wrist and see you only have to do 2,000 more steps than an 'insurmountable' 10,000 for the day.
Apps on the other hand can be hit and miss, says Cremen. So what should we download, and what should we avoid? According to Cremen:
Devices that measure heart rate can be inaccurate
Only use MyFitnessPal if you've a healthy relationship with food
Interval timers can be good for home workouts
Headspace is great for mental health and practicing mindfulness
"If you're a data person, apps are a good way of keeping track of your progress or being motivated by other people you know, or indeed, don't know", she says.
Are our own worries stopping us?
So what's getting in the way? We were curious to see whether safety would be a concern for our readers and it appears so. Safety at night registered as 6.7 out of 10 on the worry scale. Cremen agrees with these findings: "I think it's a very logical and realistic concern for people", but she has the following advice for you if you are concerned about safety:
Buddy up if you can while cycling or running
Always wear reflective gear
Research trainers and facilities to avoid injury
Usually exercise in the evening? Try the morning for winter
I'm such an advocate of morning workouts – I always tell my clients the earlier in the day the better. As the day goes on babysitters can cancel, meetings can run on and your chances of exercising are slimmer.
Meanwhile, our readers rated 5.6 for worrying about injury has been reflective of Cremen's experience: "The most common thing that I see that tends to stop people from exercising is a bad experience with an injury."
Move on up…
All in all, Cremen's general advice is simple, and achievable – just move more. "It doesn't need to be extreme or intense exercise, in fact it probably shouldn't be." The most important thing she insists on is adherence – find something you enjoy that fits into your weekly routine.
And one last piece of advice that many of us struggle with? Cremen understands how people can feel vulnerable when exercising:
If you're feeling self-conscious or intimidated going to a gym, remember that the majority of people there are only concerned with themselves and their own workout.
And if you really hate the gym, Cremen says that with a bit of expert guidance, you don't really need it:
You can have a really effective workout using just your body weight. All you need is a mat, a good plan and a bit of free space.
The results of The Health Check with Irish Life Health survey show that though we don't feel as fit as we could, we realise the impact of exercise on mental health – something that Cremen says is higher than ever. While we support mandatory exercise, the real key is just increasing accessibility for people.
Luckily, there are plenty of little changes we can make during our working day to increase our blood flow, and there are alternatives to having to work out on cold, dark evenings. There's plenty of technology that can help too. But most of all, we need to try to stay safe and just go a bit easier on ourselves.
Over the next few months as part of The Health Check, we'll be capturing a snapshot of our health as a nation with Irish Life Health. We'll be compiling anonymous, real-time ratings and talking to experts about the results and what they mean for our health. We know Irish Life. We are Irish Life Health.