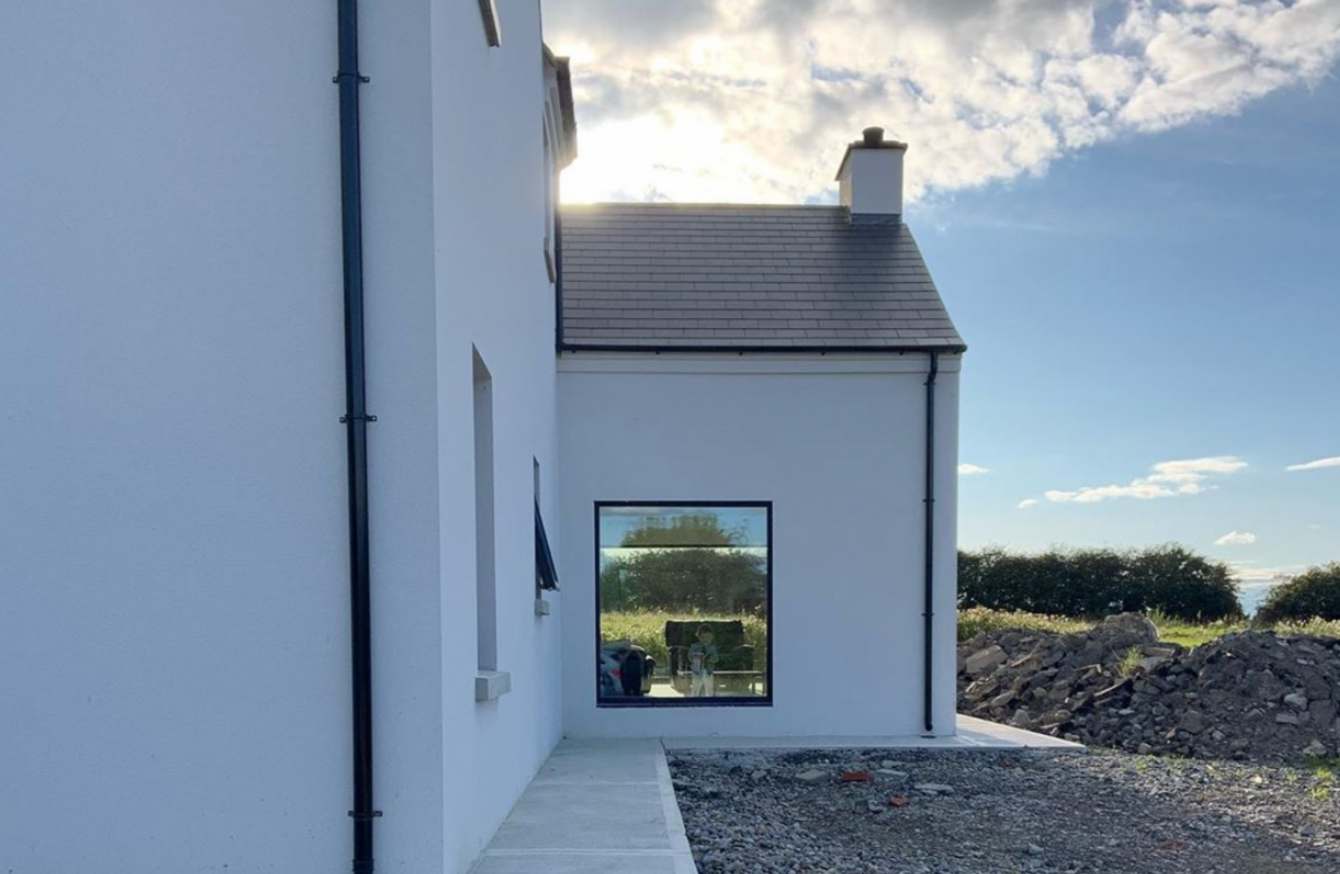 The outside of Emma's home.
Image: beyondthepinkdoor/Instagram
The outside of Emma's home.
Image: beyondthepinkdoor/Instagram
About your home
Where? On the Meath/Kildare border, not far from Maynooth
What type of house? A detached, modern new build
How many bedrooms and bathrooms? Four bedrooms and three bathrooms
When did you move in? September 2019
About you
Name: Emma Toner
Age: In my 30s
Occupation: Digital marketing
Who else lives there? My husband and 17-month-old son 
What made you choose this home over others?
We didn't have much choice, really! Meath County Council is quite strict on its planning guidelines and we didn't want to get refused, which happens a lot. We decided to go for the style they favoured, which is a modern interpretation of a farmhouse. I don't mind as I was always planning on the interior being the main design feature, so I'm happy with a blank canvas as such.
What is your favourite place in your home?
Probably the concrete island in my kitchen/living/dining space. It's quite big and dramatic and also practical, as the hob is in the island. I love to cook and really enjoy getting to do that while facing out and chatting with friends and family, rather than having my back turned and feeling like I'm missing out on the craic!
Is there any part of the home you don't like?
The exterior is currently a vast wasteland which will eventually be landscaped and finished, but it's quite mucky at the moment and definitely gets on my nerves.
Is there any part of your home that makes it unique?
My pink door. I'm fine with living in a white box, but I still wanted some of my personality to come through, so we painted the front door hot pink. I love it and surprisingly enough, so does my husband!
Take us through an average day in your house, room by room. (In an hour-by-hour breakdown please)
6.15am: Our alarm goes off and the baby wakes up. I make coffee to bring on my commute and hit the road no later than 6.45am if I'm in the office. If I'm working from home, we have a slower start.
7.45am: My husband brings our son to the creche. 
10am: If I'm working from home, I'll work at the island with coffee, taking video calls and emailing, along with some actual work. The kitchen/living/dining has high ceilings and lots of light so it's a lovely space to work in. The house will be quiet into the afternoon if I'm working from home, and empty if I'm not.
4.30pm: Baby comes home from creche and likes to run around outside with the dogs and play on his tractor till it's time to come in for tea. This is usually eggs, soup, yoghurt or something like that. Then it's time to read books and watch cartoons until it's bath and bed time. Nana, who lives next door, usually pops over to read my son a story and have a chat.
5.30/6pm: If I'm in the office, I usually arrive home around now and make a start on dinner, which we eat after putting the baby to bed. Then it's a few hours of TV/relaxing/reading/laundry before bed, no later than 10pm!
Is there anything you'd do differently if you were doing it again?
I'd add more light to the front door with glass panels and make my utility room bigger – it can really never be big enough!