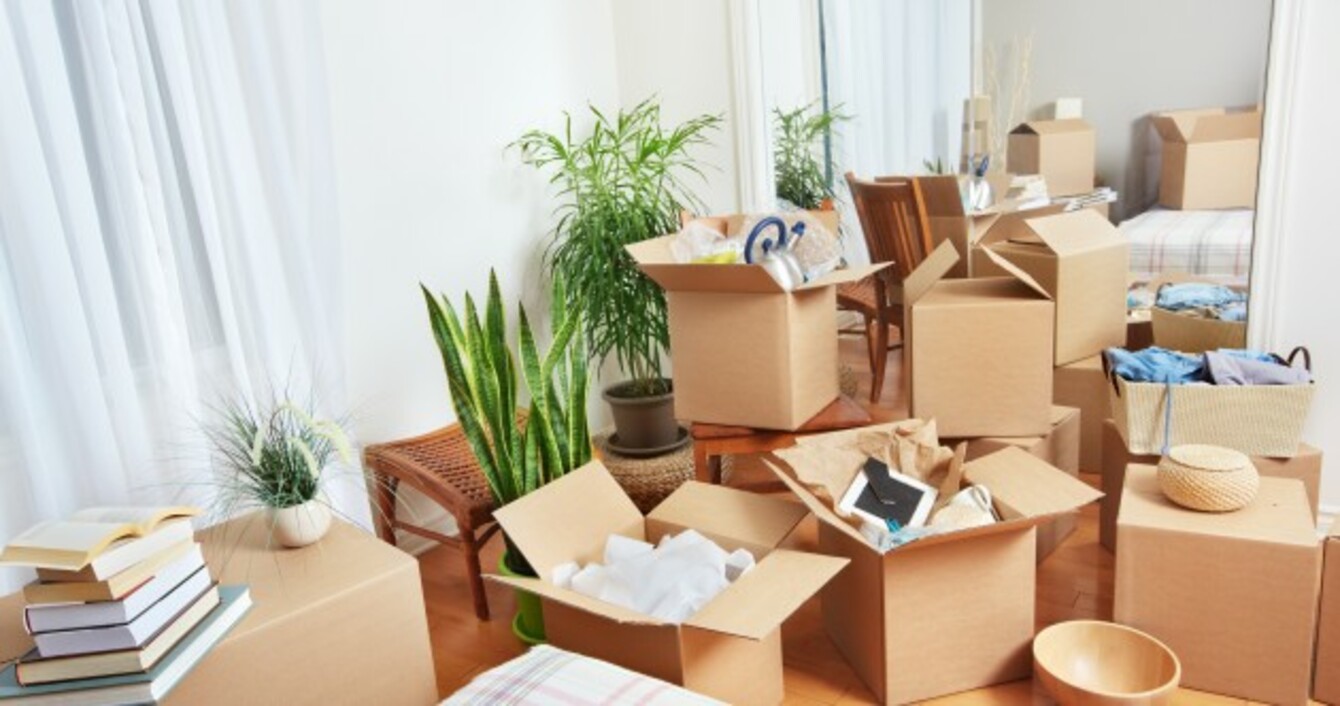 Image: Shutterstock/kurhan
Image: Shutterstock/kurhan
MOVING HOUSE IS said to be one of the most stressful life events, and I would agree – especially if it's a DIY job and no professional movers are involved.
But I am a firm believer that we can reduce stress is most areas of life with a little goddess-worthy foresight and some clever planning. As with most stressful situations I have at work and in life, I find there are three approaches that help with packing up your life: looking at the bigger picture, preparing well, and staying motivated.
Take a step back and write down a timeline of your move, from the first box up to the moment you're all unpacked in your new place. Having an idea of the schedule in place will ensure you're aware of any free time you have, what the must-dos are, any pick up and drop off times and of course the amount of rooms you need to pack up.
When you make out your moving schedule, be super conscious of any potential moments you know you may find hard, like doing the attic clear-out or sorting out the giant wardrobe in the spare bedroom. Planning something rewarding or soothing, like a takeaway for example, the night of your dreaded kitchen pack up is a good self-care move.
Here are my tips for making it work…
BEFORE YOU START
Do as much of a clear-out as you can manage
It is always best to start the pack-up weeks before you move, beginning by donating/ recycling/dumping anything you don't use or no longer care for.
If you really loathe packing up or don't have days to dedicate to it, my best advice is to put an empty box or bag by the door of every room, in the weeks before the move that you can add the items in that room you don't use daily.
Don't neglect your "random drawer"
One thing most people will overlook is 'the random drawer' clear out. Do this early on, to ensure you are disposing of the items as you should, as well as avoiding lugging it all to a drawer in the next property.
We don't need to move with boxes unused of wires, cables, batteries, lightbulbs, old phones and technology. Start by emptying all drawers and storage boxes in your home then dividing them into groups by category. A lot of supermarkets have facilities for dumping used batteries, as well as coin changing machines that will swap your loose change for notes.
Make sure you have enough boxes (size matters here)
I find asking in a local corner shop or takeaway is great as food packing boxes are quite sturdy and of medium size. Medium and small boxes are actually better as they are easier to transport and less likely to rip open. Remember you will need heavy duty tape also.
Have a lockable folder or box to hand for all legal and important documents. These get lost so often in moves and it's important to keep these safe. As you come across birth certs and back statements, add them to this and have peace of mind your important documents are safe.
And don't forget small, medium and large bags
Lay out everything you could use for packing up your things before you order boxes to avoid over ordering and save you money and time. Under the kitchen sink, stairs and bed usually have some gems to aid a smooth move.
You may also have many bags for life or tote bags which are great for tech, books and cosmetics. Packing bags instead of using them to pack is pointless. Suitcases and large travel bags are ideal for clothing, shoes, electronics and so on.
There will be many friends with large IKEA bags (the best for moving clothes!), packing bags, packing accessories such as a Sellotape gun. Trust me. Do a wee ask around and see what you can borrow for your move before you buy anything.
STARTING TO PACK
Your move will mainly have three types of items: fragiles, softs and furniture.
Softs
This is anything that won't break if dropped: clothing, bedlinen, soft furnishing and towels. I wouldn't waste money and time buying and setting up boxes for softs, as large bags will do just fine. Also, things like towels and bed linen are great to line the bottom, tops and sides of boxes that will hold more fragile items. Bed linen is great for wrapping mirrors and TVs, while towels are ideal for wrapping fragile ornaments and crockery and knitwear.
Fragiles
Anything breakable can be wrapped as above or placed in study boxes with scrunched newspaper in between items to stop them breaking against one another. Your main aim with fragile items is to keep them well-cushioned and avoid them bouncing around during transport. As mad as it sounds, socks can be great for popping over ornaments before packing into boxes as it gives them a good buffer against scratches.
Furniture
Make sure that anything that could dent or scratch is well covered and cushioned. Bed sheets, blanket etc will come in handy here. Avoid tightly wrapping anything in plastic that could retain moisture or cause it to warp, especially if it will be wrapped up for a number of days.
If you are taking apart any flatpack furniture, have ziplock style bags to hand. Once you take apart a chair for example, you can pop all the fastenings and screws in the bag, write the furniture item they are from on to it and also note the tool used. This will make rebuilding super smooth. 
Always, always makes sure you either secure or remove any drawers that could come loose in the move. I've seen some disasters… 
PACKING AND LABELLING LIKE A PRO
Colour code your labels
When it comes to labels, simple is best. Use a colour coded number system rather than words like "Laura's books". It's easier and quicker when you get to the new place as well as being easier to understand. Use large markers and make sure you label two sides and the top to save time. Each zone or room should be allocated its own colour. Decide this in advance and make a list so you can refer back to it.
And number your boxes
This is more straightforward than stating the contents. If you've selected a pink marker for your living room, just number all of the boxes for this room in pink. Keep track and then draw up a list of how many boxes there are per room. Having a total number per room makes it easier to spot something missing, too.
Remember where the wires go
Before you take apart anything like TV or computers, take a photo of how the wires are set up. It'll help massively when you're unpacking.
Days of packing and unpacking will bring moments where you will lose motivation and wish it was all over. Prevention is better than cure for these moments, so go easy on yourself.
This may sound simple, but when you're feeling overwhelmed, repeat three positives reasons for the move to yourself. Repeating something like this can actually lift us out of a temporary slump – and spur us on a bit too.