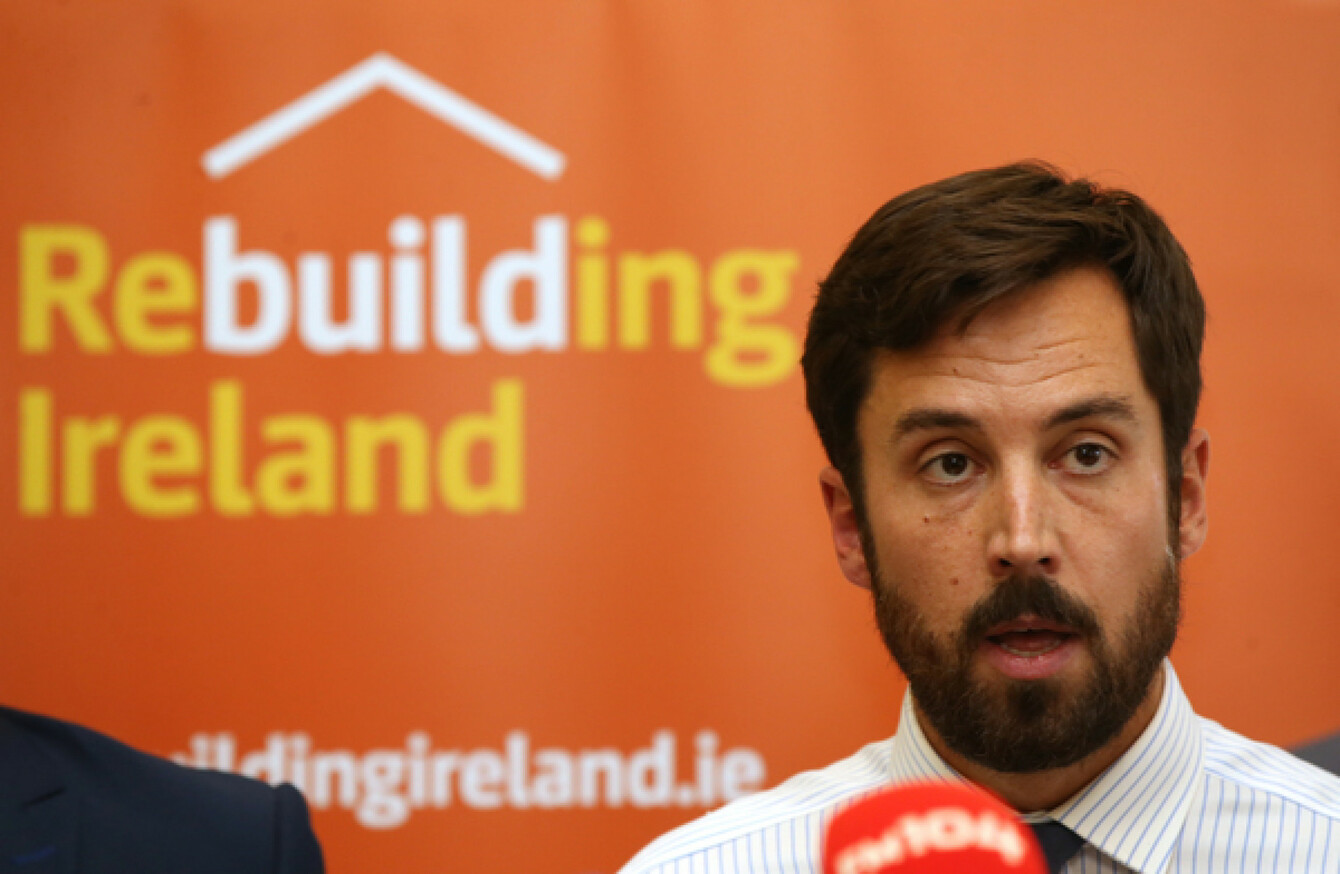 Image: Sam Boal
Image: Sam Boal
A SEVERE SHORTAGE of housing combined with growing demand has led to a surge in homelessness as house prices continue to rise and rents hit an all-time high.
Speaking at the Fine Gael think-in in Clonmel this week Taoiseach Leo Varadkar said the government understands the stress faced by people without a home, as well as those struggling to buy one.
Last month the Minister for Housing Eoghan Murphy warned people who owned a vacant second home that penalties were on the way if they didn't bring it back to use.
He said he was putting homeowners with a second vacant house "on notice that changes are coming… penalties are coming". He also wants his department to be given increased Compulsory Purchase Order (CPO) powers.
But what about the vacant property that is owned by the government?
Information released through a Freedom of Information request shows that the HSE has 166 buildings on its vacant property register.
Eight of the buildings are being kept for future strategic healthcare service (or economic) reasons, 77 are on the market and 81 are "vacant and under review".
When asked exactly what "under review" entails, a spokesperson for the HSE said: "When a property is first vacated it is put on the Vacant/Under Review list until it is decided if we have another healthcare use or not for the property."
Of the 81 vacant properties across the country, 37 are domestic or residential units. The others are described as 'non-residential'.
Of the residential buildings, there are six each in both Dublin and Cork and four in Wicklow.
There are two domestic or residential buildings owned by the HSE in Donegal, Kildare, Leitrim, Clare, Tipperary, Waterford, Westmeath .
And there is one each in Kerry, Laois, Monaghan, Mayo, Sligo, Limerick and Wexford.
The government is due to launch its vacant home strategy as part of its Rebuilding Ireland plan in the coming weeks. When asked if the Department of Housing report will deal with vacant residential buildings owned by government bodies, a spokesperson for the department said:
We don't hold information on properties owned by other government bodies.
But added, "Work on the National Vacant Housing Strategy is progressing in the Department."
When asked whether any of the residential properties under review are considered for social housing, the HSE spokesperson said social care, mental health services and the local chief health officer are the first point of call to see if they have residential requirements (for example the relocation of people with an intellectual disability who are currently in a congregated setting).
"All our properties are on the OPE database for State owned properties and when vacant are noted as such to give other State agencies the first call on these properties.
Our local property officers would also normally contact the local authorities if they believed that they may have a use for a property.
"Currently we have agreed the sale of a number of residential properties to local authorities and others are under discussion. Local authorities and other State agencies get preferential treatment.
Dublin 
Last February, The Dublin Inquirer looked at the vacant buildings owned by the HSE in Dublin, questioning if they could be used as housing.
It found that five HSE residential properties weren't assigned a future use.
They were St Ita's Hospital in Portrane, St Brigid's Home in Crooksling, Meath Community Unit in Dublin 8, a large home on Amiens Street in the north inner city and a derelict site in Artane.
Now, 19 months on those five Dublin buildings are still listed as vacant and under review.
One of the buildings – the derelict site in Artane – wasn't listed in the information granted to this website under FOI but a spokesperson for the HSE said this was an error and it was removed from the list of HSE properties as it was assumed this was a site with no building.
However, the spokesperson added that the HSE is in discussions with Tusla regarding its use of the site in future.
Another residential unit, Cois Ceim Nursing Home in Dun Laoighaire, is back on the 'vacant and under review' list despite plans to turn it into a facility for the Children's Disability Network Teams last year.
The HSE spokesperson said: "The use of Cois Ceim, one of our properties on the Tivoli Road Campus, is being reconsidered. It will be put back in use in time."
Local Authority 
Census 2016 identified 80,000 vacant homes across the country. However, the Minister for Housing said many of these may have been empty due to a house being in the process of being sold or let, adding the figure could be closer to 25,000.
While the Department of Housing says it doesn't hold information on properties owned by government bodies, it is working with local authorities to return vacant social housing to use.
Some 1,405 units owned by local authorities and currently vacant will be put back to use under the 2017 programme, with more than €24 million proposed as allocated funding for the project.
The majority of these units (337) are in Dublin city, followed by Fingal (151) and Donegal (128).
For a larger image of the above table, click here. 
Since 2014, some 7,119 residential units have been returned across the country.
The majority of these were in Dublin city (1,785), followed by Cork city (644) and both Cork county and Fingal had 451 each.
For a larger image of the above table, click here. 
This week the government said it's considering giving the National Asset Management Agency (Nama) additional powers to build on behalf of the State, to step in where the private sector has failed.
This is the latest in a series of measures to be announced in the coming weeks to deal with the housing, homelessness and rental crisis. The re-introduction of bedsits is also being considered.
A vacant homes website has been developed  which allows people to anonymously log possible vacant properties across the country as part of the Rebuilding Ireland scheme.