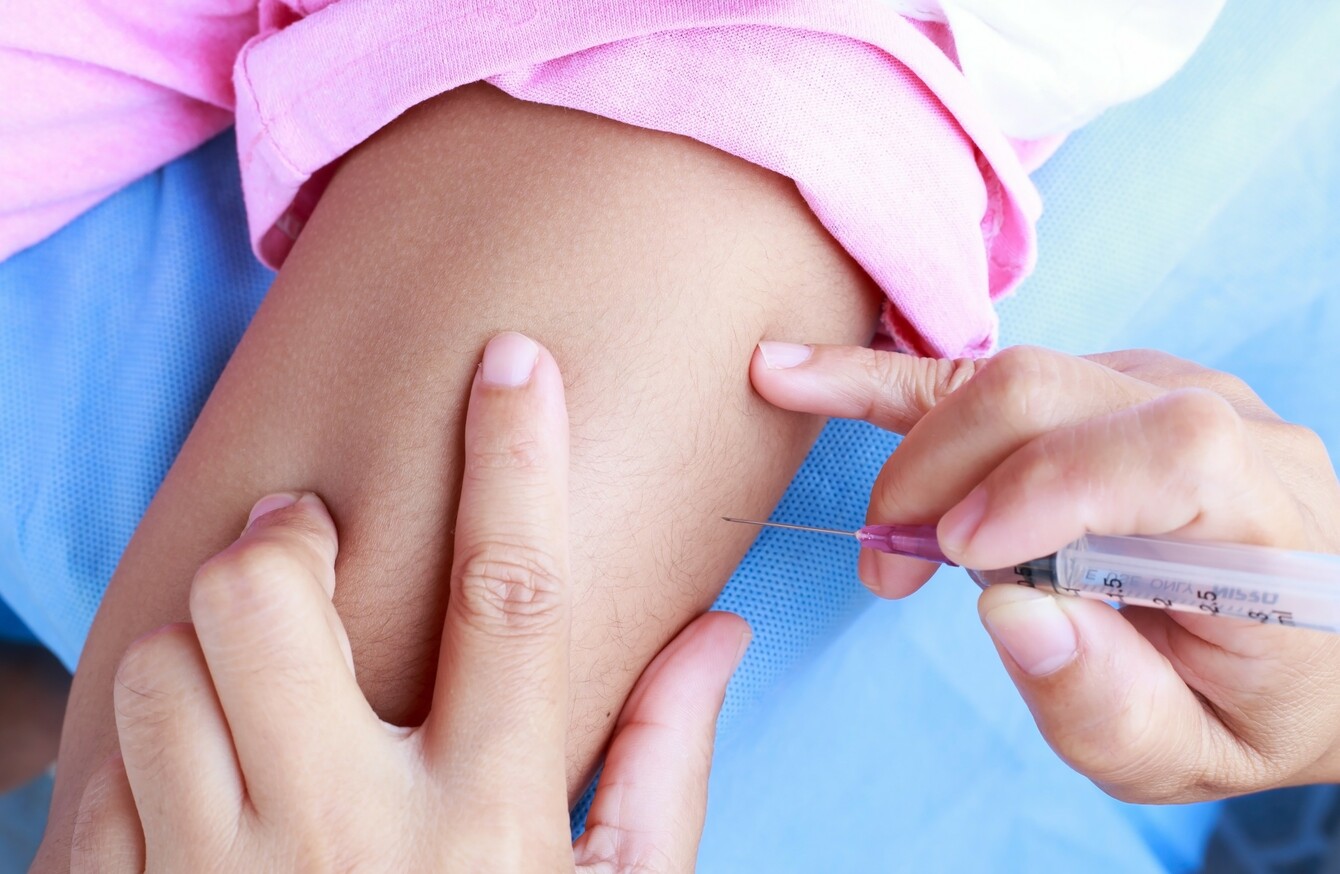 Image: Shutterstock/Komsan Loonprom
Image: Shutterstock/Komsan Loonprom
A CARE PLAN for young girls said to be experiencing adverse symptoms as a result of the human papilloma virus (HPV) vaccine is being developed by the Health Service Executive.
HPV is a common virus that generally spreads through sexual contact with an infected person. There are over 100 viruses that fall within the HPV group, and while many are relatively harmless and don't require treatment, two types (16 and 18) cause seven out of 10 of all diagnosed cervical cancers.
The vaccine, Gardasil, has been criticised by some parent groups – who said that their children experienced a number of side-effects after their vaccinations. Gardasil has been offered to girls in first year in secondary school since September 2011.
Speaking in the Dáil yesterday, Minister of State at the Department of Health, Marcella Corcoran Kennedy said:
I want to provide assurances to them and their families that they are eligible to seek medical attention and to access appropriate health and social care services, irrespective of the cause of their symptoms.
The HSE is currently developing a care pathway for young people who are experiencing these types of symptoms and will be in a position to facilitate access to specialist services tailored to the needs of each individual.
Claims by families 
Late last year, various media outlets (including this publication) highlighted the cases of over 130 girls and their families who had raised issues with Gardasil. The parents claimed that their daughters had become ill after receiving the vaccine.
The families, many of whom are members of an advocacy group named REGRET (Reactions and Effects of Gardasil Resulting in Extreme Trauma), also had their efforts to find out the cause of their daughters' illnesses chronicled in a documentary entitled Cervical Cancer Vaccine: Is it Safe? which aired on Tv3 on 14 December.
Representatives from the group appeared before the Oireachtas Joint Committee on Health and Children last year.
"Our lives were never the same following the Gardasil HPV vaccination of our daughters, with years taken from them, their parents, siblings and grandparents," REGRET spokesperson Anna Cannon told the committee.
We have been given no answers, guidance, or hope.
Cervical cancer 
The issue was raised again in the Dáil this week by Fine Gael's Brendan Griffin and independent Danny Healy-Rae.
Griffin said that over the past nine months numerous parents in Kerry had contacted him with concerns about their daughters.
The number of people who have contacted me leads me to believe this may be more than coincidence but I cannot say that definitively or prove it. It cannot, however, be disproved.
I and Deputy Healy-Rae feel that the parents of these young ladies need to be made aware of the potential side-effects, of the cases that have occurred and of the people who have linked this vaccination to their illnesses.
He said he understood the Department of Health and the European Commission had investigated the link, however it cannot be proven.
To prove or disprove a link would take a long time and a lot of money. In the meantime, at the very least, parents should be made aware of the number of cases of potential side-effects and the number of people potentially affected.
Healy-Rae said the minister for health should inform parents and create awareness about the possible side effects of the drug.
Parents complain about the lack of aftercare
He said parents and their daughters had complained about the lack of aftercare after being vaccinated.
Healy-Rae continued:
We are not doctors and do not have technical knowledge but there is too much of this happening and I met a lot of it when canvassing for the last general election and the council election. It cannot be ignored. This has to be dealt with differently than it has been and parents need to be made aware of it.
Minister for Health Simon Harris said he was aware of the claims made by parents and their daughters, and said it appeared some girls first suffered symptoms around the time they received the vaccine.
"Understandably some parents have connected the vaccine to their daughter's condition," he said.
I want to provide assurances that, as well as being eligible to seek medical attention and to access appropriate health and social care services, irrespective of the cause of their symptoms, the HSE will be in a position to facilitate access to specialist services as required due to the individual nature of the needs of some children.
Cervical cancer is the second most common cancer in women in Europe. It kills an estimated 100 women in Ireland every year and an estimated 250,000 worldwide.
Following recommendations from the National Immunisation Advisory Committee (NIAC), which advises the State on vaccines, the HPV vaccine was introduced five years ago.
More than 200,000 girls immunised in Ireland to date
It is estimated that almost 200,000 girls in Ireland and more than 80 million girls and women worldwide have received the vaccine. It is currently in use in over 25 European countries, the United States, Canada, Australia and New Zealand.
In April, doctors passed a motion at the Irish Medical Organisation (IMO) annual conference calling on the HSE and the Department of Health to help them convince parents of the need to get their children vaccinated.
Speaking at the conference, public health doctor Ann Hogan said she had noticed in her area that there had been a significant drop-off in the number of parents willing to sign their children up to receive the second dose of the vaccine at the beginning of this year.
She attributed the fall-off to the recent media coverage.