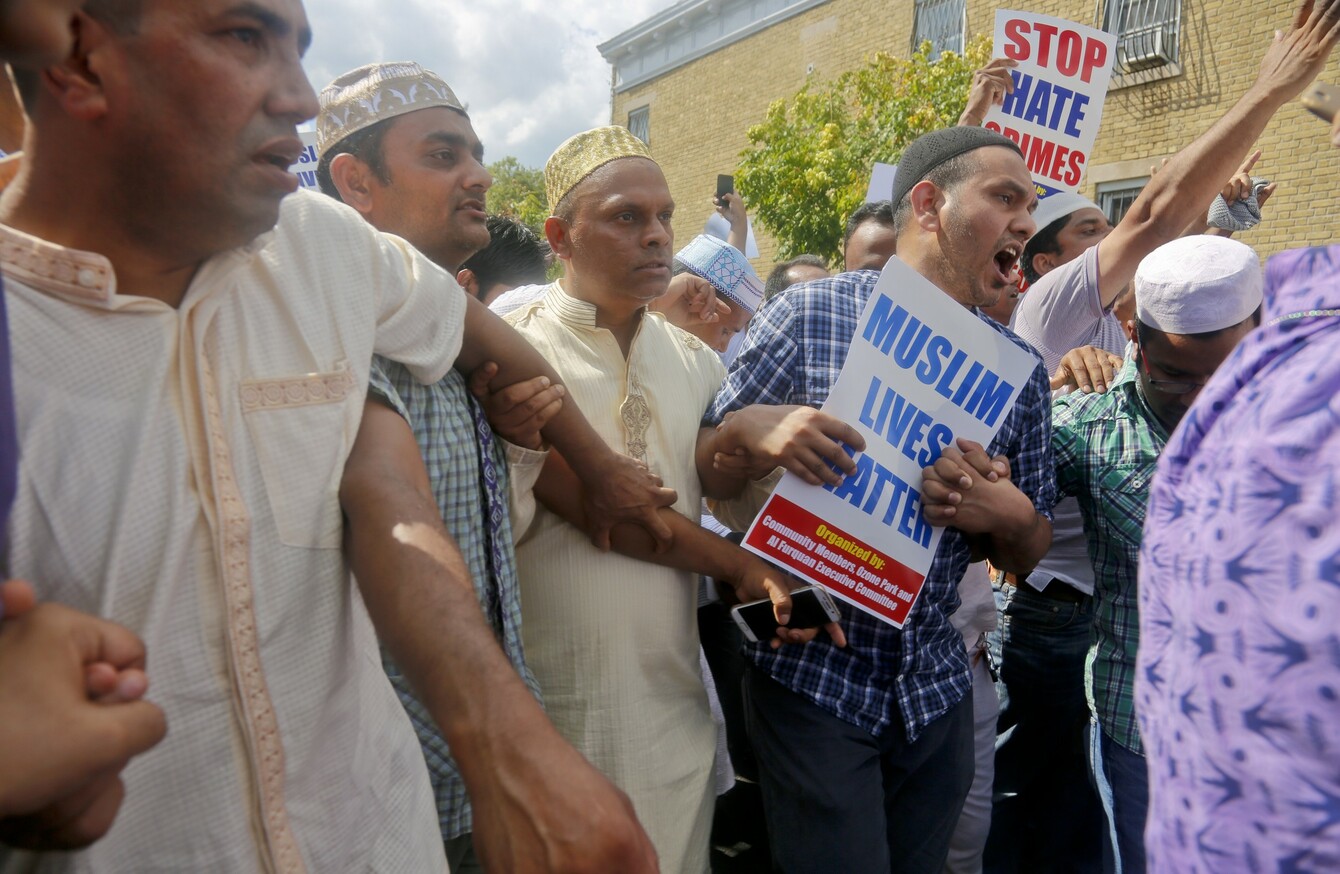 Mourners hold signs and protested near the site of the killings of Imam Maulama Akonjee and Thara Uddin, after funeral services for both men.
Image: Bebeto Matthews
Mourners hold signs and protested near the site of the killings of Imam Maulama Akonjee and Thara Uddin, after funeral services for both men.
Image: Bebeto Matthews
NEW YORK POLICE have charged a suspect with the double murder of a New York imam and his friend, in a brutal slaying that sent shock waves through US Muslim communities.
Oscar Morel, a 35-year-old Brooklyn man,was charged with two counts of murder and two counts of criminal possession of a weapon, said NYPD detective Hubert Reyes.
Fearful Muslim New Yorkers have demanded stepped-up security and justice as hundreds of mourners attended the two men's funeral service in the borough of Queens.
Maulama Akonjee, 55, who migrated to the United States from Bangladesh, and his friend, 64-year-old Thara Uddin, were shot dead in broad daylight on Saturday afternoon in the Ozone Park neighborhood.
Morel was taken into custody on Sunday, according to the NYPD.
Following his detention, he was charged with a hit-and-run that took place about five kilometers away from the double murder and the assault of a police officer, Chief of Detectives Robert Boyce told a news conference.
The murder charges were added later yesterday after police recovered a gun and clothing from his house that were similar to those believed used by the shooter, US media reported.
Morel was known to have been in the area of the double murder eight minutes before the homicide and took off directly afterward, Boyce said.
Police said Morel was from East New York, a troubled area of Brooklyn, and was believed to have a job in a warehouse.
Authorities had earlier said hate crime was being investigated as a possible motive — as demanded by Muslim elders — but did not provide any information on the suspect's motives yesterday evening.
The New York Daily News quoted police sources as saying the killer may have been settling a score in a feud between Muslims and Hispanics, suggestions that have been dismissed by members of the Muslim community.
"We want justice, we want justice, we want justice," chanted Muslim elders at a chaotic news conference before yesterday's funeral.
 Xenophobic statements 
The Council on American-Islamic Relations had offered a $10,000 (€11,236) reward for any information that could lead to an arrest or conviction.
Community leaders, clearly rattled by rising Islamophobia, slammed "xenophobic statements" made against Muslims in speeches by "politicians and candidates seeking the highest office in the land" — a clear reference to Donald Trump.
Trump, the New York billionaire and Republican nominee, used a keynote address yesterday to demand ideological screening tests for immigrants, saying immigrants and their children had been responsible for a string of extremist attacks in America.
One speaker at the pre-funeral conference demanded security cameras be erected outside mosques and for the street where the two men were shot to be renamed in their honor.
Mayor Bill de Blasio, who paid his respects with other elected officials, promised extra police would protect mosques and Muslim communities, saying the entire city stood shoulder-to-shoulder with those in mourning.
"We know there are voices all over this country who are spewing hate, trying to create division, trying to turn one American against another," de Blasio said.
"We're not going to let them continue to encourage acts of hatred."
The working class area where the victims were killed, on the border between Queens and Brooklyn, is home to many Muslim families from Bangladesh.
Akonjee had been carrying more than $1,000 (€1,124), but the attacker did not take the money, police said.