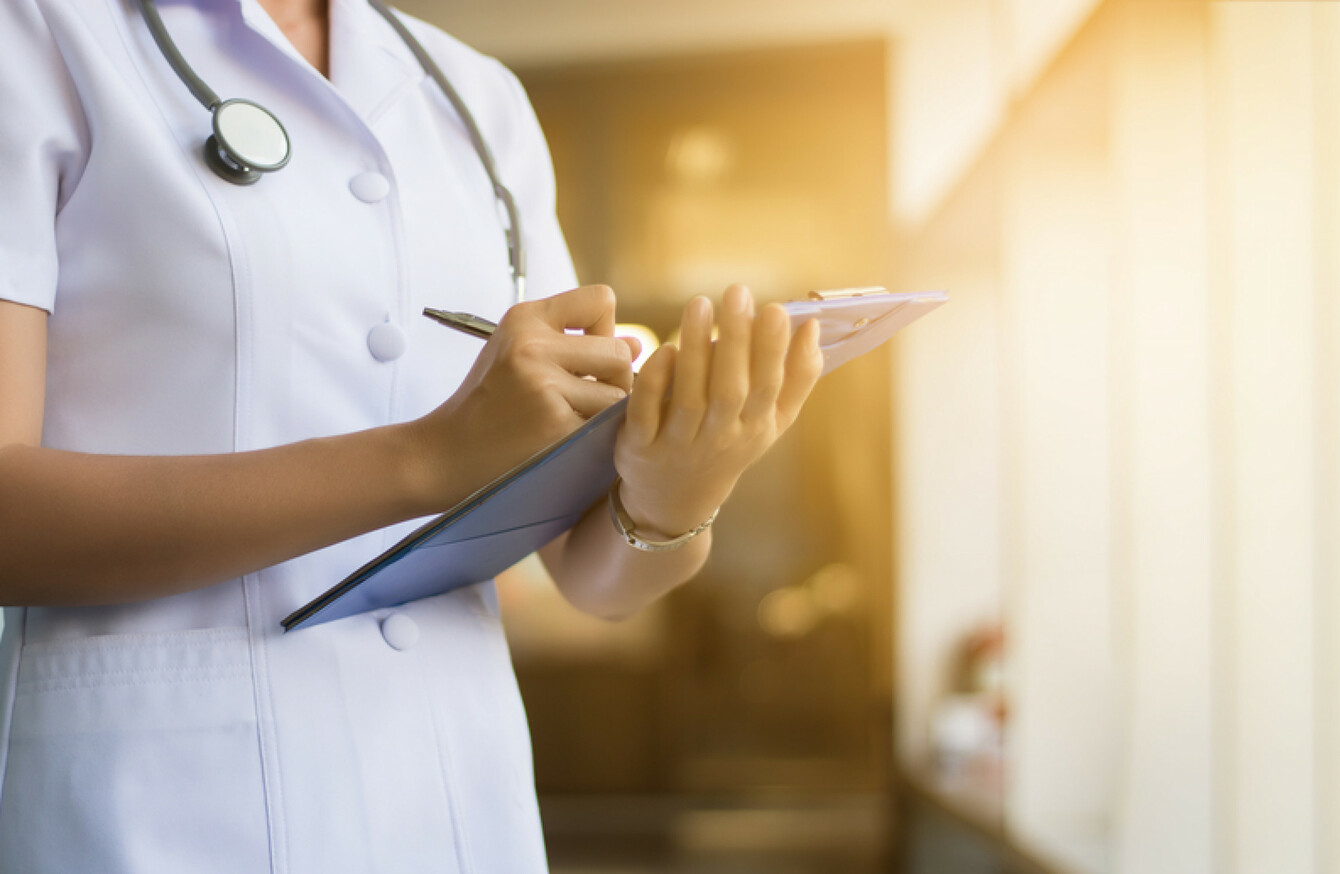 Image: Shutterstock/Moopixel
Image: Shutterstock/Moopixel
THE IRISH NURSES and Midwives Organisation (INMO) has said that Irish nurses are being "aggressively recruited" from Ireland – and are willing to leave because of higher wages and better working conditions abroad.
The INMO made the comments yesterday as it launched its first paediatric trolley watch, which counts how many children are on trolleys in children's hospitals. The trolley watch found that 73 children were on trolleys in emergency departments in the first two weeks of this year.
At the launch, the INMO said that the recruitment and retention of nurses is of particular concern to the organisation, and needs to be addressed by the government.
The government's Public Service Pay Commission is currently examining the reasons for issues with the recruitment and retention of staff in sectors such as nursing.
According to HSE annual report figures for 2016, nursing staffing levels have fallen by more than 3,000 since 2007. The HSE committed to increasing the nursing and midwifery workforce to deliver 1,208 additional permanent posts last year.
Phil Ní Sheaghdha, the general secretary of the INMO, said that one major issue affecting retention is recruitment from abroad.
"We have a very serious situation as well with the UK aggressively recruiting our qualifying sick children nurses, particularly Great Ormond Street," she said.
They view the training our nurses receive very highly, and they come here to recruit. And unfortunately our conditions of employment are such that it seems far more attractive for our nurses to emigrate and that's something we think should be curbed, nipped in the bud, and there's only one way to do it – and that's to make the conditions here better.
She added: "The UK hospitals are very sophisticated in how they recruit, both in the children's and in the adult. So they come, they have their package set out and they know exactly how many they'll take. So they go to specific colleges, they meet the students when they are in their final year and they pitch and they offer them very attractive packages."
Ní Sheaghdha told TheJournal.ie: "Most nurses would like to consolidate their training in their training hospital even if that's for a year or six months. What we're finding is the package in the UK, and because it's so close and travel-wise it's easy, they're outweighing the benefit that most people think they would get by staying in their training hospital and consolidating their training. So they're leaving."
She said that the health department needs to look at policy around this issue.
"We have to look at what are we paying nurses across all of the children's and adults [services] because clearly we are losing the battle," she said, adding that the INMO has made submissions to the Public Service Pay Commission on the issue.
We believe the argument of 'do we have a recruitment and retention problem' – that argument is done. There is.
"There's clearly a huge crisis now in recruitment and retention for nurses and midwives. And the next step is, well, what do we do to correct that, and as far as we're concerned everything has been tried except correction of the pay."
According to Ní Sheaghdha, at the moment they train 100 nurses a year in the disciplines of general and paediatrics, which is a combined course, and they also have 83 – 84 postgraduate places for nurses who want to go on to do paediatrics.
Retention issues
Last year, 107 children's nurses were recruited and started – and 106 left. "So that doesn't fill us with any joy or enthusiasm that this is going to go away," said Ní Sheaghdha of issues around retention.
It is reflective of the general population of nursing in that those who are leaving are quickly outpacing those that start. And this is a real, real problem.
She said this issue is reflective of the pay and the hours that nurses are expected to work in very busy hospitals. She said that when HIQA looked at the occupancy of hospitals, it stated that the hospitals are operating at such a level it leads to "high burnout among staff" and "a turnover rate of staff that is just not sustainable".
#Open journalism No news is bad news Support The Journal

Your contributions will help us continue to deliver the stories that are important to you

Support us now
"We have to do something to stop that," said Ní Sheaghdha. "We are on record as saying until nurses' pay is corrected and until the hours reflect those of other healthcare professionals, the problem isn't going to go away."
The HSE has been working with the INMO to increase the number of new nurses retained, but Ní Sheaghdha said that though the target was 1,224, by last September the number had only grown by 13.
The HSE launched a 'bring them home' campaign for nurses, which offered up-front payments for returning nurses. However, it failed to bring in the big numbers it was hoped.
"I think we are very adamant we have to have concrete plans of recruitment and retention," said Ní Sheaghdha.
"You cannot continue to pay nurses 10 – 15% less than their comparative allied healthcare professionals who have exactly the same entry requirements into the profession, who work in exactly the same areas, pay them less and ask them to work longer hours. That is a recipe for disaster which we are now in the middle of."
The INMO said it was also concerned about the number of nurses recruited for the new National Children's Hospital – due to open in 2020 – and has been in discussions about doubling the number required.