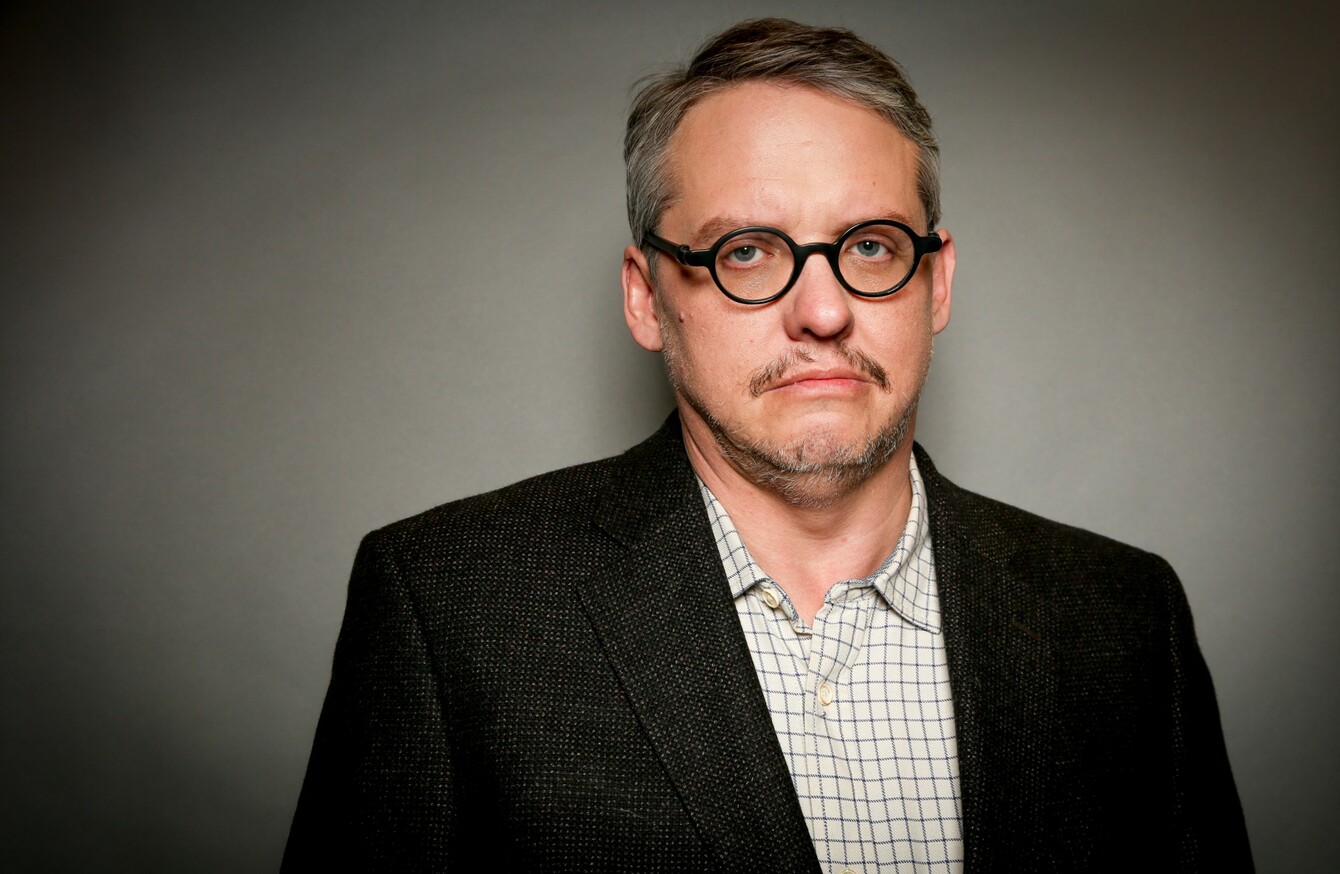 Image: AP/Press Association Images
Image: AP/Press Association Images
HE'S BEST BUDDIES with – and creative partner of – comic Will Ferrell; he's the man behind SNL skits, Funny or Die and Anchorman; and he's the guy who wrote Ant-Man.
So how did Adam McKay end up directing an Oscar-nominated movie about the collapse of the US's housing bubble back in the early 2000s?
The shift in topic has people talking, but it's not entirely new for McKay. In an interview with TheJournal.ie, he outlined how much of a change this film is for his career – and what he plans to do next.
A background in comedy
Pennsylvania-born McKay (47) cut his comedy teeth on the improv circuit, becoming one of the founding members of the Upright Citizens Brigade troupe (other members include Amy Poehler and Rich Fulcher), before going on to Second City (alumni include Tina Fey).
He unsuccessfully auditioned in the early 1990s to become a Saturday Night Live (SNL) performer, but didn't make the cut. Instead, his scripts led to a job as writer on SNL, from 1995 – 2001, and paved the way for his career as a screenwriter, producer, director and actor.
If you don't recognise McKay's face, that's because he's usually behind the camera, or the script. His partnership with Will Ferrell has led to comedy staples like Anchorman and Step Brothers, and the creation of Funny or Die, the comedy site that is home to shows like Between Two Ferns, and The Landlord, which starred his little daughter Pearl. (Hollywood trivia: McKay is married to Shiva Piven, sister of actor Jeremy Piven.)
"I've always been politically engaged"
When we meet, McKay points out that he's not just a comedy stalwart, so making the Big Short perhaps wasn't as big of a shift as you might think.
"Obviously I am most known for the absurdist comedies I've done with Will Ferrell, but I've done a lot of other stuff like writing for Huffington Post, political openers for SNL, directed the Broadway show for George Bush and I've always been engaged in having benefits and being politically engaged and marching, so to me it didn't feel that different," said McKay.
He had read the Michael Lewis book of the same name, which detailed the US financial crisis of 2007 – 10, and how certain figures like Michael Burry, predicted the bursting of the housing bubble, and immediately saw potential.
He approached Brad Pitt's Plan B Entertainment company to come on board. Was he worried that his reputation for comedy would stand in the way?
"I knew exactly what I wanted to do with it – the trick was would anybody let me, as it was a bit different. And I got lucky in the sense that Plan B Entertainment, they are just the coolest people."
There are many other companies that would have said the guy who does Anchorman, he wants to talk to the audience, no way, so thank God it all worked out.
The biggest thrill while making this film was knowing "that the story was so alive and right now". He loved, too, how he had very different actors on set to work with.
"There were probably a few moments early on, when we first started meeting with this different crop of actor that I'm used to where it was like, wow, Christian Bale is showing up to shoot today'."
The Big Short doesn't stray completely away from McKay's entertainment roots. It brings us multiple characters' stories, from metal-listening hedge fund manager Michael Burry (Christian Bale), who's seen as eccentric by his investors; fake-tanned trader Jared Vennett (Ryan Gosling), who acts as narrator; hedge fund manager Mark Baum (Steve Carrell) who has suffered personal tragedy; and young investors Charlie Geller (John Magaro) and Jamie Shipley (Finn Wittrock) who accidentally get involved and bring retired banker Ben Rickert (Brad Pitt) with them.
The film isn't a sober watch: at one stage, Margot Robbie pops up (mystifyingly, in a bubble bath) to teach us about financial terms. She's not the only celeb who appears to elucidate the confusing terms being used: Anthony Bourdain (clothed and in a kitchen) and Selena Gomez (in a casino) also appear.
These cameos were, said McKay, essential to the movie. "The one part that was going to be hard was if I wasn't going to be able to have Selena Gomez, Anthony Bourdain, Margot Robbie. That was going to be tough – 'cos then I was going to have to add dialogue of the characters explaining it. To me it was so much less interesting than doing it this way."
He realised straight away that "you couldn't just play [the story] as a strict narrative", and, inspired by the film 24-Hour Party People, he set about constructing a wider narrative.
He even had some of the real people from the story turn up in the movie, but it did't work so they were cut. "The beauty of film is you can try stuff like that and get in the edit room and see how it feels," said McKay.
Breaking through the jargon
It's hard for a regular audience member to get what terms like triple A or CDOs mean, so it was essential that the celeb cameos worked. But it wasn't just a matter of explaining the terms, it was the fact these terms exist at all that bothered McKay.
"We really wanted to break through that bank jargon they use to make us all feel stupid," he said. With no financial studies background, he used himself and his wife as test cases.
I knew if she was interested, we were in good shape. And then I also knew at the end of the day you don't have to get every bit of it, you just have to understand
They were "thrilled" after the initial test screening when the audience 'got it', with just a few tweaks needed.
An anger that's needed
You leave the Big Short feeling angry. You can see the parallels with Ireland's own banking crisis, and you can see the desperation and poverty that the circumstances outlined in the film led to.
"We never wanted the anger to get to the point where you would leave feeling depressed. We didn't want that," said McKay. "Yes, you can be angry, but we also wanted people to be excited by it and to have a charge from the fact they now know stuff they didn't know."
But he doesn't want people to shy away from being annoyed. "Hopefully people – yeah, they should be pissed off," said McKay.
The banks did really horrible things to a lot of people and really shady stuff. But most of all, how great that we get an idea of the game they are playing now.
He is critical of the US media, describing it as profit-driven rather than prestige-driven. The film shows how one journalist turns down a scoop because of a fear surrounding his own personal circumstances.
"Now everyone is very concerned for their jobs, so I wanted to show that," said the director. "I wanted to show that this guy is not necessarily a bad guy, he's just in a spot where he can't blow up his career, he's under a lot of pressure."
Our TV press is completely out the window, useless. Because this was not a hard story to find, it really want, if you look at the numbers it's very clear there was a massive housing bubble, it's just no one really bothered to look.
"In some ways I think the centre of the movie is the question of what is our culture telling us, what are we getting from our 24-hour news cycle, what are we hearing from our friends and how true is that and how is it being manipulated?" said McKay.
"A lot of people are paying a lot of money to make sure that message is distorted, and if there's one thing I would love for people to walk out of this movie and think, it's where am I getting this information? Why am I assuming is correct? Are there other places I can go, and just start to ask questions like that."
He believes this is no more evident than in how climate change is reported. "It's probably going to end up being the biggest story in the history of mankind. There's no coverage of it in the US, it's never in the news," he said.
Looking forward
So, after changing his focus for this latest film, has Adam McKay re-evaluated what he's doing for his career?
"Maybe I'll play around with combining the absurdist comedy with something that is super relevant," he suggested. "I was also excited to see you can get people to laugh in a movie like this too."
"The drama is just to be able to tell the story how you need to tell it, and I think a lot of times when you're categorised in a genre it makes it hard to do that," he added.
So it feels like there is more possibility of doing that now, which is nice. Ultimately you still have to go to some company and get them to give you money to make the movie.
Future projects include a "big crazy surprise" Funny or Die movie (which was filmed in secret), and three or four ideas with his Gary Sanchez production company. He's in talks with director Peyton Reed about helping with the new Ant Man script, and has another idea involving the aforementioned climate change.
But don't worry, he hasn't forgotten about his bud Will Ferrell: "I have an idea with Will about immigration that is a big silly comedy."
Watch this space. In the meantime, he has the Oscars to look forward to.
How does he feel about the big night? "Excited, and nervous, and excited, and tired, and excited."
The Big Short is in Irish cinemas now