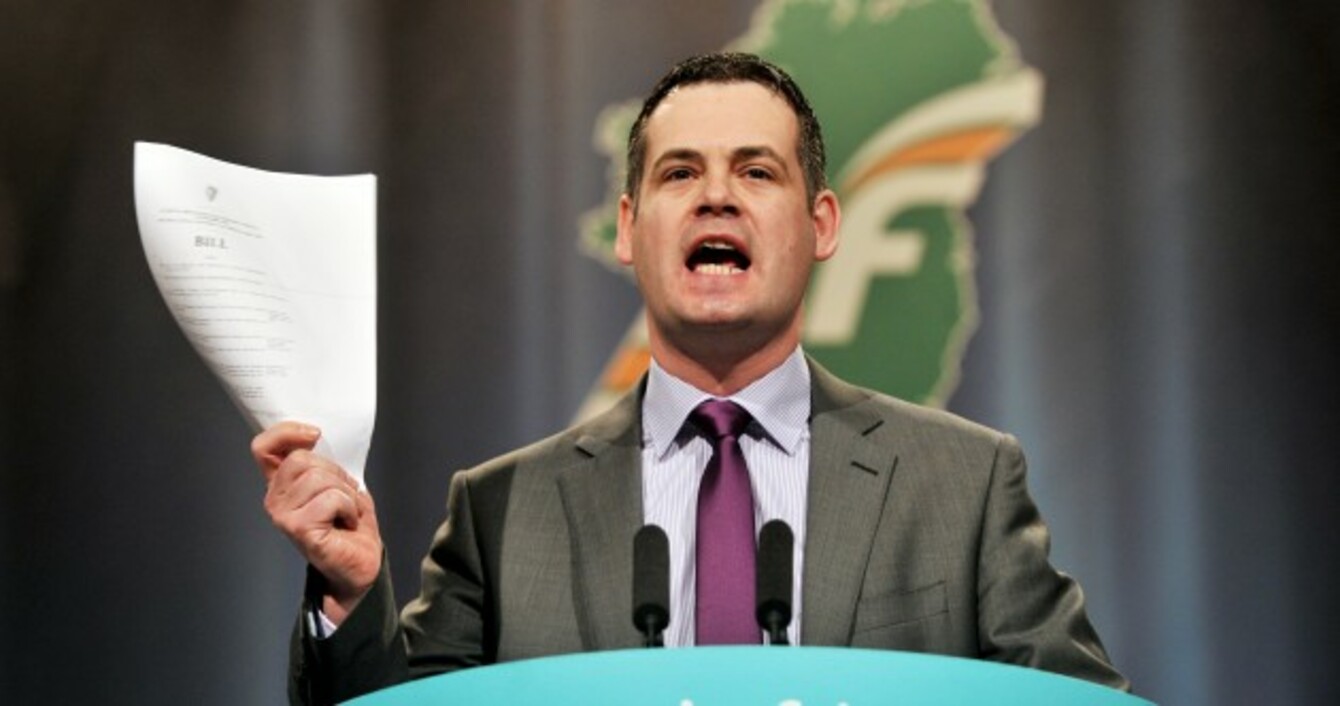 Image: Laura Hutton/Photocall Ireland
Image: Laura Hutton/Photocall Ireland
GOING UP IN the elevator to Sinn Fein's new offices in Leinster House, I am told the party now occupies the Labour party's old hallways.
How times have changed.
The Labour party has been resigned to the basement, an area which some Sinn Feiners used to call "the dungeon" due to its lack of space and natural light.
Sinn Féin finance spokesperson Pearse Doherty now enjoys a room with a view. He's not sure who has inherited his old digs, but thinks there is someone's name "on the cupboard door".
Sinn Féin saw a major boost in their support in the last general election, landing 23 seats and putting them in a strong opposition position.
Doherty said the party did not have an easy ride during the election, criticising a number of media organisations for what he described as a targeted campaign against them.
Calling out The Irish Independent, The Irish Times and RTÉ, the Donegal TD said they were "very, very hostile towards Sinn Féin".
"That impacted the campaign," he said.
Despite media criticisms, Doherty points out the party performed well and is something they plan to build on in the next general election, if and when that might be.
The 38-year-old TD came to this politics game young. A founding member of Ógra Shinn Féin he served on its National Executive between 1998 and 2001. He was the party's first senator, before being elected as a TD in the 2010 Donegal South West by-election. 
However, he says being a TD is not necessarily something he ever wanted.
Being a TD is not necessarily something I want to do… and that is no offence to the people in Donegal that elected me. If there is another election I will be out there asking people and begging them to support me, but in a way it is something you fall into in terms of your beliefs and motivations and all the rest.
He said he never had the thought: 'I want to be a TD'.
I would be happy to be an activist in my own area and still be involved in Sinn Féin, but I don't think I have some special ability that marks me above anyone else as a TD.
Family life
The father of four, says becoming a TD is a choice he has made. He said it is a choice that has impacted on his family life, and one he thinks he might one day regret.
I try and carve out time to see them. But is it right that your children expect to see you for one day a week?
There are a lot of fathers and a lot of mothers that are living away from home who have to go to work. But for me it is a choice.

I have decided to put myself up as a candidate for Sinn Féin and that's hard for them. I find it hard myself, as well. That is a battle I have internally all the time, to strike that balance.

I genuinely think, despite my passion to be part of Sinn Féin and do what I can, I think it is something I may regret in the future. The kids are growing up and you know, you are never going to get that back.
Speaking about Dáil reforms and making Leinster House more 'family friendly', Doherty said not everyone is going to be happy.
It is impossible. What is family-friendly for Mary Lou (McDonald), is unfamily-friendly for me… if the Dáil finishes at 8 o'clock and doesn't start again until 12pm, that is good for someone that lives up here in Dublin or is commuting, because they can get home and see the children before they are asleep or they can be there in the morning for breakfast and get their children off to school.
For us coming up from the country, we are up here a minimum of three days in the week. We want to start early and finish as late as possible because you want to cram as much in as possible, because we are away from the family…

That is the big challenge, you are not there in the morning, you are not there at night, you can go a long spell without seeing them.
However, despite the personal challenges, Doherty said he is determined to see Sinn Féin in government one day – though he concedes that it's a long-term project.
Sinn Féin secured more votes on this island of Ireland than it has ever done before. We increased our votes significantly… There are certain forces in society that don't want to see the change that Sinn Féin want to bring about, there are certain elites that don't want to see it, but there are enough people out there who are yearning for change.
From our point of view this is a long-term project – this is about increasing our support incrementally – holding that support, where you have solid place from where you are working from, so you are not doing what the Labour party did, where you're at 10% [in the polls] one day and 27% the other day, then you're in government and then it's gone again.
'Shinnernomics'
Other political parties often criticise Sinn Féin's economic policies, something that irks Doherty. Clearly a sore point for the finance spokesperson, he said it was time for "a bit of honesty".
Who is it that peddles that sort of thing about 'Shinnernomics'? Who says that and then can back it up, because it is easy to throw out a soundbite. I would argue we have the best economic analysis of any of the political parties.
People might have the impression that Fine Gael are sensible and care about the economy, yet they introduced a budget last year that was €540 million out… We are the ones that pointed out they were under providing for health – yet we are the ones that don't have clue about economics?
Doherty said his party is told their ideas are "nonsense" and are "mad economic policies".
We are the first party that got our budget costed by the Department of Finance. I adopted a position when I took over as finance spokesperson that I wouldn't put forward any policies that weren't costed by the Department of Finance, so that nobody could say that we were making up our figures.
The Donegal TD came in for criticism this week when he said abolishing the Universal Social Charge (USC) for middle-income earners is reckless.
Middle-income earners, to those in government, are people who earn up to €70,000, said Doherty, who claims that middle-income earners are more likely to make €28,500, not the top-end figure of €70,000.
People who are earning up to €70k might think they are not particularly wealthy or rich because of other prices of things in Ireland, and that may be the case, but they are not middle-income earners.
He said government tax cuts benefit high income earners - and that is the problem, it is an abuse of statistics.
"If Sinn Féin did this, we would be crucified"
He said Fianna Fáil continue to put forward uncosted economic policies that don't add up.
If Sinn Féin did this, we would be crucified. There would probably be a front page story on the Irish Independent and other radio stations would be asking us about it.

Fianna Fáil's proposal in terms USC is out by about €100 million. This is undisputable. I can show anybody, a ten-year-old can actually point it out. I can show you the figures. They just get away with it. A €100 million hole in one policy and they just get away with it – if it was Sinn Féin, we would be torn asunder.
The complaint underlines a sentiment within the party that they get a harder time of it than other parties in general.
Of course we do, listen it is not even on economics. Listen to what Enda Kenny said in the chamber yesterday, where he was talking about inner city.

He talked passionately about how community representatives in that area, how they are opposed to people labelling their community as gangland. Gerry Adams said there was no such thing as gangland in these communities during the election campaign and he was hammered, torn asunder.
Now people are starting to realise, Sheriff Street is not gangland – inner city is not a gangland – this is what Gerry Adams was actually saying, yet there are no articles about Enda Kenny denying the existence of gangland and the rest, because there are certain rules for those that challenge the elite and there are certain rules for the establishment.
The Donegal TD said his party leader is also scrutinised more than any other party leader. Gerry Adams was slammed for his poor election performances and for fudging the facts and figures during key live debates.
So, does Doherty think Adams cost the party seats?
I don't think it cost seats… I think there is a focus on Gerry Adams that isn't the same on other political leaders.
Gerry Adams brings a huge amount to this party… his direction and focus to where we are going and we have been a party that has been advancing, north and south, in every election.
He said everyone in the party has different strengths and weaknesses.
Gerry's isn't rhyming off numbers off the top of his head, but some of the stuff is ridiculous – it is a game with the media. 'Catch him out with a number'. We have 100 costed policies in our manifesto. There is no way any of us knows the cost of every single one of them, no one would expect us to.
"I personally don't want to lead Sinn Féin"
Doherty has long said that he has no aspirations to lead Sinn Féin, but with speculation the party might be entering a new era with a need for fresh faces and new blood, it must be something that has crossed his mind?
It is not something I want. I personally don't want it. Of course it would be an honour to represent your party at that level… I am not going to be out there orchestrating to have me in a position to challenge for the leadership in the future.
He said there were plenty of people in the party that would be capable of leading after Adams, but he claimed there have been no internal discussions within the party as to who it might be.
"I haven't had those discussions with Gerry, but Gerry will know himself when he has to go – or when he sees someone else's name down at an Ard Fheis challenging him," he said, jokingly.
But I wouldn't hold my breath on that one. Gerry is focused on the job and there is work to be done.
With the shock of a Brexit this week, Sinn Féin will have their sights on a border poll.
Doherty said one of the reasons he got involved in Sinn Féin was republicanism and the vision of a united Ireland.
"That demand for a united Ireland, it is something that is just raw in me, I believe in a united Ireland."
He said a Brexit vote is a "catalyst" for a border poll.
"It's fair to say that if there is a Brexit then the demand for a border poll would be enhanced and it would be something we are looking for straight away."