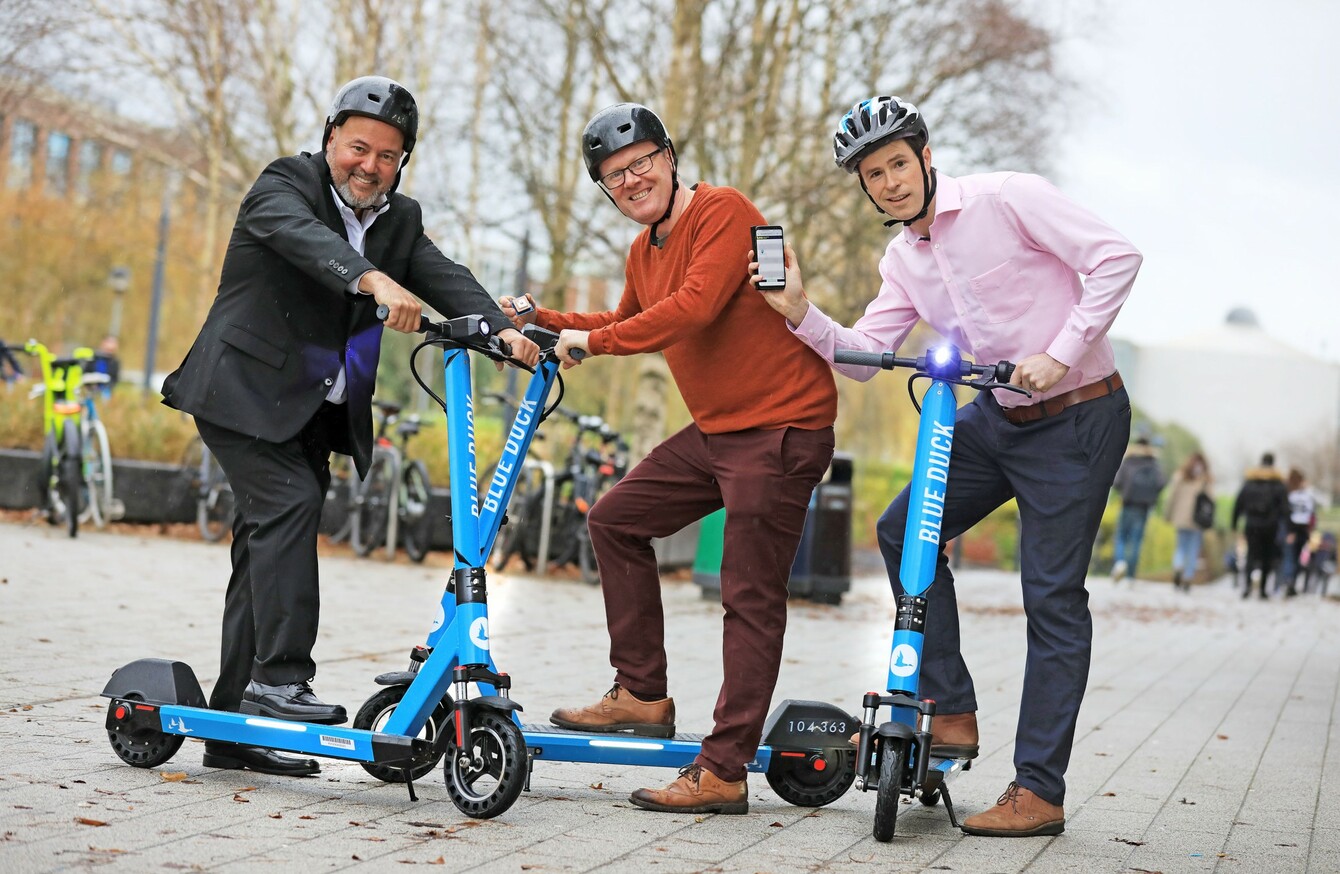 A ROOM OF E-SCOOTER enthusiasts gathered in the Solas Room of DCU's U building to see the unveiling of a new GPS tech to find help find them.
On a pretty miserable December morning, some of the crowd veered towards the large windows of the room to look at people spinning around DCU campus on blue scooters below. 
Ronan Quinlan, co-chief executive of Taoglas, pictured in the middle, was among the group. His company isn't just a spectator, but rather bringing its considerable expertise in high-tech antennas and internet of things (IoT) to the table.
Taoglas, which Quinlan founded and runs with Dermot O'Shea, is part of the Luna consortium, along with vehicle-tracking firm Transpoco, which aims to make e-scooters safer and more sustainable by providing the technology to locate a scooter down to a two-centimetre radius. 
It's a first in the world for e-scooters, which have developed a bad rep in some major cities for blocking pathways and clogging rivers – a French startup has created a business around pulling abandoned e-scooters from the Seine.
"We got together a few months ago and said let's do something interesting that could be world class and unique," Quinlan told Fora as he sat in an empty lecture hall after the event.
Taoglas was involved in the project alongside Firmwave, before it bought out the Irish IoT company in April.
Texas-based e-scooter company Blue Duck was chosen to pilot the technology on the university campus. Ireland has not yet legislated for the use of e-scooters on the road but that hasn't stopped global companies such as Lime from setting up shop here.
Early beginnings
It's not surprising that Taoglas has big ambitions for the Luna project, the company has not been afraid to dream big from the get-go.
A company name that is an Irish-Chinese compound, which means greenway, embodies the company's early aim to be cross-cultural. With 330 people spread around the world and offices in Ireland, US, Germany, China, Taiwan and Poland, it has gone some way to living up to it. 
This year it's on track to ship 20 million products – including antennas and some of its other next-generation IoT products that have similar functionalities but can be used on various devices. According to recently filed company accounts, it had a turnover of €54.6 million in 2018, up €6 million from the previous year. 
The company is perhaps the only Irish startup to come out of the Taiwan Celts, the Gaelic football and soccer side where Quinlan met Dermot O'Shea in 2003. 
"I think it was at my engagement party at the time, I talked to him after a few tequilas and told him I was thinking of setting up my own business. We met at a Starbucks the next day," Quinlan explained.
At that stage, Quinlan had worked in the Taiwanese electronics industry for five years, having applied for an Asian graduate programme when he finished his studies in international commerce and Italian at University College Dublin.
"The government at the time wanted these Irish people to encourage companies to invest in Ireland and set up their European operations," he said.
"It never quite worked out but I will say because of the scheme I have made a very significant contribution to Ireland," Quinlan laughed.
Quinlan worked out of a spare room in Taiwan and O'Shea returned to Ireland, working from a hut in his backyard in Enniscorthy. In those early days did he see the company becoming as big as it has? 
"I've always had confidence in it, that's for sure," he replied. "Dermot and I share a vision, we want to be number one."
Finding the perfect co-founder
Quinlan admits that if the company was a one-man show, it probably wouldn't have reached the point where it's at today. O'Shea, who had experience working in logistics, has been based out of the US for the past eight years. 
"He has done a great job at developing the North American business there. That's our number one region right now," Quinlan said.
"For me, I never wanted to found a business on my own, I wanted to co-found my business. So it's more important to find the right person," he said.
For Taoglas, it is not just about finding the right people but also the right deals. Having bought out Firmwave, recently the company announced its acquisition of Florida-based commercial vehicle antenna provider ThinkWireless back in January. 
"That acquisition was a good story because they have been very successful penetrating the US truck market. They kept beating us to it. If you can't beat them join them." he laughed.
"So what we have been able to do there is bring our scale and our level of production. ThinkWireless has a lot more products. We've been able to get their products into the world market and we are developing the business in Europe," he explained.
Global leaders
Scooters are the tip of the iceberg for Taoglas and Quinlan believes Ireland could become a leader in exactly this type of precision technology through collaborations.
"In Ireland, we do great things individually. We have the best companies but we don't have a giant application or technology. We tend to be the guys under the hood delivering a piece of software or a piece of hardware," Quinlan said.
He explained Taoglas has more than 100 engineers working on the type of technology used in the Luna project every day. "We didn't invent the technology but we are making it available for the masses, it's never been available for that market before," he said
"We're using technology that's been made in the automotive world but making it at a cheaper price point, between $100 to $200," he explained.
#Open journalism No news is bad news Support The Journal

Your contributions will help us continue to deliver the stories that are important to you

Support us now
Within the autonomous car industry these elements could cost up to $250,000, he said.
The technology achieves accuracy by sending a signal correction – from base receiver stations that are fixed on the top of roof buildings – to the GPS signal that is being received from satellites in space.
Every day uses include the tech being adopted in combine harvesters and defence forces to help with positioning. "You need four satellites to lock onto an antenna (for GPS location) and the further they are spread out in the sky, the more accurate the position," he explained.
He said that the atmosphere distorts the signals but the base receivers correct it to the nearest centimetre.
Looking to the future
The company intends to continue acquiring companies as it grows, while the tech it is developing as part of the Luna consortium is also a major focal point. 
"We are going to bring in machine learning vision systems which will operate on edge technology and allow the device to recognise its surroundings," Quinlan said.
"There are areas where GPS doesn't work – under the eaves of buildings or indoors. So, we are developing the next generation vision system to allow these devices to work where GPS doesn't today."
Quinlan's grand plan for the scooters goes further than that. He has a "roadmap" in his mind's eye and plans to improve mapping systems that are used. 
He also said the technology could be used to incentivise behaviours and disable scooters being used by people that aren't playing by the rules. 
Eventually, he sees a city manager being monitor and control a network through  a mapping system that shows all the transport links in a city.
Get our Daily Briefing with the morning's most important headlines for innovative Irish businesses. 
Written by Laura Roddy and posted on Fora.ie