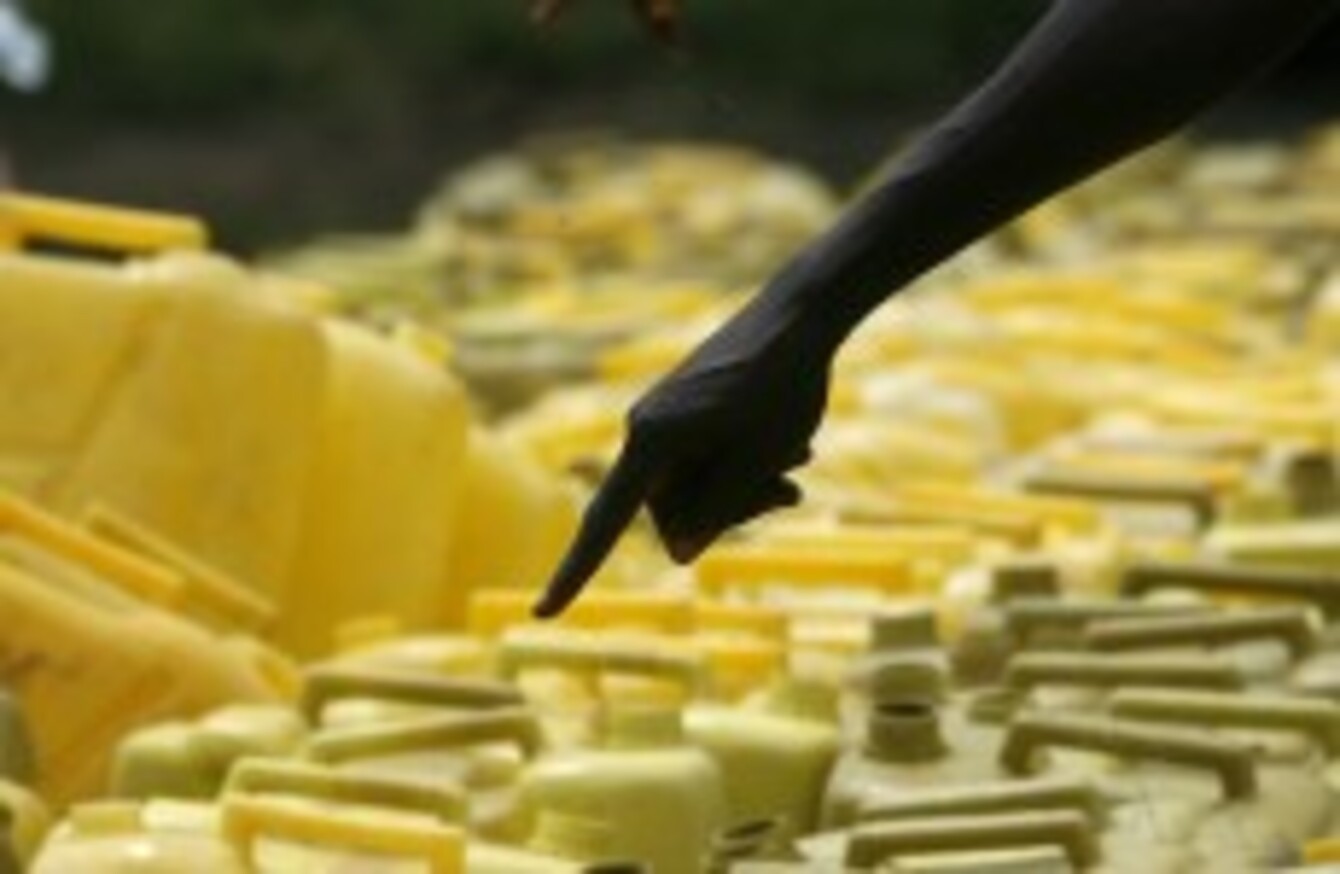 Aid workers count water containers as displaced Congolese who fled to the south east of Rutshuru
Image: Jerome Delay/AP/Press Association Images
Aid workers count water containers as displaced Congolese who fled to the south east of Rutshuru
Image: Jerome Delay/AP/Press Association Images
IRELAND HAS BEEN called on to strengthen its promise on overseas aid and increase its spending in the area.
Irish Development NGOs today warned of how successive aid shortfalls threaten the achievement of the Millennium Development Goals (MDGs) and called on the government to strengthen its promise to spend 0.7 per cent of our GNI on overseas aid by 2015.
In 2000, Ireland committed to reaching the UN target for spending 0.7 per cent of Gross National Product on overseas aid by 2007. This target was later moved to 2012 and current Government policy is to reach the UN target by 2015 at the latest, said Dóchas.
OECD
The latest statistics from the Organisation for Economic Cooperation and Development (OECD) show that Ireland reduced its spending on ODA by 5.8 per cent in 2012. The government made a cut of 3.1 per cent in 2011. "The Irish aid budget has been reduced five times and by 32.5 per cent since 2008," said Dóchas.
Hans Zomer, Director of Dóchas, said:
Aid is crucial to the world achieving the MDGs, helping people in poor countries to realise their basic rights to food, education and healthcare. But the continuing financial crisis and the successive aid cuts mean that the MDGs hang in the balance.
The OECD said that "the continuing financial crisis and euro zone turmoil has led several governments to tighten their budgets". However, they noted that "maintaining aid is not impossible even in today's fiscal climate", and urged countries to increase their aid as soon as their budget circumstances allow.
The OECD said that nine countries increased their aid. "We hope that Ireland will follow this path in 2013," said Dóchas.
We encourage the government to use the forthcoming publication of its new White Paper on overseas aid to detail a plan for achieving the UN goal. Ireland's overseas aid is effective. It makes real and positive differences to the lives of millions of people across the developing world.
OECD report said that development aid fell by 4 per cent overall in 2012, following a 2 per cent fall in 2011, due to the continuing financial crisis and euro zone turmoil.
Since 2010, the year it reached its peak, ODA has fallen by 6.0 per cent in real terms.  Excluding 2007, which saw the end of exceptional debt relief operations, the fall in 2012 is the largest since 1997.  It is also the first time since 1996-97 that aid has fallen in two successive years.
Commitment
Minister Joe Costello said that the Programme for Government contains a clear commitment to Ireland's aid programme, and to the UN target.
He said that last year, thegovernment provided €639 million for development assistance. For 2013, an estimated €623 million has been allocated.
After a period of budget reductions, we have essentially stabilised the aid budget, which is a very significant achievement in current circumstances. The aid programme is at the heart of our foreign policy and reflects the values of the Irish people.
He concluded that during Ireland's EU Presidency the country will continue to work with its EU partners "to emphasise the transformative role of development cooperation and to ensure maximum impact in the delivery of assistance to developing countries".