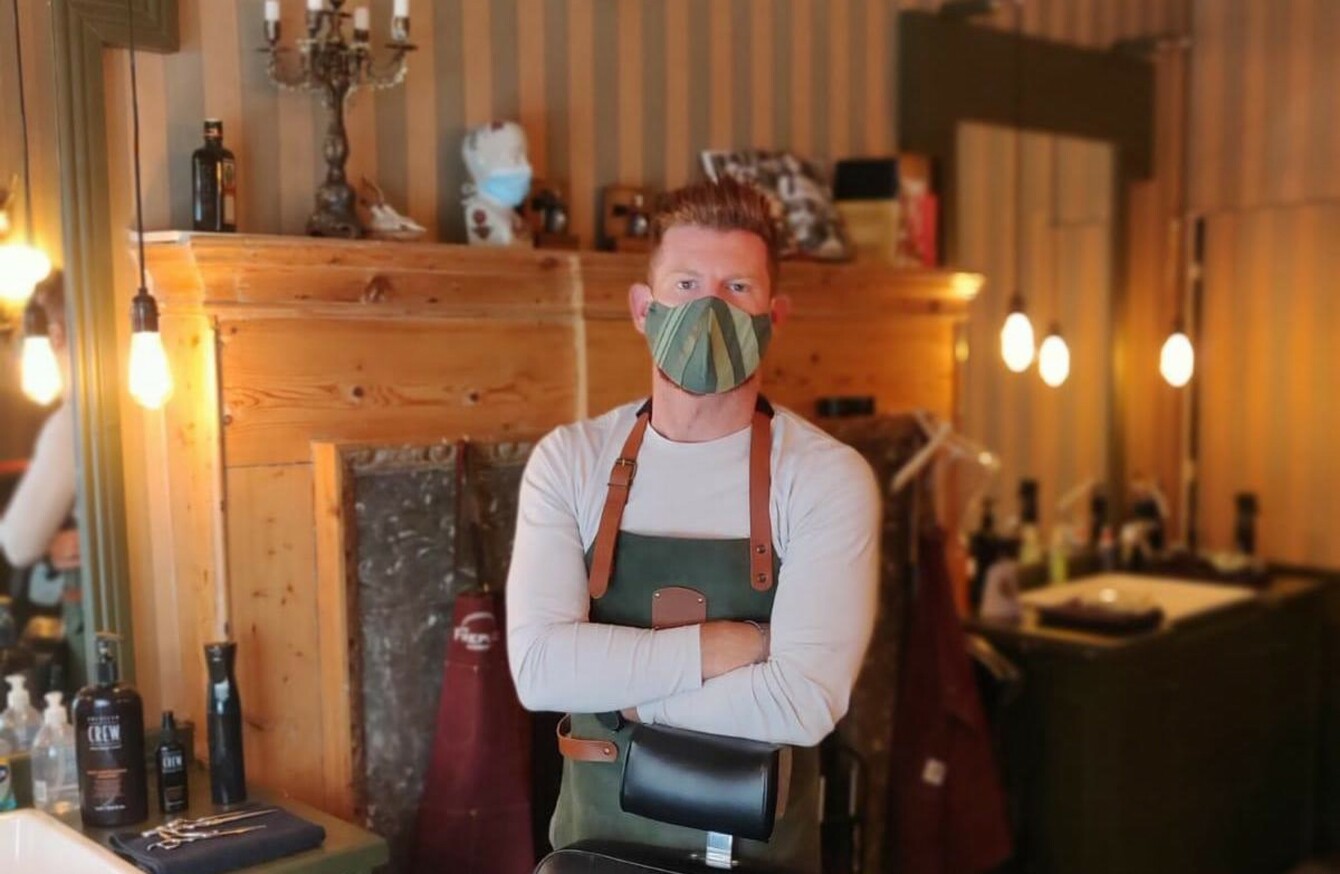 Luke Delaney in his barbershop in Dublin city centre
Luke Delaney in his barbershop in Dublin city centre
IN THE LAST few weeks, although many restrictions have been gradually lifted, life hasn't gone back to the way it was before Covid-19. 
We're continuing to practise social distancing, and limit our interactions with others. But one of the most discussed changes to daily life has been the health advice around face coverings, which has evolved as we have learned more about the way the virus spreads.
Since mid-May, we've been advised to wear cloth face coverings in situations where social distancing is tricky – for example in shops. Last week, it was made compulsory to wear a face covering on public transport, and soon it will be mandatory to wear them in shops and shopping centres too. 
The aim of the advice is to help reduce the spread of coronavirus in the community, by minimising the spread of respiratory droplets from people who are infected with coronavirus but may not be aware of it.
In the most recent poll by Amárach Research, 55 per cent of adults said they now wear a mask in public places – up from just 16 per cent back in May. 
We spoke to three people around the country who wear face coverings regularly, to understand what their experiences have been like so far. 
Catherine Gaul, 54, lives in Wexford and is studying for the final year of a degree. 
I've a 13-year-old son, so really since lockdown we've been doing the same as any household. We're just eating, doing a lot of sports and activities. I've been going to the supermarket, to the pharmacy, going for a walk in the evening.
Since the beginning of lockdown, I've been wearing a mask if I've needed to go to the supermarket or the shop. I've always got one on me, so I bring it with me, and then I put it on before going inside. If I'm somewhere particularly crowded outside I will wear one there too.
Initially the challenge was remembering to put it on – it was a habit you have to form. I bought some reusable ones, so now it's just sticking them in the washing machine the minute I come in, making sure they're ready for the next day. The times we had some really hot days, you'd be really glad to get home and take the mask off. 
I think it's really reassuring for people out and about if they see people wearing masks, especially if they are vulnerable or nervous. I find it reassuring myself. So it's a win-win situation really – why not wear one?
My dad is 90, my mum is in her 70s, we've all got vulnerable people within our own circles and we do need to think about that. The more people that are wearing masks, the more it will encourage others who are not wearing them.
I also see it as a courtesy to all the people who are keeping the country going. The people in the supermarkets, in the pharmacies, wherever you need to go to do your business. It's to say to them, here's a bit of solidarity. I don't want to be a spreader to anybody.
Luke Delaney, 31, lives in Dublin and is the founder and manager of the Fireplace Barbershop in the city centre. 
I think a few weeks ago I would have felt like the odd one out wearing a mask. Now I feel comfortable wearing it. It makes sense.
We would obviously be wearing masks in the shop. When clients come in, if they haven't got a mask we have masks on entrance as well as hand sanitisers. I've been surprised in that nearly everybody has come with a mask, there's very few that haven't. They even want to wear the mask when they're getting their hair washed.
Everyone's actually been really on board, it's run really smoothly. The only thing that I would have thought the masks would have stopped would be the conversation – but not at all, we're chatting away like normal.
I find the mask is quite comfortable. But it can get sweaty. We take little breaks after every haircut, we go out every now and then to take the mask off and get fresh air.
I would wear one going shopping now too. Not necessarily for myself, but I feel like I have a duty of care towards everybody else. Especially as in our line of work we meet a lot of people who would travel. So we have a duty of care to other people.
Really, it's to make other people feel comfortable. That's what I wear it for. To show other people that it's OK, that I'm trying my best.
#Open journalism No news is bad news Support The Journal

Your contributions will help us continue to deliver the stories that are important to you

Support us now
Deirdre Smyth, 51, lives in Meath. She has been in treatment for bowel cancer and is now recovering. 
My chemo finished in May. I'm in recovery mode now and waiting to see what my own new normal will be. I still have some appointments to get things all tied up with the chemo, I got the port out of my chest last week.
During chemo I was told to stay in the garden and the house. When it finished, it was brilliant to be back in the shops after so long – you weren't allowed to do something, and you can do it again. 
Every time I go into the shop or supermarket I put a mask on, or the chemist or the post office. I've noticed that in smaller local shops like in my local one, I'm the only one with a mask on. People are getting used to wearing them in bigger supermarkets but maybe not in their local shops yet.
I got tested a week ago for Covid but that doesn't mean I don't have it now. It's everywhere, we don't know who has it. But at least if I wear a mask I'm not spreading it if I go into the shop. I would like other people to wear one, and if I don't wear one how can I expect other people to wear one?
The only thing I find challenging is when I'm wearing my reading glasses. I went to Mass two weeks ago to do a reading, I was trying to read through and practice the reading first and the glasses were steaming up.
People who aren't wearing masks, I don't know if they're tuned in to what's actually happening and how easy it is to spread the virus. Isn't it a small price to pay to keep people around you safe? I think if people stop and think they'll see how important it is. 
Every effort counts in slowing the spread of coronavirus. This is a challenging time for everyone out there, so thank you for playing your part. Wearing a face covering can reduce the spread of the virus but it's important that they are worn correctly. For advice on how to wear a face covering, and how to make your own, go to hse.ie.