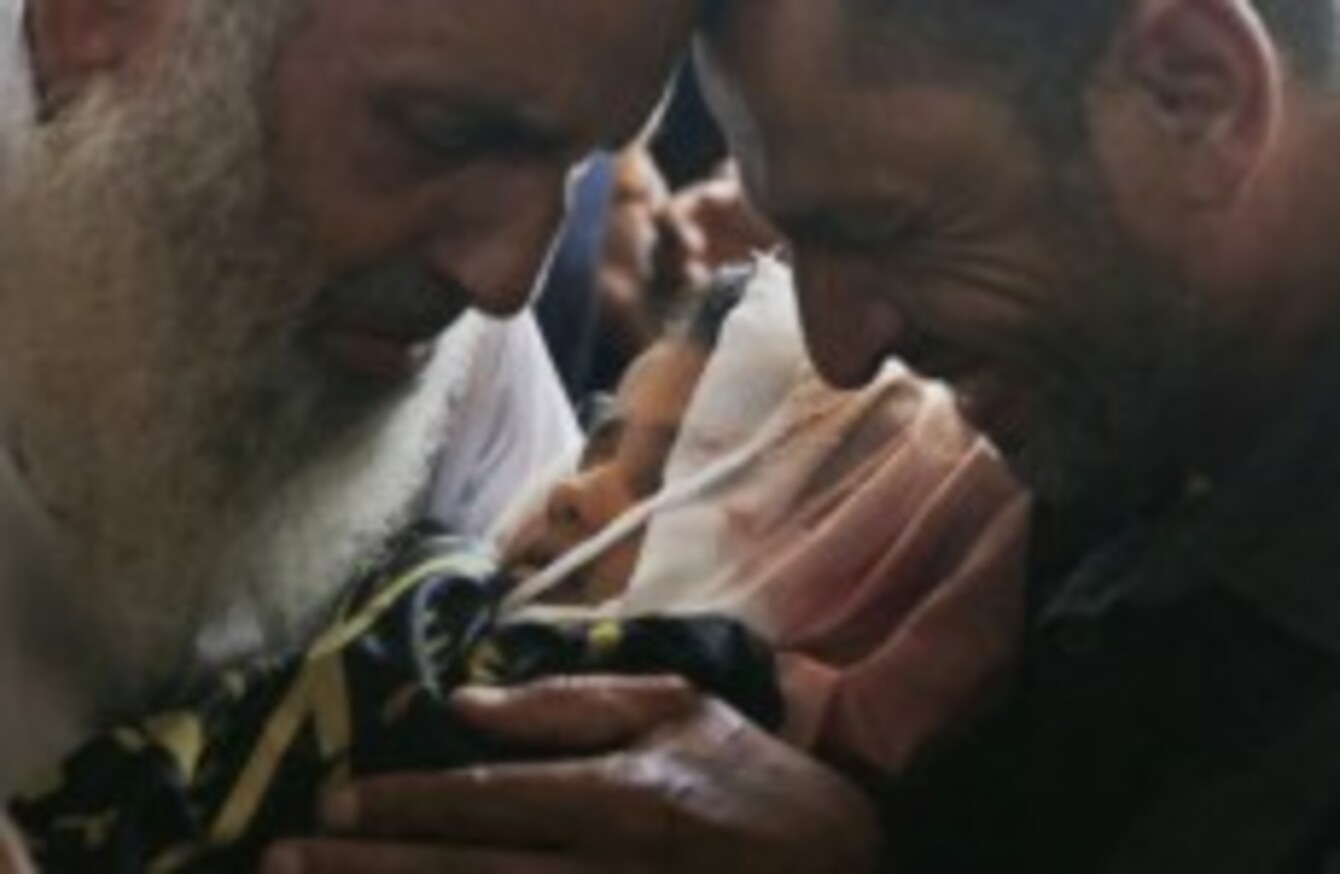 Image: Lefteris Pitarakis/AP/Press Association Images
Image: Lefteris Pitarakis/AP/Press Association Images
THE EMBASSY OF Israel in Dublin has released a statement about the Egyptian peace deal that was rejected today.
It states that, "At 9am today, Israel responded to an Egyptian proposal for peace by announcing that it would observe a unilateral ceasefire.
"Hamas spokespersons declared that "any unilateral Israeli cease-fire would be worthless" and "our battle with the enemy continues and will increase in ferocity and intensity".
Since 9:00 today, more than 80 rockets have been fired by Hamas and other terrorist groups from Gaza at Israeli civilians.
It also added, "Israel has a right and a duty to defend its citizens."
At least 193 Palestinian have been killed since the violence erupted last Monday.
Motion
Dublin City Council has passed a motion calling for an end to the ongoing Israeli attacks on Gaza.
It has been welcomed by the  Ireland Palestian Solidarity Campaign.
The motion calls for the Irish government to push for an arms embargo and trade sanctions on Israel.
It also condemned the use of Administrative Detention, a form of internment without trial, by the Israeli state.
IPSC Chairperson Martin O'Quigley welcomed the resolution saying, "Motions such as this one, which listen to the call from Palestinian civil society for sanctions on the Israeli state, are to be welcomed and celebrated.
By calling specifically for Israel's suspension from the Euro-Med agreement which grants it trading privileges with Europe, and for an arms embargo, Dublin City Council has taken a very welcome step towards helping end that impunity.
Councillor Tina McVeigh, who tabled the motion, said, "Israel's acts of mass violence against the Palestinian people are always the subject of great public and moral outrage, condemned by many democratically elected institutions, however, Israel is never held to account.
This motion is important as it condemns Israel's perpetual use of illegal activities such as Administrative Detention and collective punishment, while calling on the Irish government to take concrete action.
Protesters
Palestinian health minister, Jawad Awad, cancelled a trip to Gaza City's Shifa hospital today after being confronted by angry protesters as he arrived from Egypt.
Witnesses said protesters threw shoes and eggs at Awad's car as he entered Gaza through the Rafah border crossing.
Officials said he left the Palestinian territory shortly afterwards.
Protesters also gathered at Shifa hospital in Gaza City, carrying posters criticising Awad and the recently formed government of technocrats to which he belongs.
The government was sworn in on June 2 following a unity deal between the Islamist Hamas movement and president Mahmud Abbas which ended seven years of rival administrations in the West Bank and Gaza.
Protester Ahmed Murtaja said:
Gaza has been bombed, and Gaza has been destroyed, and now he comes to visit?
"We don't want this visit and all the Palestinian people are opposed to it and reject it."
Protesters said they were angry that it had taken Awad eight days to visit Gaza, where 193 people have been killed in Israeli air strikes.
They also condemned the Palestinian president for failing to do more to halt the Israeli campaign, with some chanting: "Abu Mazen (Abbas) is a collaborator."
Statement
In a statement, the health ministry condemned the "flagrant and brutal assault" on the minister and his delegation in Rafah, blaming the incident on "media affiliated with Hamas."
Although the reconciliation agreement has held, a lot of bad blood remains between Hamas and the West Bank leadership.
"The ministry of health will continue to stand by our people in Gaza," the statement said, pledging to secure medical supplies for the wounded.
There was no immediate comment from Hamas, but a top member of its exiled politburo, Mussa Abu Marzuq, condemned the incident as "irresponsible and improper" on his Facebook page.
He called for an investigation and prosecution of those responsible.