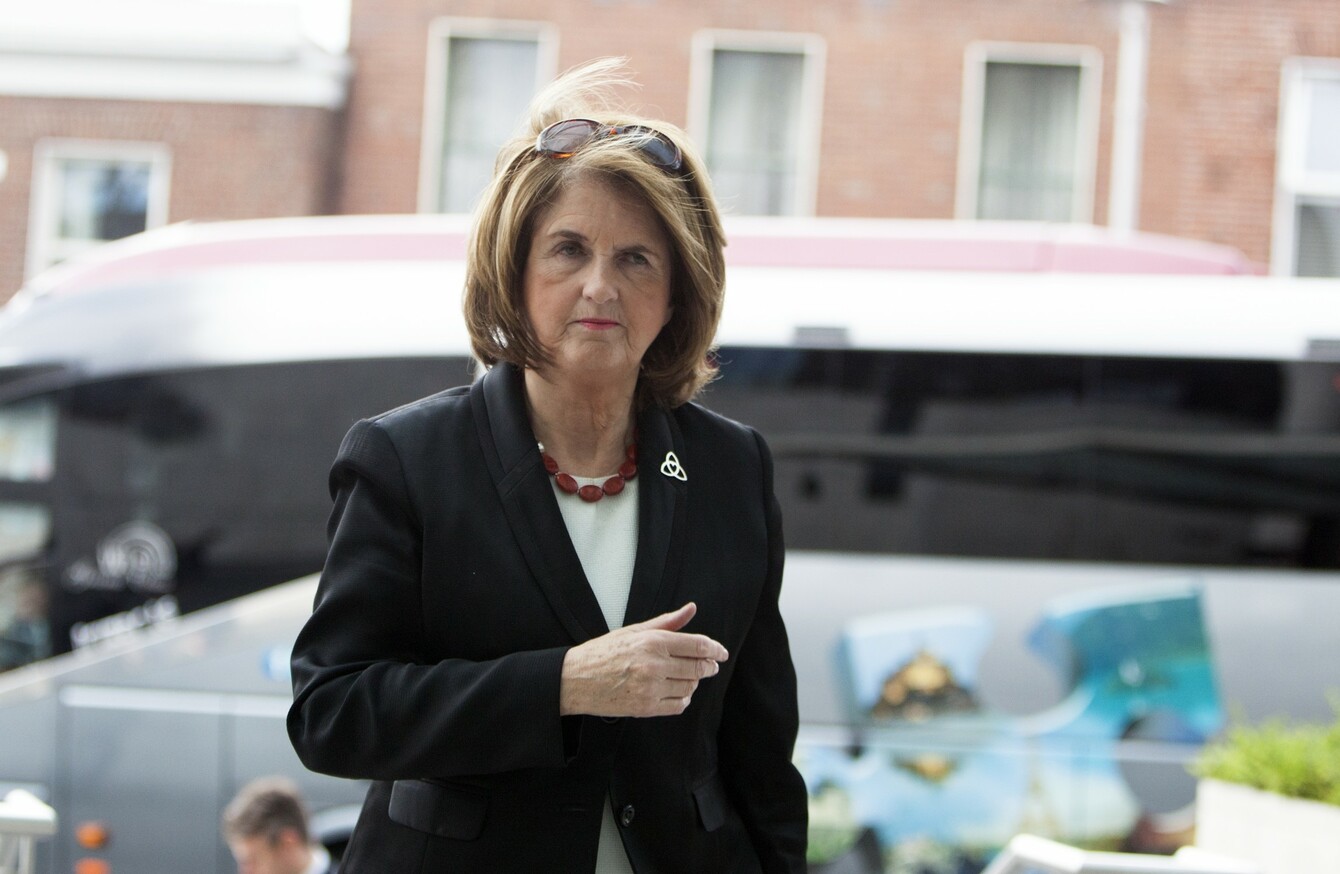 Image: Leah Farrell/RollingNews.ie
Image: Leah Farrell/RollingNews.ie
ONE OF THE men charged with falsely imprisoning former Tánaiste Joan Burton at a water charges protest made a "suggestion" to gardaí on how to deal with the situation, the trial has heard.
Councillor Michael Murphy was not putting a question to the crowd as to whether Burton should be given sanctuary in the church on the day of the anti-water charges protest three years ago, his defence barrister Raymond Comyn SC said today.
He was "shouting to the guards with the suggestion he has as to how to deal with the situation," Comyn said.
Solidarity TD Paul Murphy (34), together with South Dublin Councillors Michael Murphy (53) and Kieran Mahon (39) and four other men, are charged with falsely imprisoning Burton and her adviser Karen O'Connell by restricting their personal liberty without their consent at Fortunestown Road, Jobstown, Tallaght.
They have denied the charges at Dublin Circuit Criminal Court.
The two women were allegedly trapped in a garda car outside a local church and subsequently in a garda jeep for up to three hours by a crowd of water protesters after they had attended a local graduation ceremony.
On day 17 of the trial, Comyn cross-examined Garda Lorna Loughney on her evidence in court on Friday when she said she heard Councillor Michael Murphy saying, "Will we give her sanctuary in the church or will we keep her in the church?"
"You were seeking to convey the fact that these were questions being directed by Councillor Murphy to the other people in the crowd," Comyn said.
"That's the impression I got," Garda Loughney replied. YouTube video footage was then played in court during which Councillor Murphy could be heard speaking.
Comyn put it to Garda Loughney that what Councillor Murphy said on the video was "appreciably different to any of the accounts you have given, whether they are in your statements or your direct evidence".
He said there was nothing in the footage to indicate Councillor Murphy was posing a question to the crowd.
"There's no question," Comyn said. "It's Councillor Murphy shouting to the guards with the suggestion he has as to how to deal with the situation."
"That's what he is doing in that video, but on the day that's not what I believed," Garda Loughney replied.
The court heard Garda Loughney made two statements in relation to the case – one in November 2014 and another in January 2015.
Comyn put it to Garda Loughney that in her first statement that there was no reference to Councillor Murphy and sanctuary in the church. He said it only appeared in her second statement.
Garda Loughney said she didn't know why she didn't put it in her first statement. "But I do remember him saying that," she said.
Comyn also put it to Garda Loughney that she was wrong when she said she saw Councillor Murphy on the loudhailer outside the church.
He said video footage from that period "does not show Michael Murphy with the loudhailer at any stage".
#Open journalism No news is bad news Support The Journal

Your contributions will help us continue to deliver the stories that are important to you

Support us now
The court was shown footage from outside the church, which Garda Loughney agreed did not show Councillor Murphy holding the loudhailer at any point.
Comyn put it to Garda Loughney that perhaps she had "conflated and confused" what happened later that day, when Councillor Murphy used the loudhailer on the Fortunestown Road.
Garda Loughney said that she didn't believe so.
The court was also shown footage in which Councillor Murphy approached another man with a loudhailer who was chanting, "You can shove your water meters up your arse".
Comyn said Councillor Murphy's "body language" implied that he was telling the man to stop that chanting. Garda Loughney agreed this appeared to be the case.
Paul Murphy of Kingswood Heights, Tallaght; Kieran Mahon of Bolbrook Grove, Tallaght; Michael Murphy of Whitechurch Way, Ballyboden, Dublin; Frank Donaghy (71) of Alpine Rise, Tallaght; Ken Purcell (50) of Kiltalown Green; Michael Banks (46) of Brookview Green, Tallaght and Scott Masterson (34) of Carrigmore Drive, Tallaght have all denied the charges.
The trial continues before Judge Melanie Greally and a jury of seven men and five women.
Comments are closed as the case is ongoing.