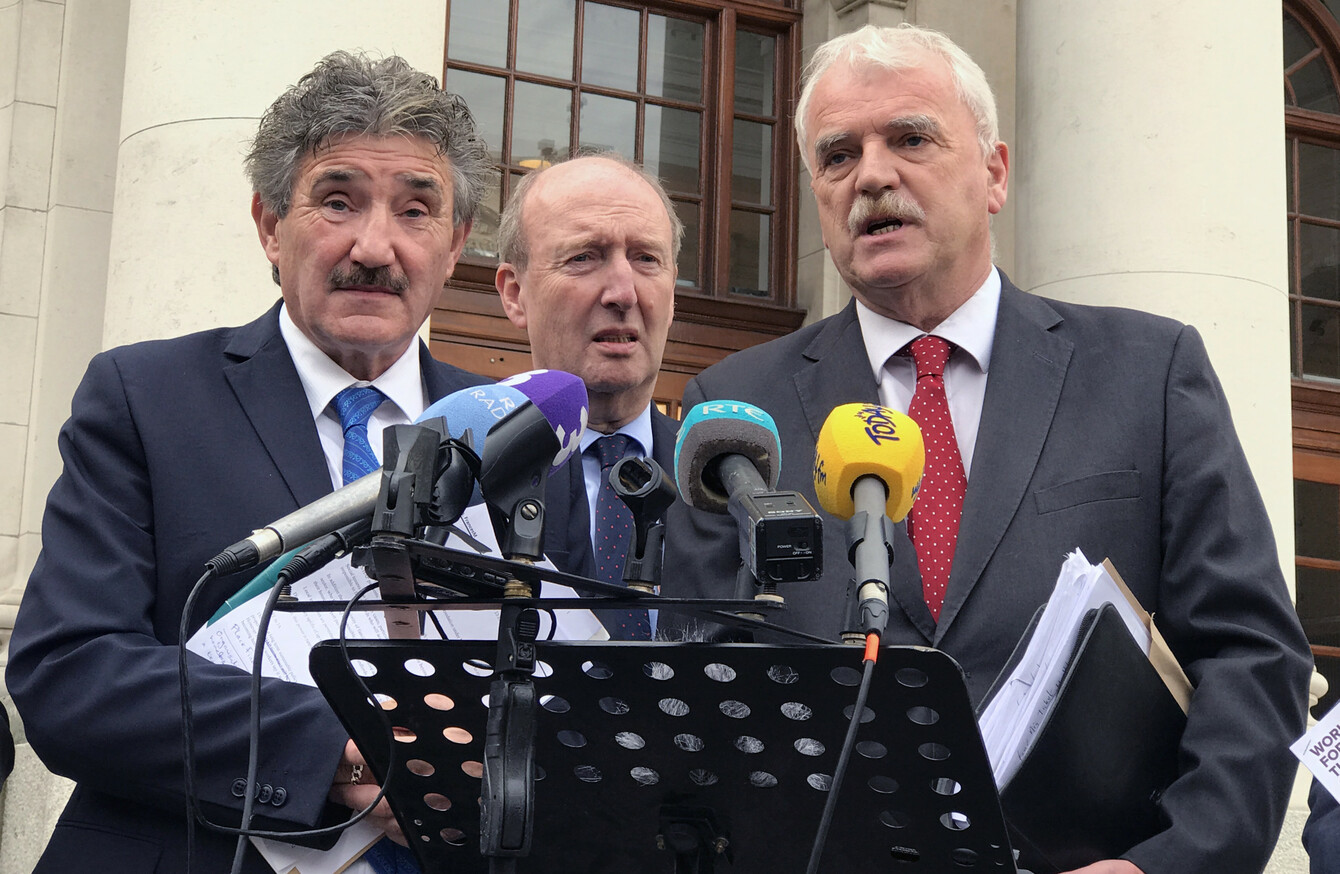 L-R: John Halligan, Shane Ross and Finian McGrath
Image: RollingNews.ie
L-R: John Halligan, Shane Ross and Finian McGrath
Image: RollingNews.ie
TAOISEACH LEO VARADKAR has said that he wouldn't want anything "beastly" happening to any member of the government, after Minister of State John Halligan said he'd be prepared to go to North Korea to spark peace talks.
Speaking to journalists at a job announcement in California, Varadkar said that any visit from an Irish minister to the country is something he couldn't "envisage going ahead", but added that he was sure "that it is motivated from good intentions on [Halligan's] part", RTÉ reports.
Halligan's offer to help initiate peace talks came just hours before North Korean ruled out talks and threatened to increase its nuclear arsenal as Donald Trump set off on a tour of Asia.
Offering to help
Speaking on Today with Sean O'Rourke yesterday morning, Waterford TD Halligan said the "greatest threat to peace in the world is on the Korean peninsula".
"Kim Jong-un and Donald Trump are a threat to bringing the world to nuclear oblivion," he said.
When asked what he would say to the North Korean leader Kim Jong-un if he met him, Halligan said: "I would ask him to engage with democracy."
Halligan, who's the Minister of State for Training and Skills said that Minister for Transport Shane Ross and Minister of State for Disability Finian McGrath would also travel to North Korea. He insisted that the visit would not be a State one and would be paid for by the three politicians, taken during their own free time.
Halligan said that he hadn't discussed the issue with Taoiseach Leo Varadkar or Foreign Affairs Minister Simon Coveney.
We're not going as members of the government, we're going as three politicians.
"Any TD is at liberty to go to a country and visit, we're not doing anything sensational, we're not talking sides, we're trying to initiate peace talks.
"[But] I do think the government should get involved," he added.
"I think there's an inevitability [about it]," he said. "We've two choices, will there be war or will there be talks, will there be peace? We are prominent, neutral politicians, and we're highly respected [around the world] for our neutrality.
We've nothing to lose? What is there to lose by attempting to talk peace with North Korea?
"Dangerous place to go"
Fine Gael poured cold water on its coalition partners' plans, however, with the Taoiseach saying that North Korea is "a dangerous place to go" and that he feared something "beastly" could happen to Halligan and colleagues on such a trip.
Minister of State for European Affairs Helen McEntee said that any mission of this kind would have to go through the Department of Foreign Affairs and run past the Taoiseach, which Halligan admitted he had not done.
She said: "Anything as sensitive as this would have to go through to the Department of Foreign Affairs [and he] would have to, at very least, talk to Minister Simon Coveney. And that's what needs to happen now."
With Trump due to arrive in Japan and South Korea in the next few days, the North's state-run KCNA news agency said in a commentary that the US should be disabused of the "absurd idea" that Pyongyang would succumb to international sanctions and give up its nuclear weapons, adding that it is in "the final stage for completing nuclear deterrence".
"It had better stop daydreaming of denuclearisation talks with us", said the commentary titled "Stop dreaming a daydream".
With reporting from Gráinne Ni Aodha and AFP.