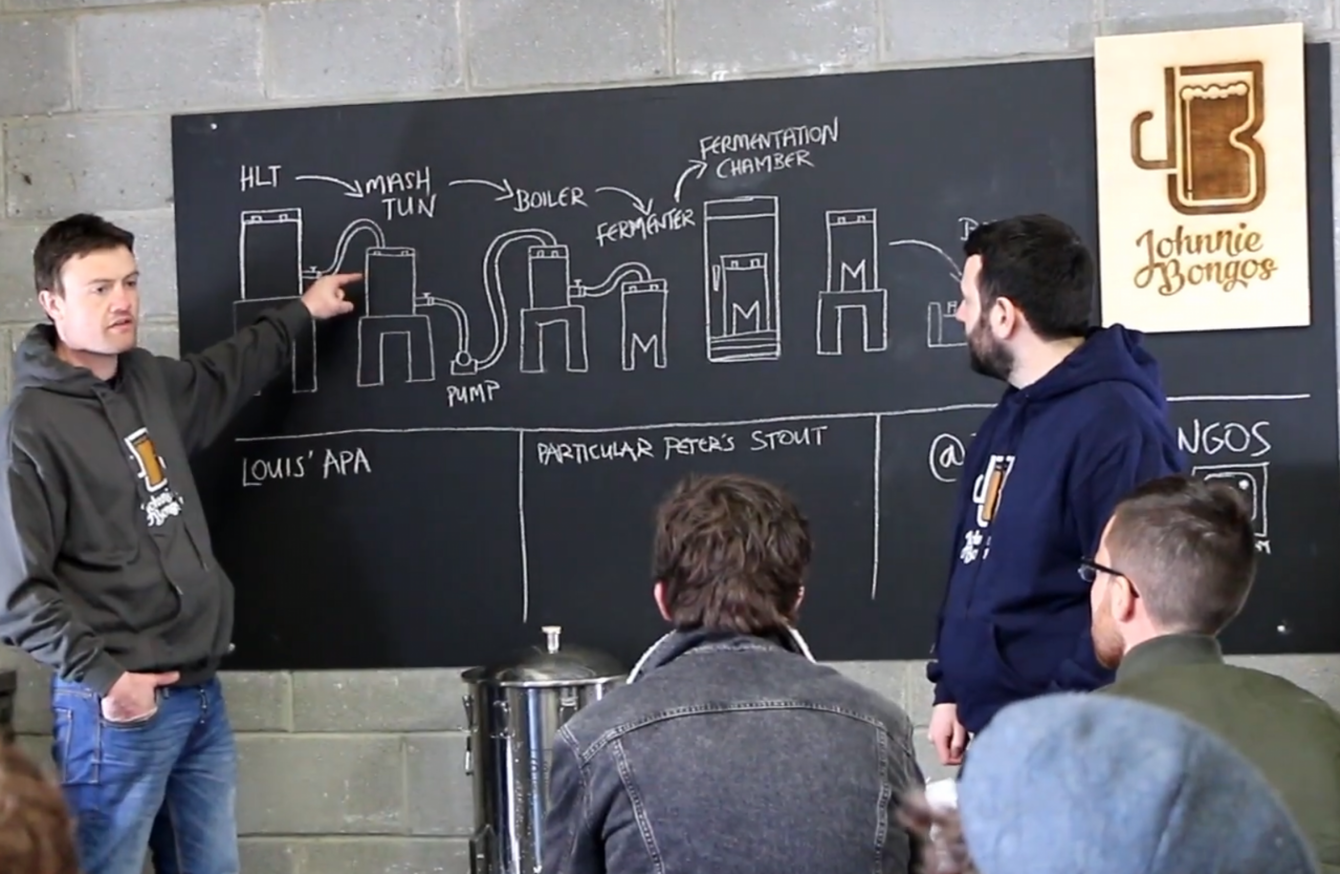 A DUBLIN 'OPEN brewery' is on the hunt for funding to expand its existing operation and kit out its warehouse for larger-scale operations.
Launched this year, JohnnieBongos is a membership-access brewery that gives the public the use of brewing equipment they can use to make their own craft brews.
The company was set up by John Morris, who works in advertising, and CJ Whiriskey, who owns a refrigeration and air conditioning company in Galway.
It has already started running workshops for people who want to learn more about the beer-making process and produce their own batches.
Speaking to Fora, Morris said the business model is based on a similar concept that has already taken off in the UK, where the trendsetter in the open-brewery scene is UBrew.
The London-based membership brewery has a waiting list for members and last year launched its second location in Manchester.
"There has been a huge spike in craft breweries, but we spotted a gap to go the other way," said Morris. "There are a lot of people interested in craft beer but not too many know how to make their own craft beer."
"What we want to do is set up an open brewery where people can come in and learn how to brew beer from scratch.
"We'll do a brew course with them, teach them the process and they can get hands on and brew a batch of beer with us. We let it ferment in our fermentation unit and after two weeks you will be able to come back and bottle the beer you made."
According to a report by Bord Bia, there has been a spike in microbreweries popping up recently, with the number in Ireland quadrupling to over 60 in the space of four years alone and more in production.
Funds
The company is currently just doing brewing workshops. But it has also launched a crowdfunding project on Kickstarter to raise €15,000 to buy more equipment for its warehouse operation in Dublin's North Strand.
As a result of the campaign, several people have signed up to be members of the open brewery project.
According to Morris, the 250 sq m site is "like a big old barn" and backers of the crowdfunding campaign will get the chance to be the first members of the brewery.
He added that the €75-a-month membership fee available to Kickstarter backers will be raised to €100 once the crowdfunding campaign has been concluded.
Those who pay the membership fee will get access to JohnnieBongos' brewing equipment for themselves and four friends to produce their own craft brew twice a month.
"You will be able to brew two, 40-litre batches of beer every month. That would be about 200 330ml bottles, which would work out at about 70c per bottle, including ingredients. So it's cheaper than going to the supermarket and getting four craft beers for a tenner."
The extra equipment the company needs to secure, according to Morris, are stainless steel hot liquor tanks, fermenters, mash tuns and brew pumps, while they also want to do up the warehouse itself.
"We want to build a community here and we will have a chill out area where members can watch TV or maybe play a game of pool during the downtime.
"We have bits of equipment already but not enough. So really what we need to do is raise money to do that and finish kitting it out properly.
"We have done a couple of brew days, but not enough to fulfill the demand if we got more members."
Morris said if they are unsuccessful raising the funds through Kickstarter they will seek to fund the project through other means.
Main target markets
Although JohnnieBongos is trying to create a membership base to generate some monthly revenue, Morris added it's not the most lucrative cohort that the duo is going after.
He said the corporate sector presented the biggest opportunity of its three target markets becaise "that's where the money is".
"There are people who don't know how to brew and are interested in craft beer who might want to do a brew course. There is the second market of experienced home brewers that might not have access to stainless steel equipment.
"The third market is the corporate one; we want to do offers for team-building days where people can make some beers for a Christmas party and even design up a special label with a unique logo on it."
Sign up to our newsletter to receive a regular digest of Fora's top articles delivered to your inbox.
Written by Killian Woods and posted on Fora.ie