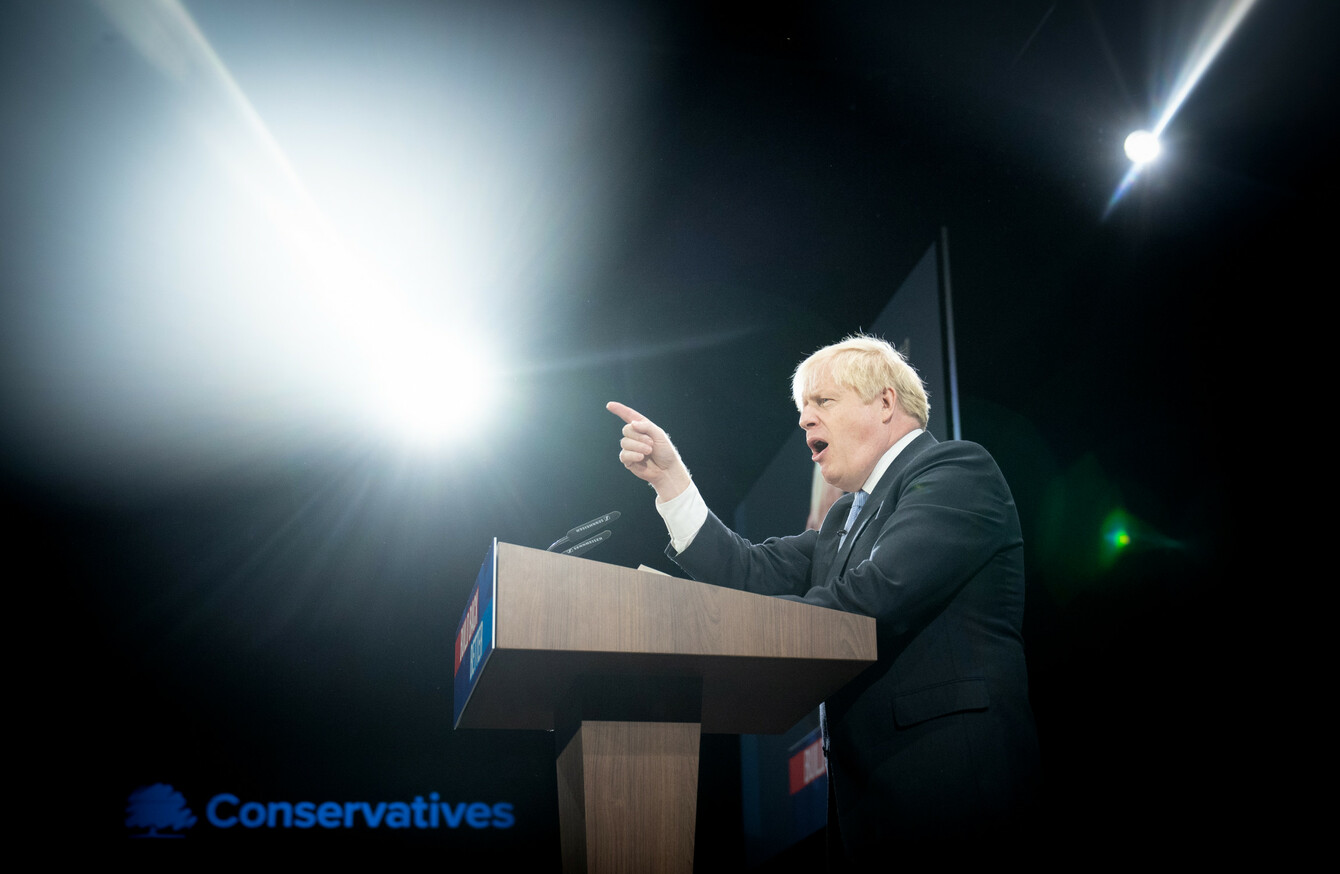 Johnson delivers his keynote speech at the Conservative conference.
Image: PA
Johnson delivers his keynote speech at the Conservative conference.
Image: PA
Updated Oct 6th 2021, 4:48 PM
UK PRIME MINISTER Boris Johnson did not mention the Northern Ireland Protocol in his 45-minute Tory conference speech as he vowed to wean the UK economy off cheap foreign labour after Brexit.
Shrugging off panic buying at petrol stations, bare supermarket shelves and retailers' warnings of a bleak Christmas to come, the Tory leader said the short-term pain was worth it.
"We are dealing with the biggest underlying issues of our economy and society, the problems that no government has had the guts to tackle before," he said.
"We are embarking now on the change of direction that has been long overdue in the UK economy," he added, vowing no return to the pre-Brexit model of "uncontrolled immigration".
Johnson said that his government would "use our Brexit freedoms to do things differently" but he did not address the ongoing dispute over post-Brexit arrangements in Northern Ireland. 
The UK Prime Minister mentioned Northern Ireland only once during his speech and in reference to Scotland, saying that his government would restore the A75 road in Scotland which he said was "so vital for the links with Northern Ireland". 
Responding to the virtual absence of Northern Ireland from the speech, Sinn Féin MP Chris Hazzard tweeted: 
Another conference speech, another failure to locate the north of Ireland within their 'union'. Events of last five years has undoubtedly forced unionism onto the "window ledge of the Union". Will Unionist political leaders remain refugees from the real world?
 DUP MP Sammy Wilson told BBC's Talkback programme that Johnson was perhaps too "embarrassed" to speak about Northern Ireland. 
"It doesn't surprise me, he is probably deeply embarrassed about Northern Ireland and the Protocol promises he made and broke," Wilson said
Bullish
There was little new policy detail in Johnson's speech as he framed a broader narrative that the UK's departure from the European Union presents an historic opportunity.
Closing the Conservatives' annual conference, their first in-person event since 2019 because of the coronavirus pandemic, Johnson was on characteristically bullish form with an array of partisan zingers hurled against the opposition Labour party.
He said British businesses will have to invest in their workers and technology to push the country "towards a high-wage, high-skill, high-productivity economy".
"Yes, it will take time, and sometimes it will be difficult, but that is the change that people voted for in 2016," he said, referring to Britain's seismic Brexit referendum.
In the meantime, the government has grudgingly agreed to a limited number of short-term visas to lure truckers and poultry workers from eastern Europe.
Johnson hit back at Conservative right-wingers who are aghast at finance minister Rishi Sunak's warnings that taxes will have to go up to pay for the government's gargantuan pandemic spending.
Iconic Tory leader Margaret Thatcher would have "wagged her finger and said more borrowing now is just higher interest rates, and even higher taxes later," he said.
Business groups expressed backing for Johnson's economic vision.
"But what businesses urgently need are answers to the problems they are facing in the here and now," said Shevaun Haviland, head of the British Chambers of Commerce.
The economic recovery is on shaky ground and if it stalls, then the private-sector investment and tax revenues that the prime minister wants to fuel his vision will be in short supply.
But Unite, Britain's biggest trade union, accused Johnson of hot air.
"Without serious action, this speech is nothing more than headline-chasing by a prime minister desperate to deflect from the serious and growing cost-of-living crisis happening on his watch," leader Sharon Graham said.
#Open journalism No news is bad news Support The Journal

Your contributions will help us continue to deliver the stories that are important to you

Support us now
Muted on climate
The UK government blames the acute labour shortages afflicting the UK economy not on its hardline approach to Brexit but on the coronavirus pandemic.
But the supply crisis risks undermining themes that Johnson emphasised in his conference speech, including "Global Britain" after the EU divorce.
He touted a new defence alliance with Australia and the United States dubbed AUKUS, which has infuriated France after Canberra cancelled a lucrative contract for French submarines.
"I know that there has been a certain raucous squawkus from the anti-AUKUS caucus," Johnson joked.
But AUKUS is simply a recognition of the reality that the world is tilting on its economic axis and our trade and relations with the Indo-Pacific region are becoming more vital than ever before.
Johnson also talked up Britain's action on climate change and the need for global coordination, ahead of convening the two-week COP26 climate summit from October 31.
The gathering in Scotland's biggest city Glasgow will be the "summit of our generation", he said, but he was light on any new detail for Britain's net-zero ambitions.
Sunak said on Monday it would be "immoral" to bequeath pandemic-driven debt to future generations, but made no mention of saving those generations from a burning planet.
- With reporting by AFP 2021