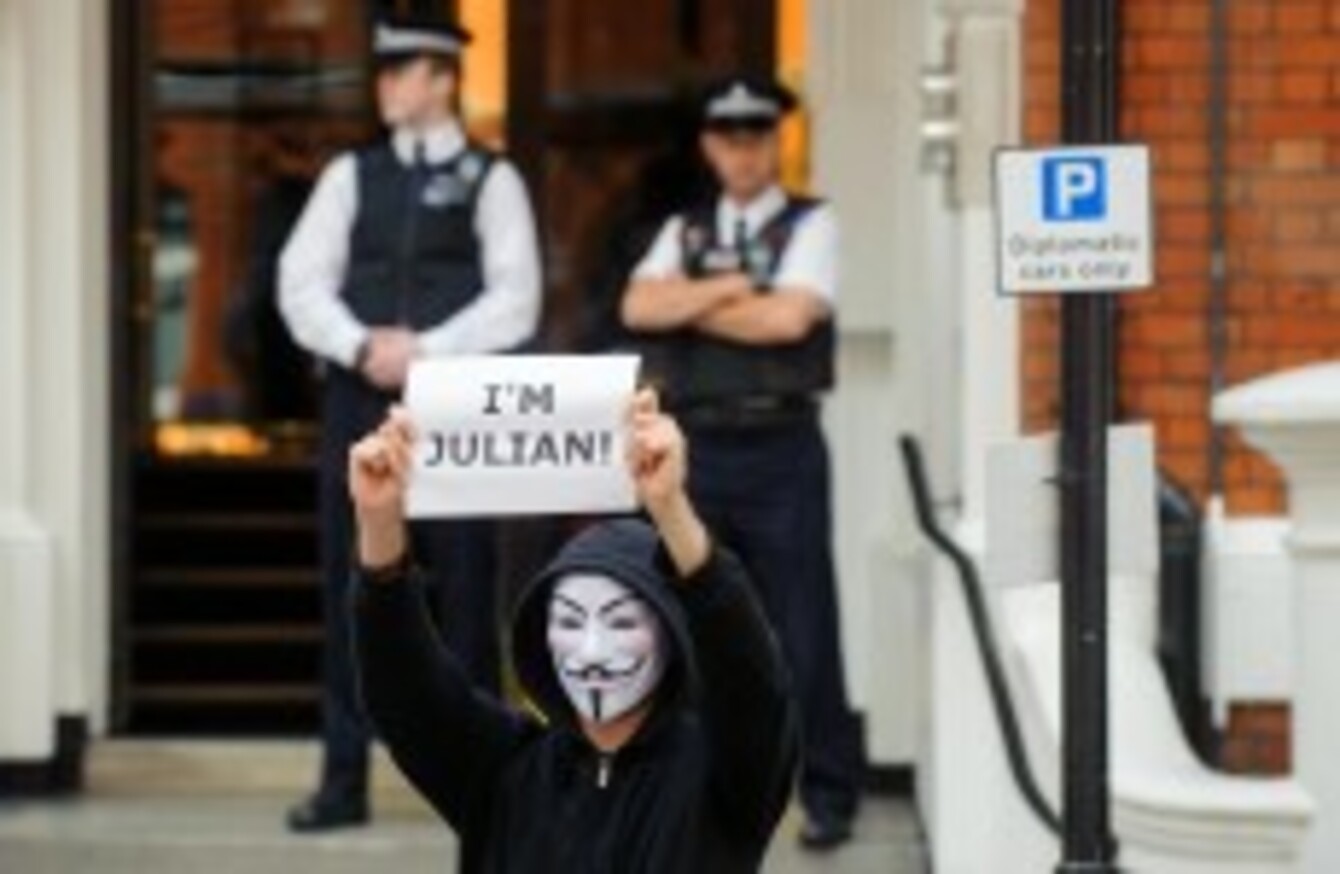 A masked supporter of Julian Assange outside the Embassy of Ecuador in London this afternoon
Image: Dominic Lipinski/PA Wire
A masked supporter of Julian Assange outside the Embassy of Ecuador in London this afternoon
Image: Dominic Lipinski/PA Wire
ECUADOR HAS GRANTED political asylum to Julian Assange, two months after he took refuge in its London embassy.
However authorities in the UK have said that the decision by Ecuador "changes nothing" and that the Wikileaks founder will still be extradited to Sweden.
Ecuador's foreign minister this afternoon said that the country believed that Assange's fears of persecution were legitimate and that his human rights could be violated.
The Foreign Office in the UK said it was "disappointed" by the statement from Ecuador's Foreign Minister but said UK authorities are under "binding obligation" to extradite him to Sweden.
"Under our law, with Mr Assange having exhausted all options of appeal UK authorities are under binding obligation to extradite him to Sweden," the Foreign Office said this afternoon.
"We shall carry out that obligation. The Ecuadorian Government's decision this afternoon does not change that".
The Foreign Office said that it remains committed to a negotiated solution that allows it to carry out its obligations under the Extradition Act.
The Ecuadorian government accused the UK of making 'dangerous' threats as it deliberated over whether to grant political asylum to the Wikileaks founder, who is wanted in Sweden for questioning over allegations of rape and sexual assault.
Assange claims that Sweden could turn him over to the US where he could face charges of espionage and conspiracy after Wikileaks released hundreds of thousands of diplomatic cables in 2011.