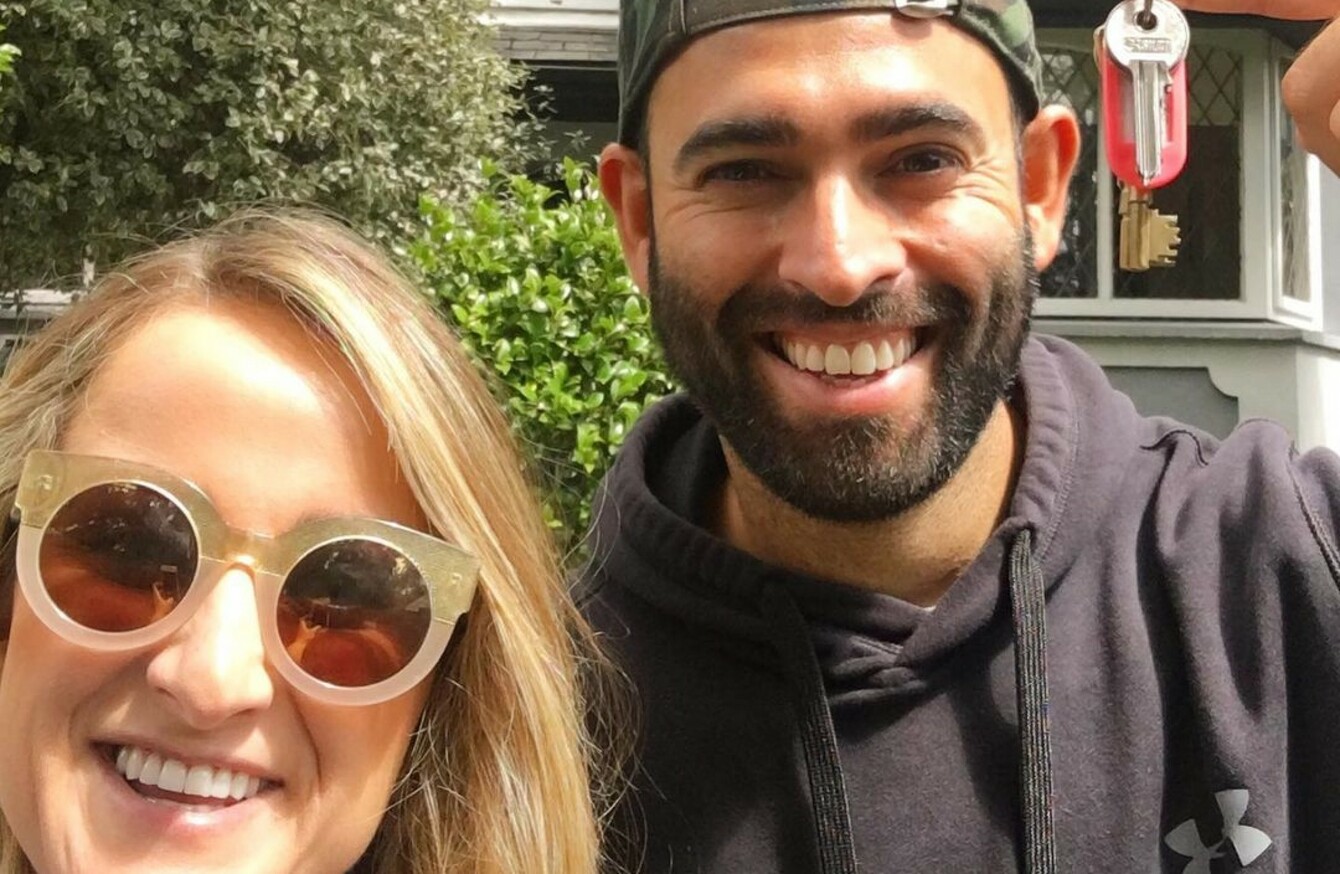 Image: Justine King
Image: Justine King
"ONCE WE STARTED thinking about a mortgage and really saving for it, things began to move along very fast."
It's now just over two years since Justine King and her partner Conor O'Reilly made the decision to start their mortgage journey together. In July of this year, they got the keys to their first home, a 1930s fixer upper in Clontarf which they're hoping they'll be able to move into by early next year.
Right now, the couple are dividing their time between Conor's mum's house and Justine's parents' house. The pair were lucky enough to be able to move back to their respective family homes in January 2019, which accelerated their ability to put money aside. But even with that change, Justine and Conor knew they'd have to be as organised as possible with their monthly budget.
Planning ahead
For Justine, a freelance broadcaster and stylist, planning ahead financially can be tricky at times:
I am self employed, so I could earn lots one month and nothing another month. It's different for Conor [working in financial recruitment] because he earns a set amount each month. I found myself worrying I wouldn't be able to contribute the same amount as him.
The couple tried to be as disciplined as they could be, while still leaving some breathing room for the occasional "non negotiable" treat.
"You get so good at cutting back on things. I still got my hair and nails done, but we really cut back on going out, for example. We sat in a lot, ate a lot of Dine In For Two meals, that kind of thing. And after a while we saw the savings build up."
One tactic that worked well was to save by the calendar. "We put away a set amount on Conor's payday every month, and we never dipped into that," says Justine. "Doing this meant that everything left after payday was our own and so there were no arguments about how we were spending that money."
About six months in, the couple attended the permanent tsb Ideal Home Show in Dublin, and were bolstered by a chat with a Mortgage Consultant on the day. "We spoke to Gavin from permanent tsb, and he made it sound very doable, very realistic," Justine recalls.
Friends and family were also a godsend in answering the couple's many first time buyer questions, "and I became very good friends with my accountant," says Justine.
Mortgage approval
A house viewing in January 2020 prompted the couple to press the 'go' button on their permanent tsb mortgage application a couple of months earlier than planned. "Conor and I have very different styles, and had found it very hard to agree on what we wanted in a house. So when we saw the place in Clontarf, we knew it was the house for us and we decided to go for our mortgage as soon as possible."
Once the paperwork was ready, Justine and Conor's approval process was "quite quick," says Justine. And after a ten day bidding war – "every time we rang to put in a new bid, the price had gone up a bit more" – the pair went Sale Agreed.
We got really lucky. The sellers wanted a quick sale which worked in our favour. We had friends who had gone through five or six months of bidding wars.
With everything having gone so smoothly, the couple had high hopes of being in their new place well before the end of 2020 – but their plans were derailed by the Covid-19 pandemic.
"We went sale agreed in early February, and then Covid hit in March. It was a daunting couple of months of no one knowing what was going to happen, but we stuck with it and it all worked out in the end."
"We had a lot of renovations to do, rewiring and plumbing, and we ended up doing a lot of the work ourselves too just to speed things along." As well as saving the couple time and money, doing the renovation work themselves meant the couple had a lockdown project they could really sink their teeth into, says Justine:
"It kept us busy, and gave us something to occupy ourselves."
Getting it all done
With all of the major demolition work long done, the couple are feeling optimistic about the coming months. "It's flying along, it's really moving now. Our windows went in last week. The builder keeps saying we shouldn't get our heart set on being in by Christmas, so we're thinking January 2021."
To save time when they move in, the couple have already purchased some of the more important pieces of furniture. Their mortgage includes a cashback offer, which gave the couple extra money in their pocket for kitting out their new place. (Find out more about permanent tsb's cashback mortgage offer here.)
"We used the cashback for our couch and bed," explains Justine. "We had it earmarked for those big items."
What's the next big decision for the pair? Figuring out how much of the renovation and modernisation to do now, and how much to leave for a few years down the line, says Justine.
We definitely are wondering about things like the roof. Now that we've done so much with the house already, should we try to get everything right while we can? Do we get a new roof right now or will we wait? And then once all that's done, there's still the garden to think about.
New roof or not, the pair are eagerly awaiting moving day. "It's the dream home," says Justine. "We can't wait to get in there now."
Start your journey home with permanent tsb. We know that buying your first place is a big decision, and we're here to support you every step of the way. Find out more over on our website here, or book an appointment to start your journey home today.
Offer available to new applicants who receive full letter of approval within the qualifying period. Excludes tracker, buy-to-let, negative equity and applicants refinancing an existing permanent tsb mortgage. 2% cashback at drawdown is paid into the customer's mortgage paying account within 40 working days of mortgage drawdown. The qualifying period (11 January 2016 until 31 December 2020) may be extended as permanent tsb decides. Product eligibility criteria applies. Lending criteria, terms and conditions apply. Security and Insurance is required. permanent tsb plc. is regulated by the Central Bank of Ireland.