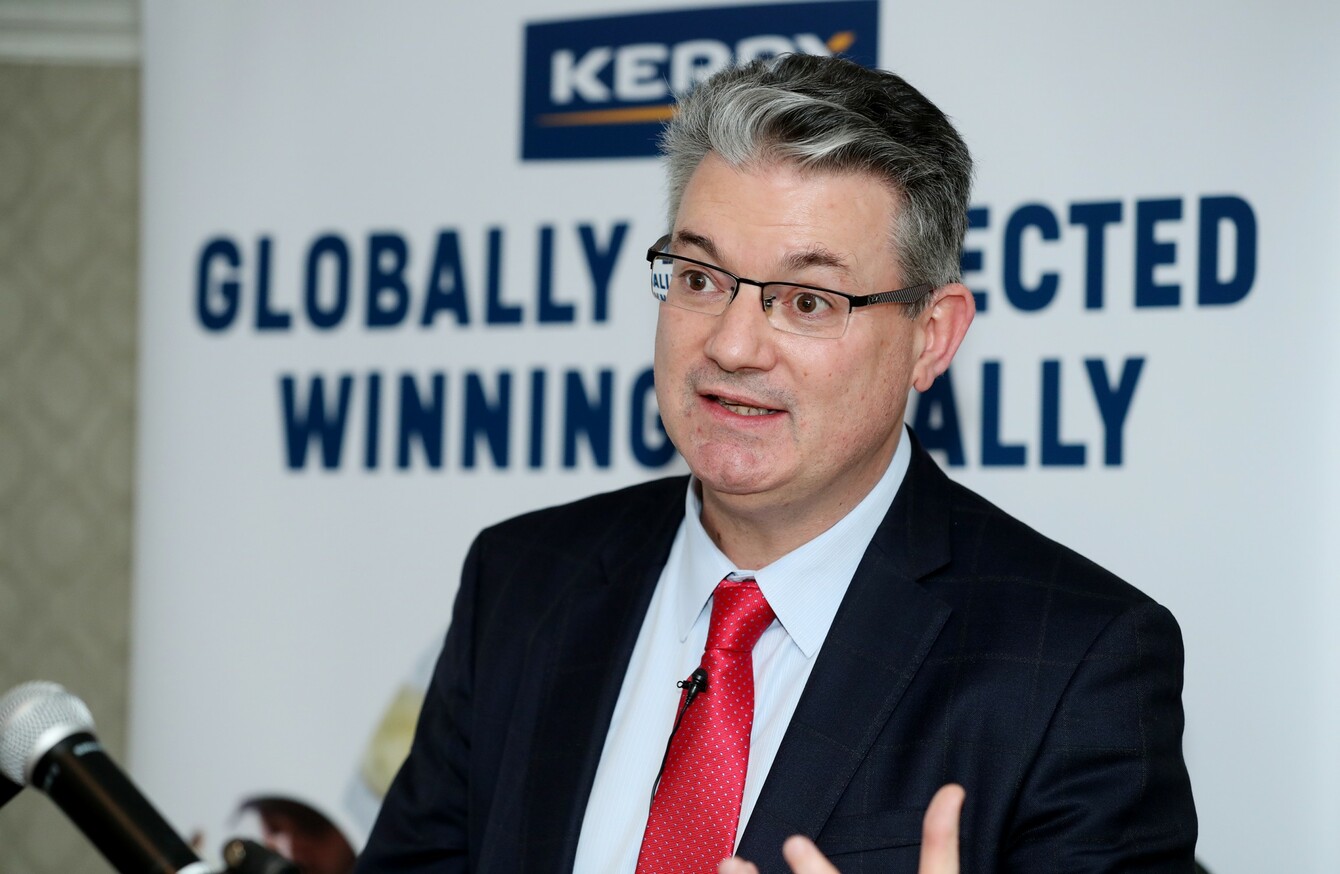 Image: MAXWELLS.DUBLIN
Image: MAXWELLS.DUBLIN
KERRY GROUP HAS joined the plant-based, meat-free trend to keep up with consumer demand for sustainable food. 
Edmond Scanlon, group chief executive, said earlier this week that 2019 was a "year of firsts" for the publicly listed food giant, with the company's revenues topping the €7 billion mark for the first time in its history. Kerry Group also reported trading profits of more than €900 million, another first.
Speaking at the announcement of the group's results in the Westin hotel in Dublin, Scanlon said the company, which began as a milk-co-operative in its namesake county, launched several meat-free products last year in the UK and Ireland.
In Britain, a new plant-based meat substitute brand called 'Naked Glory' hit the shelves and in Ireland, meat-free sausage products were offered under the Richmond brand.
Scanlon also highlighted that in recent weeks the group has launched a meat-free product under the Denny brand.
These products were launched under the consumer food arm of the business that makes up just under 20% of the company.
Scanlon said these offerings are a direct response to consumers looking for sustainable goods.
"I think if you take a look at the plant-based products, that's a good example where nutrition isn't necessarily driving consumption, it's more sustainability that's driving consumption," he said.
He said that Kerry has always been a "consumer-led organisation" that stays "close to the trends".
Scanlon said the meat-free side of the business "performed well" and finished out the year strong, achieving volume growth of 1.6%.
Other areas that performed well within the consumer foods business were snacking products like Cheesestrings and Fridge Raiders.
Taste and nutrition
On the ingredients side of things, Kerry is also moving towards plant-based products.
Although Scanlon said meat-based alternatives within the taste and nutrition side of the group were "not a significant" part of the business, they were "a growing part".
In the Americas region, Kerry's plant-based offering delivered "an excellent performance" in 2019, according to the group's preliminary results statement. This performance was "complimented" by the company's acquisition of seasonings business Southeastern Mills in the US.
The report stated that it's substitute-meat offering also performed well throughout Europe, where it recently launched the Radicle portfolio.
Radicle is described on the company's website as a "unique portfolio of integrated solutions designed to meet taste, texture, nutrition and functionality needs in plant-based products".
Within the Asia Pacific-Middle East-Africa (APMEA) region, the company also reported the growth of substitute meat options, particularly in China and Southeast Asia. The overall volume of the taste and nutrition business grew by 4% in 2019.
Get our Daily Briefing with the morning's most important headlines for innovative Irish businesses.  
Written by Laura Roddy and posted on Fora.ie