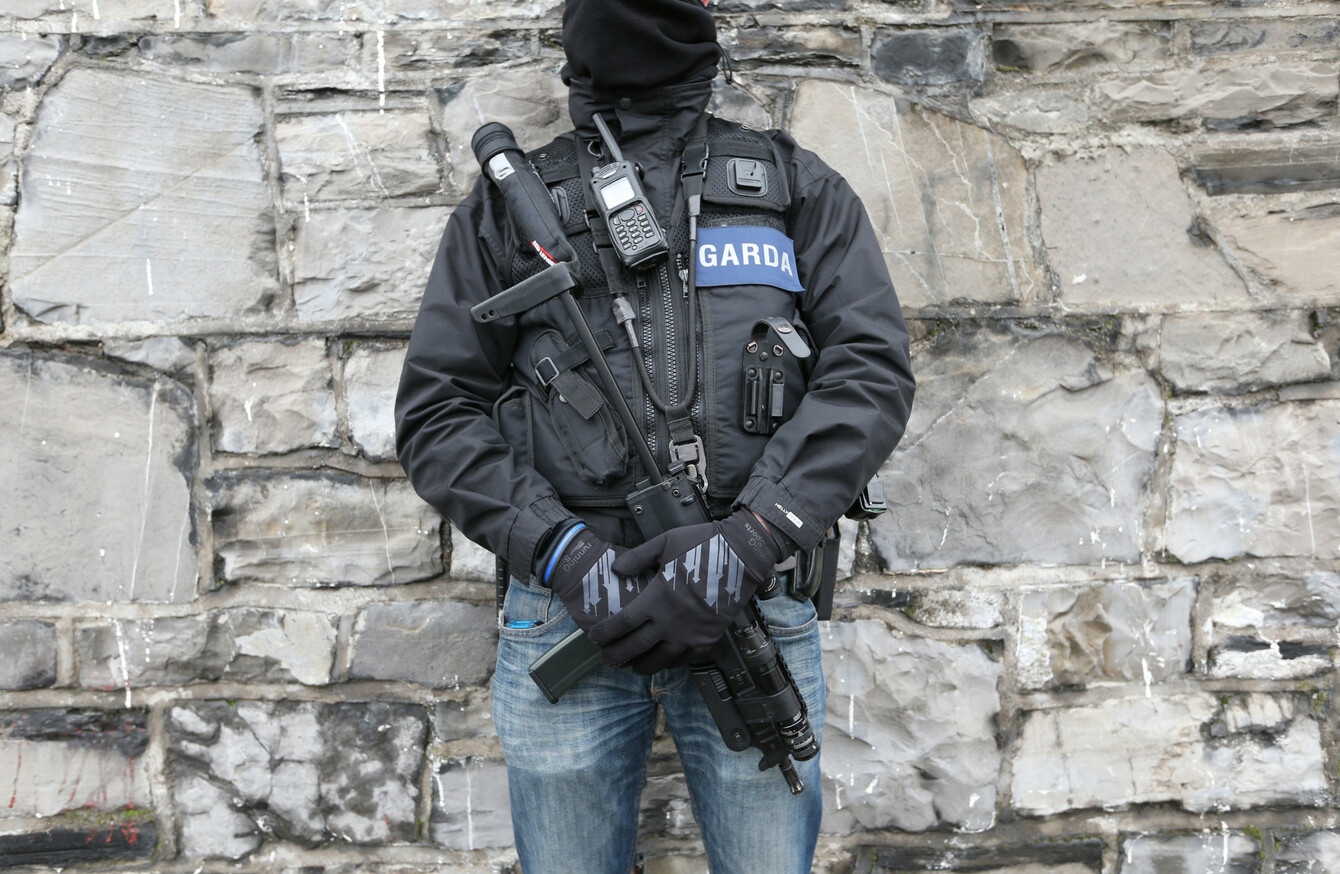 Image: RollingNews.ie
Image: RollingNews.ie
THIS WAS THE year which saw a billion euro cartel stripped of its power, plagued by informants and drug seizures, brought down by its own bravado.
The Kinahans in 2016 were a force to be reckoned with. A callous murder followed an indiscriminate one, the gunmen knew they would be safe. They were well paid and had been promised to be protected from harm – both physical and judicial in the aftermath of the killings they carried out.
The cartel's homeland of Crumlin and Drimnagh were run by the Kinahans. Any movement of any suspicious car or person was traced back through a network of spotters and low-level drug dealers who would then let the lieutenants know who was in their patch.
Trust and loyalty was then more important to the Kinahans than murder – but this changed in February 2016.
Gardaí have conducted armed patrols of the area around Crumlin's Raleigh Square since David Byrne was shot dead in the Regency Hotel. His death at the hands of three men dressed as members of the garda Emergency Response Unit sparked the gang war which has taken 14 lives.
Now loyalty and cool heads were replaced by a blood lust. The business ethos usually demanded by Daniel Kinahan was replaced with one of impulsiveness and rage.
Murder was bad for business. The Kinahan hierarchy knew that but didn't care. Murders followed.
The message sent by Daniel Kinahan – the de facto cartel leader since his father Christy Kinahan Snr left for Dubai, was that his gang was not a rag-tag bunch of criminals from a working class area. The message to the Hutches was simple: you've brought a war on yourselves.
Within a year, over a dozen lives had been taken out – mostly members of the Hutch gang or loosely associated with them.
The Hutches, not knowing who was to be the next victim, scattered across Ireland and Europe, attempting to regroup. Even those from Dublin's north inner city with the Hutch surname changed their last name, fearing they could be wrongly targeted.
Gardaí had been playing cat and mouse with various low-level members of the cartel since the Crumlin/Drimnagh feud began in 2001. Some members of those warring gangs would later join the ranks of the cartel. Gardaí knew the main players and the criminals knew them.
"It got to the point as if they were colleagues," one source told this publication. "You'd see them so often that it became normal. There was no respect for these men but you'd get a degree of familiarity with them."
However, a serious increase in the amount of man hours dedicated to gangland crime resulted in vast amounts of new intelligence, much of it pointing to covert communications which elite officers had not yet seen before. Gardaí now knew where they could hurt the cartel; not through brawn, not through drug seizures or arrests for drug possession. Instead, it was through encrypted conversations conducted through foreign servers which would lead to officers tracing who was giving the murder orders and where drugs were going.
The Kinahan cartel's upper echelons knew that Irish phones, even so-called 'burner' phones (prepaid mobiles used once and then discarded) could cause problems due to the high level of surveillance on the gang.
Instead, a complex system involving something called PGP encryption was adopted. Only phones issued by the cartel could be used. They had to be disposed of when ordered. The arrest of dealers resulted in this information being handed over in exchange for judicial immunity.
For gardaí, they much preferred having the key to the cartel's secret communication system instead of locking up an inner city teenager for possession of 500 grammes of cocaine.
At the turn of the year, the cartel was quiet. They had other problems away from home. Trouble was brewing on the continent. The south of Spain, once the Kinahan empire's second city, was facing revolt. English gangs once loyal had now turned on the Kinahans. The British together with the Russian mob, had ordered that Daniel Kinahan relinquish some of his more profitable patches in Spain. He declined and a deal was done which kept all sides happy up to a point.
However, earlier this year, a senior member of the cartel dodged an assassination attempt in Portugal which was thought to have been authorised by the Russian mob.
The member, who controls the cartel's money laundering enterprise, was spending time at a property in Portugal and had an appointment with a contact with whom he has frequent meetings.
A minute after leaving the appointment, three men exited a car looking for him but he had already left.
The target is not involved in the drug trafficking aspect of the cartel. Instead, his role involves the movement and washing of money through a number of fronts and other channels.
He is now back in Spain – a place he has called home since moving there with his ex-wife over 10 years ago.
After the event, trust between the Kinahans and the Russian mob was at an all-time low. Daniel Kinahan was now cutting a more isolated figure on the smuggling scene. Some of his alleged top associates had been arrested and some had been charged with serious gangland offences.
Now in danger in Spain and Ireland, Daniel decided to meet up with his father in Dubai. Sources believe this move was as much to protect himself as it was to seek advice from his father on the cartel's next move.
Daniel knew that informants had been playing a massive part in the decline of his drug gang. Even attempts to move drugs through new channels had resulted in the automatic interception of drugs.
No more was this evident than with the dismantling of a sophisticated drug trafficking enterprise spanning three continents which unravelled following the seizure 20kg of cocaine in a Australian building site.
For the last year, the Irish drug market has been fraught with danger for the Kinahan cartel as large seizures by gardaí have been occurring on a regular basis. This, combined with the arrest and charging of senior members of the gang, meant Daniel Kinahan had to move to another market in an attempt to increase his cash flow. But the informants followed him and his Australian enterprise was over before it really began.
But it was the arrest of Chilean drug lord El Rico earlier this year which has brought the Kinahans' international trafficking enterprise to somewhat of an abrupt halt.
Sources have told TheJournal.ie that approximately 60% of Ireland's cocaine currently comes through El Rico and his distributors.
Police in the South American country have also seized a number of encrypted electronic devices. The phones confirmed who he has been working with in Europe, including in Ireland.
Detectives in Dublin were made aware of El Rico's arrest and are being fed information garnered from the Chilean investigation regarding Irish interests.
The importance of El Rico's arrest and the subsequent seizure of his electronic devices can not be underestimated. He had been using a German IT protection system, used by many multinational financial organisations, in an attempt to safeguard his communications. Leading members of the Kinahan cartel were in conversation with El Rico by using this system.
The seizure of the phones now means that police in a number of jurisdictions have access to El Rico's records which go back to 2011 – meaning any deal made between him and Irish gangs is currently being accessed by police.
Charges for murder, drug trafficking and the importation of arms are expected to be brought against Irish drug dealers by US and Dutch authorities in the coming months once all of the encrypted communications have been accessed and logged.
The main gang leaders of the Kinahan cartel have fled Ireland in the last six months. Some have a number of outstanding arrest warrants in Spain, Ireland and the UK.
TheJournal.ie contacted Dutch police (Politie and its regional unit in Amsterdam) earlier this week. Both said they could not officially comment on active cases. However, a spokesman did confirm that Dutch authorities are attempting to extradite El Rico to the Netherlands to face charges. A request for a formal comment was denied.
For the Kinahans, their thirst for revenge is what started a chain reaction which has left them without any willing business partners, paranoid and withdrawn.
Those who this time felt untouchable last year are now facing the real possibility that a jail cell or a bullet is more likely than living out their lives with the proceeds of the drug trade.
More of our coverage this year from Ireland's gangland: