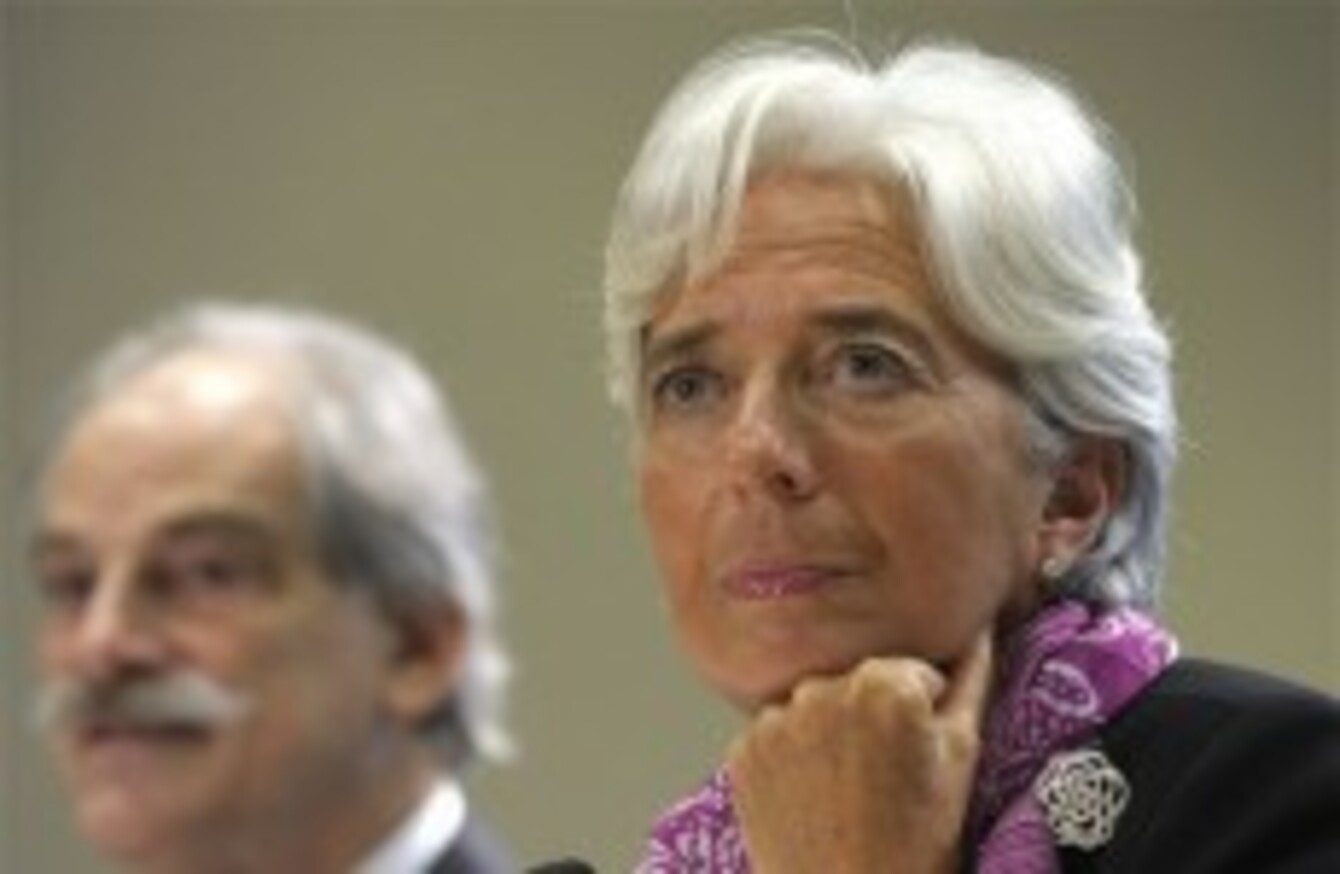 The new International Monetary Fund (IMF) Managing Director Christine Lagarde.
Image: AP Photo/Susan Walsh
The new International Monetary Fund (IMF) Managing Director Christine Lagarde.
Image: AP Photo/Susan Walsh
THE NEW CHIEF of the International Monetary Fund has pledged to diversify the global lending organisation and make it more open for developing countries.
Christine Lagarde is the first woman to lead the IMF. She takes over after a sex scandal led her predecessor, Dominique Strauss-Kahn, to resign.
Lagarde is under pressure to address the institution's reputation as a melting pot of international elites — one that was known for male-dominated clubbiness well before the scandal.
Lagarde says she will push to make the institution's staff more diverse and to increase the voice of developing countries on the IMF's board. She said she will continue reforms begun last year that increase the voting power of countries such as China and Brazil.
"The value of diversity is top on my list of priorities," Lagarde said Wednesday in her first news conference since assuming the top job. "It's not just gender diversity. It's about culture. It's about academic background."
The former French finance minister is facing many immediate challenges.
Lagarde must convince the developing world that her IMF will be a more open place for non-Western nations. At the same time, she'll have to persuade her fellow Europeans to take painful steps to avoid a default by Greece.
Restore confidence in the IMF
She is the 11th European to lead the IMF, extending a streak that began with the organisation's creation in 1945.
Her selection became all but assured once the Obama administration endorsed her. She had also won support from Europe, China and Russia. Mexico's Agustin Carstens challenged her, but his candidacy never caught fire.
Lagarde has said that her first priority is to unify the IMF's staff of 2,500 employees and 800 economists and restore their confidence in the organisation.
Strauss-Kahn resigned in May to fight charges that he sexually assaulted a New York City hotel housekeeper. He has been freed from jail after questions were raised about the alleged victim's credibility.
But Strauss-Kahn faces a new criminal complaint in France: novelist Tristane Banon has accused him of attempting to rape her eight years ago. Strauss-Kahn's lawyers have called the allegations as "imaginary."
The 187-member IMF loans money to countries with troubled finances and provides economic advice to world leaders.
Lagarde will be paid $467,940 per year, after taxes, according to her contract with the IMF. She will also receive $83,760 to allow her to "maintain, in the interests of the Fund, a scale of living appropriate to your position."
The contract also states that Lagarde is "expected to observe the highest standards of ethical conduct" and "shall strive to avoid even the appearance of impropriety in your conduct." Lagarde will also undergo ethical training, the contract states. Strauss-Kahn's contract did not include similar language.
- AP