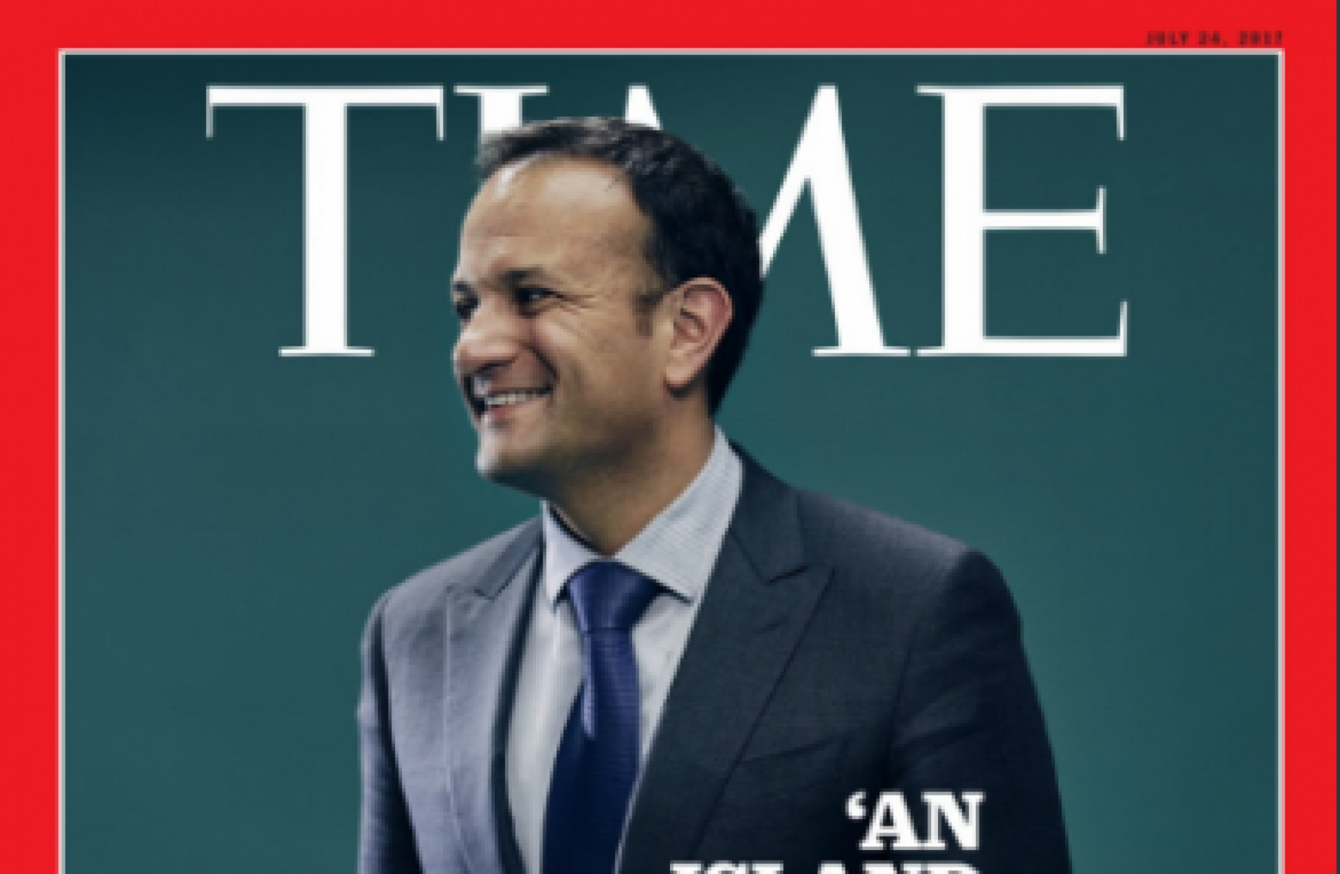 Leo Varadkar on the front of Time Magazine
Image: Time Magazine
Leo Varadkar on the front of Time Magazine
Image: Time Magazine
THIS WEEK MARKS one month since Fine Gael TD Leo Varadkar took office as Taoiseach of the country.
After a gruelling battle for the Fine Gael leadership against his opponent Simon Coveney, he entered the office on a high.
The nation's youngest-ever Taoiseach was splashed across the international newspapers, which led on the fact that Ireland now had a gay Taoiseach who is also son of an immigrant.
The Irish media, however, focused more on his policies and what kind of leader he is going to be for the country.
So, how have his first 30 days gone?
Well, he's worn THOSE socks, met The Pixies, brought up Love Actually in front of Theresa May, gone running with Canadian Prime Minister Justin Trudeau and appeared on the front of Time Magazine.
In other words, he has had his share of ups and downs. Let's take a look.
Day one: The Maire Whelan controversy
He was only in the door (and out of Coppers where he had his celebration party) when he walked straight into his first controversy as Taoiseach.
While Maire Whelan, the former Attorney General, was appointed to the Court of Appeal during Enda Kenny's last Cabinet meeting as Taoiseach, Varadkar was in the room for it.
The government faced stinging criticism from Fianna Fáil and the other opposition benches for the way it handled the appointment.
It was announced that Whelan would leave her post as Attorney General after six years, a day before Leo Varadkar took office as Taoiseach. He was then accused of rushing through her appointment, which was done first thing on Monday morning, ahead of his first Leaders' Questions.
However, Varadkar insisted all correct procedures were followed. The controversy meant the new Taoiseach didn't really get off on the right foot with Fianna Fáil, with its party's finance spokesperson stating that a general election could be on the horizon in the near future should such clashes continue.
The boys club
While he was dealing with the Attorney General issues, another problem was brewing, and it was one of his own making.
Questions were asked about the gender balance of his new Cabinet, with a number of women, including from those in his own party, unhappy with the reshuffle. The problem didn't go away, with further criticisms levelled at the Taoiseach for the appointments of the new junior minister.
Critics said this photo (below) spoke volumes about the new Taoiseach's attitude to getting more women into politics, with some urging him to take a leaf out of Trudeau's book, who took a 50:50 approach to his Cabinet.
Getting to know you… getting to know all about you 
So, the honeymoon period for the newly-elected Taoiseach was fairly short-lived, you could say.
But, he is facing into a number of challenges in the future, so he has to get the big players on side. He's used his first month in office to get face-time with some world leaders.
Number 10 Downing Street was his first overseas trip as Taoiseach.
Brexit and Northern Ireland were top the agenda for discussion between British Prime Minister Theresa May and Varadkar, who said it was a "thrill" to visit the Westminster residence.
He and May had a laugh and joke on the way in about the Hugh Grant dancing scene from Love Actually.
Varadkar appeared disappointed when he told reporters that the infamous dance scene was not filmed inside the Prime Minister's residence, so he didn't see the stairs that Grant dances down on his way in.
The Taoiseach said:
It's my first time in this building so there's a little thrill in it as well. We spoke on the way in and I was reminded of that famous scene in Love Actually where Hugh Grant does his dance down the stairs. But apparently, it wasn't actually filmed here so I didn't get a chance to see the stairs.
Then there was the quick phone call with US President Donald Trump, in which Varadkar kept Trump waiting on the line.
Footage from RTÉ showed Trump congratulating Varadkar on his "great victory".
He also got in a meeting with German Chancellor Angela Merkel.
However, it was the visit from the Canadian Prime Minister Justin Trudeau that grabbed the most headlines.
First there were the socks.
Then there were the gifts.
Then there was the running.
So all in all, not a bad first month in terms of meetings.
Jobstown
Varadkar has created another problem for himself that is likely to stick to him throughout the summer unless he gives more clarity on the matter.
The Taoiseach told RTÉ's Prime Time the issue of evidence given by gardaí in the Jobstown trial conflicting with video evidence is something that should be looked at by the garda commissioner and senior garda management.
Paul Murphy, who was one of the men on trial accused of falsely imprisoning Joan Burton, has led the calls for a public inquiry into the garda investigation after all men were acquitted.
Since then, there have been heated spates in the Dáil between Murphy and Varadkar.
The question being asked now is – who is going to investigate it? If not an inquiry, if not the Public Accounts Committee, then what body? All eyes will be on Varadkar to answer that one soon.
Bin charges
Another controversy that could run on for a number of months is the new bin charges regime announced in the last month. Varadkar said it is about encouraging those to recycle, while those in opposition said families will only see their waste charges increase.
Varadkar ended up giving some concessions to Fianna Fáil, agreeing to a waste regulator and was forced to say that if prices to start to rise, the government will intervene. Watch this space.
The rainy day fund 
He managed to tick off former Finance Minister Michael Noonan by turning his back on Michael Noonan's €1 billion per year rainy day fund. Instead, he wants to spend more on infrastructure, and has reduced the amount the government will pay into the fund by half.
What about legislation and key announcements? 
The Taoiseach has had a few in the last month, such as an increase of Special Needs Assistants, the launch of the National Cancer Strategy, the release of the Summer Economic Statement.
Varadkar also made a key announcement about his 'Welfare Cheats Cheat Us All' campaign, which he launched prior to taking office.
Last week, it was announced that he would be rowing back on the scheme, changing his plan so that those convicted of fraud over €5,000 will have their names published.
The names will be published on a quarterly basis on the Department of Social Protection's website. The list of names will be removed after three months.
Varadkar has managed to ramp up legislation making it through. With the Dáil sitting an extra day this week before the summer, the Taoiseach managed to get another 12 pieces of legislation through, a sizeable increase.
However, the tough choices for the new Taoiseach on issues like abortion, water charges, judicial appointments,drink-driving legislation, as well as getting the Budget through
So, a month in office? How do you think Varadkar has got on so far? What should be top of his agenda in the autumn? Tell us in the comments section below.