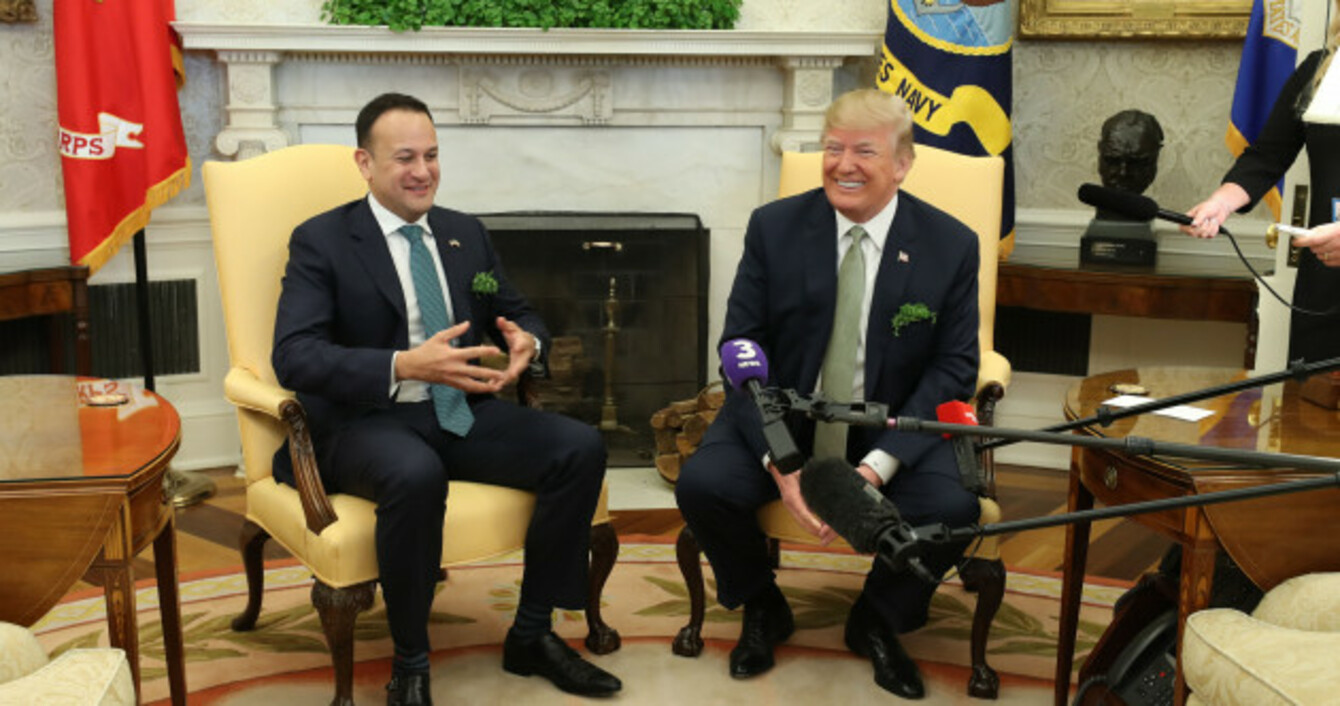 Image: PA Wire/PA Images
Image: PA Wire/PA Images
SHAMROCK, GUINNESS AND the talk of a wind farm in a far off place called Doonbeg dominated the St Patrick's Day celebrations in Washington DC yesterday.
All eyes were on the young Taoiseach in Washington for his debut visit to the White House and his meeting with US President Donald Trump.
Slick, polished, and for everything to go off without a hitch – no doubt that's what Varadkar was hoping for. It didn't exactly work out that way.
The day began in the Oval Office. The elbows were out as journalists scrambled to get a good spot. We had been forewarned by the Secret Service not to knock over any expensive furniture or ornaments (last year, a grandfather clock took a wobble and this reporter [full disclosure] took a tumble near the couch).
Sitting in the presidential office, Leo Varadkar looked like the proverbial cat that had got the cream.
A young politician, just 38 years of age, seated next to the US president. He was quick to point out to Trump at how far he'd come.
"I was telling President Trump that I was here before when I was a Congressional intern back in 2000 – but they didn't let me in the Oval Office," said Varadkar.
"And now we do. You've made great progress," replied Trump.
He added that it was his pleasure to welcome the "very popular" Taoiseach.
Trump was in a talkative mood, telling the crowds of reporters that he had discussed trade, military, cyber security and immigration with the Taoiseach.
Trump to visit Ireland
Varadkar made small talk, telling Trump that he would be walking in the St Patrick's Day parade in New York on Saturday, and inquiring whether it passed by Trump Tower.
He told the president he'd travelled to Texas to meet with two governors.
"Great story," replied Trump.
The question everyone wanted to know – would Trump be paying a visit to Ireland?
"I will, I love it there," said the president, adding that he had property on the west coast – the Doonbeg golf resort.
He asked if Varadkar played golf.
"I don't, but I'm always willing to learn," replied the Taoiseach.
A quick handshake between the pair and that was it. Next stop was the Capitol Hill lunch.
Source: PBS NewsHour/YouTube
Not breaking from tradition, House Speaker Paul Ryan raised a pint of the black stuff. "Sláinte," he said.
The Republican joked that Guinness was one of Ireland's great exports, pointing out that perhaps he shouldn't be making jokes about trade right now.
Trade was a common theme through the day.
In a bid to stave off a trade war between the US and Europe, Varadkar suggested that a new trade deal might be in order.
Trump spoke about the issue at Capitol Hill, while taking a dig at Irish corporation tax rates.
"Whenever there's a problem you call – we'll solve it, except for trade," he joked.
They got those taxes so low, you are a tough one to compete with with those taxes.
The Taoiseach then took to the podium. Searching for his speech – he said it was held down by two pints left there by Ryan.
Undocumented Irish
He spoke about Irish links to America, and when he first crossed paths with Trump. (This story has got him into a spot of bother).
He then highlighted what is the main theme at every St Patrick's Day visit – immigration.
Last year, Enda Kenny said he wanted a deal done on the undocumented Irish in America. He said he hoped the Democrats and the Republicans could work together to "sort this out once and for all".
Varadkar said the Irish in America are hard-working people, who contribute to the economy.
The issue was again highlighted by Trump during his speech at the shamrock ceremony.
"Over 10% of Americans can trace their ancestry back to Ireland," said Trump.
"Just think of that," he said, appearing a little surprised at the stat.
He said Irish immigrants to America helped to carve out the country that exists today, stating that he was impressed to hear they spent their "hard earned pennies to build St Patrick's Cathedral" in New York.
Last year, Trump described Enda Kenny as his "new friend". This year, the president said he and the Taoiseach had become "fast friends".
Trump said he looked forward to the Taoiseach's return next year and "for seven more years" – referring to a possible second term.
"Taoiseach, I'll tell you, we've become friends – fast friends – over a short period of time,"  Trump told the packed-out room of Irish and American politicians, which included Vice President Mike Pence and First Lady Melania Trump.
"I look forward to your return next year," he added.
In fact, we'll see you for about, what? Seven more years, I think. Right? Right? About seven. That's sort of an interesting concept. Right? That's what is going to be.
And while it remains to be seen whether the guest-of-honour's messages about a deal for the Irish will have been heard by America's most powerful politicians, Varadkar seems to believe Trump is the man to deliver on that promise.
"There's no better man to make a deal than President Trump," the Taoiseach proclaimed yesterday.
We'll have to wait and see on that one.