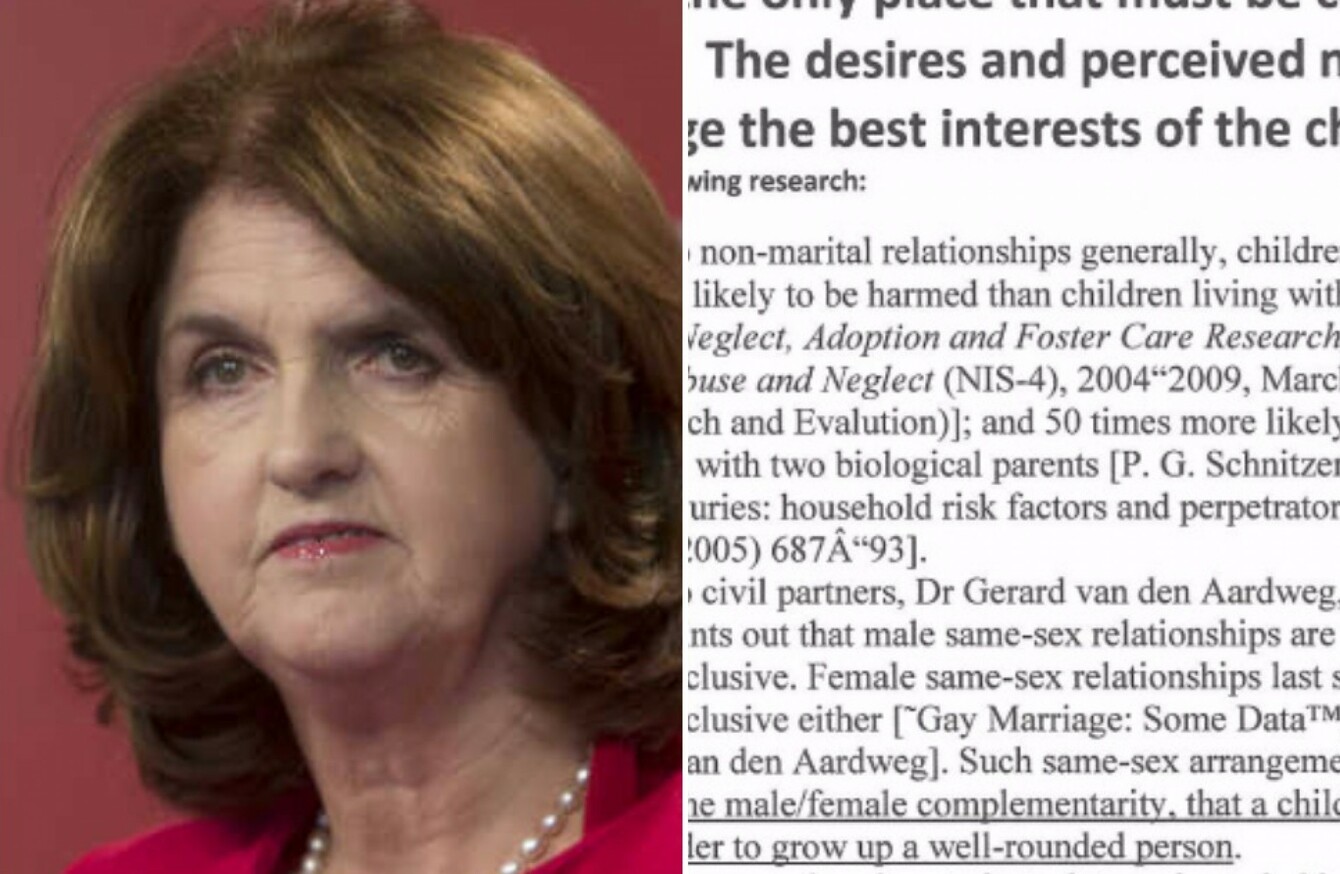 Joan Burton and the letter sent to a number of TDs.
Joan Burton and the letter sent to a number of TDs.
LABOUR'S JOAN BURTON has hit out at a letter sent to TDs, including the Taoiseach, which states that children adopted by same-sex families "are more likely to be sexually abused".
The letter, sent by Nora Bennis who ran in this year's general election in Limerick City, urges TDs to oppose the Adoption (Amendment) Bill. The bill is entering its final stages in the Dáil this evening.
The bill will give adopted people the right to their birth certificates for the first time under new legislation. Currently, due to legal and constitutional reasons, many people are unable to access their birth certificates which lists their birth parents' names.
The letter, sent to Enda Kenny, Michael Noonan and Micheál Martin, to name but a few, states that "stability is founded on marriage between a man and a woman" and says the "interests of the child are paramount".
Bennis, who has run for election a number of times for the Catholic Democrats, stated on her election leaflet this year that she was running on the platform of Christian values and the protection of the life of the unborn.
Surprise at offence caused 
Speaking to TheJournal.ie, Bennis said she was surprised that TDs had taken issue with her letter.
In her correspondence, she outlines a number of points and cites what she describes as "evidence" or "proofs" to her claims.
In regards to civil partners, she states that a "prominent Dutch psychologist points out that male-same sex marriage relationships are very short-lived, and they tend not to be exclusive".
The letter goes on to claim that in same-sex households, "children raised in households do badly at school and suffer emotionally" and in addition stating:
Children raised by 'married' same-sex pairs are more likely to be sexually abused the longer the union lasts.
Adopted people 
Burton told TheJournal.ie that as a person who is adopted herself, she finds the letter "extremely offensive and hurtful".
"Family life is very different from what it was and this letter is hurtful to a lot of people and families," she added.
#Open journalism No news is bad news Support The Journal

Your contributions will help us continue to deliver the stories that are important to you

Support us now
While the former Tánaiste said Bennis has caused offence, even if it was unintentional.
"This is the sort of letters, submissions and 'studies' that were peddled before the children's referendum and the marriage equality referendum and it was deeply hurtful to people at that point in time."
This is the kind of rhetoric that belongs to a time of 40, 50, or 60 years ago and is completely out of sync with modern family life today… it is more from the darkened, secretive Ireland, where the subject of adoption was under a huge amount of secrecy and gay relationships were criminalised.
I think this letter belongs as a historical artifact. It is needlessly offensive to adopted and gay people.
But Bennis said that she was surprised that any TD had taken issue with her submission.
Speaking to TheJournal.ie, she said: "My big thing is, and it was in the body of my letter, there is security in the marriage between a man and a woman and as an adoptive parent myself, stability is important to the child…. As I see it, the best interest of the child has to be priority."
"By and large we must consider the child first," she said, standing by the studies she put forward as evidence in the letter.
"I am absolutely certain and determined in my opinion," she said, stating that she is "wide open to anyone to discuss" her views.
Bennis said she is happy for people to come and challenge her on views.