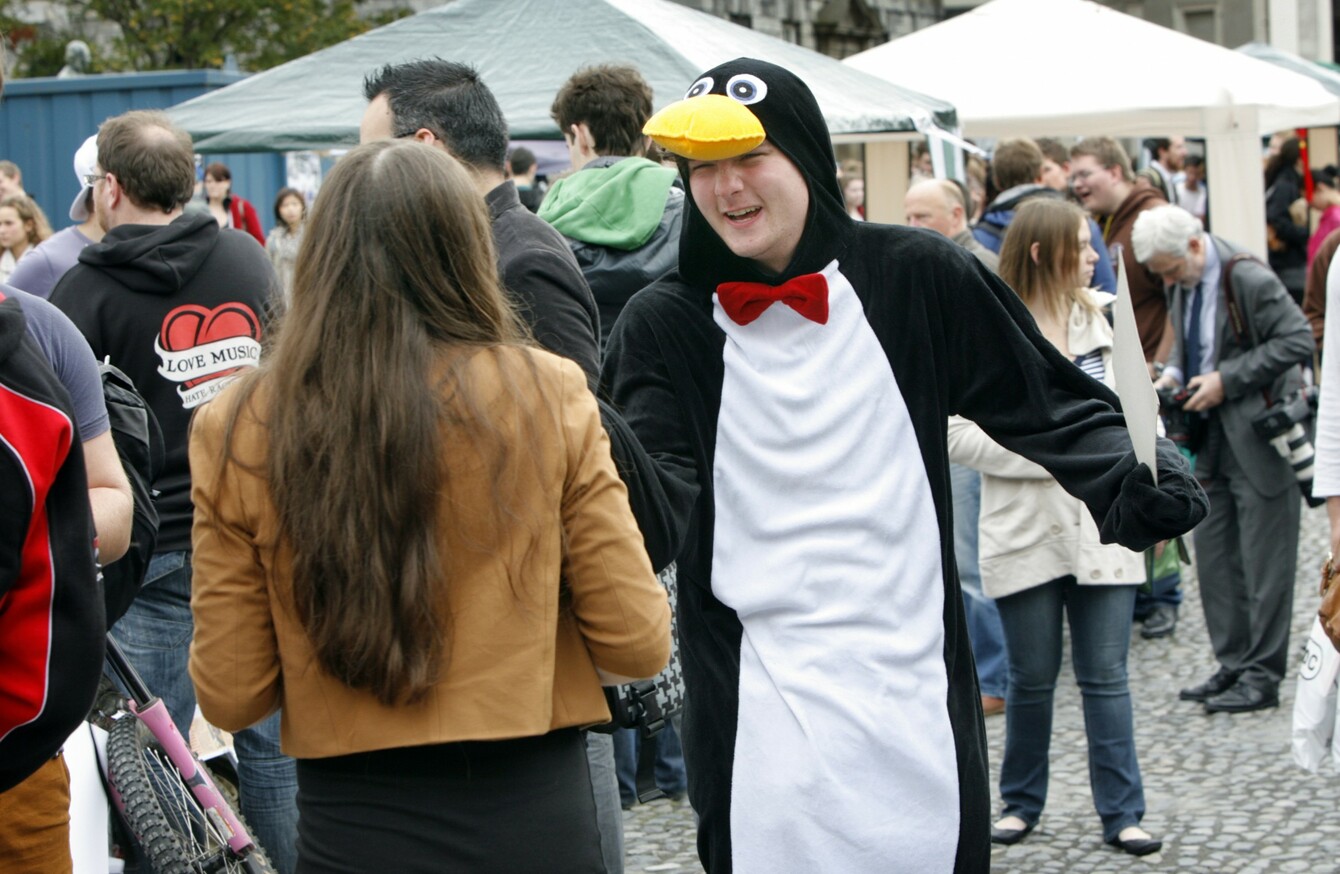 The scene during Freshers' Week at Trinity College Dublin
Image: Mark Stedman/Photocall Ireland
The scene during Freshers' Week at Trinity College Dublin
Image: Mark Stedman/Photocall Ireland
This article is part of our Change Generation project, supported by KBC. To read more click here.
WHAT ARE THE things that you wish you'd known in freshers' week?
Now that you have graduated from college, finished your apprenticeship or reached the end of your training – what would you tell your former self?
Maybe you didn't budget properly, or you sweated the small stuff too often. Perhaps you weren't always the best housemate, or maybe you didn't go to as many parties as you should have.
We asked three recent college graduates to tell us what advice they would impart unto their first-year selves if they had the chance.
Gemma McCarthy, 24 (BSc Nutraceuticals in Health and Nutrition, DIT)
To Me (Previous 2012 Version)
Four years later and none the wiser or more capable!
Spoiler alert: We graduate! As a "Nutraceuticalist". No, you will not learn what that really means. And, yes people do still stare blankly when you say it.
As daunting as those first few weeks are, stick it out. One drunken Friday 9am start and you're settled! Everything after that just kind of happens.
There will come a point, mid-thesis, when it will all seem too much and you will want to quit. This is normal. Happens To Everyone. Only lasts about a week. Just remember you are too close to the end to stop!
Notes:
Join the clubs/societies
Turn up to lectures… All of them, if only in body.
Travel! Do an Erasmus placement, the thesis doesn't matter – just go! Worth it!
It's all over before you know it, but don't worry, we had our fun.
Best of luck,
Me (Current 2016 Version)
Sarah O'Regan, 23 (BA Psychology, Sociology and Political Studies, MA Psychology)
Hey first year me,
College is going to be super fun! Lots of going out, late night chats and not bothering to get up for class at 9. Here's a few things that you should keep in mind:
Don't bother attempting to use your kitchen. It's going to be a pig sty from day one so you're better off eating at the girls' house or in college. It'll cost more but will be worth being away from the smell.
Organise your timetable so that lectures are bunched together. You won't enjoy having to hang around college all day because you put an hour between each class.
Have the motivation to actually go to the societies you sign up to. You would have learnt a lot more about art if you had actually turned up for a single meeting.
For the love of god eat all the chicken and cheese paninis you can because when you leave college, you leave the glorious paninis behind!
Other than these insightful tips, just enjoy the lectures and your free time. It goes so fast and before you know it you'll be in your cap and gown.
And, finally, if college taught me anything it's to look away when the streaker runs into your tutorial!
Enjoy!
Emily Bergin, 23 (Arts at Mary Immaculate College & Masters of Education in Languages at University of Limerick)
If I had to give a piece of advice to a younger version of myself, then it would have to be this: relax.
Relax about everything! You overthink every small and minor event of your life particularly during your teenage years. Stop trying to please everybody and be yourself. If everybody was the same then there would be certainly nothing exciting to bitch about in the school canteen during lunch time.
You will mess up, big time! The word 'fail' used to haunt me and made me feel stupid. I have failed at so many various things from my teenage years to this day, and I will gloriously continue to make an abundance of mistakes. Isn't it more impressive to say that you tried and failed instead of never having tried at all?
One particular failure stands out in my mind: a Christmas exam, what feels like centuries ago, in secondary school. I got a D in my favourite subject (which I am studying at Masters level today) and my teacher said to me: 'You should never pursue a career in this subject'.
This simply made me work harder. For the remainder of my time at second level I remained an A student in that particular subject, no thanks to her. If I had listened, my life would not have taken me down the avenue I am pursuing today.
You're not alone! Everybody has been in your shoes. Whether it's your Leaving Cert, your theory test, a county camogie final or a first date, everybody feels these whirlwinds of emotions and you will too!
Lastly, I would like to add this: eat the fatty food, text the boy/ girl you fancy, stay out late with your friends, break your curfew, take on a new subject, try out the new hobby and most importantly, don't judge a book by its binding.
What do you wish you'd known in your first year of college, apprenticeship or professional training? Give your advice in the comments below…