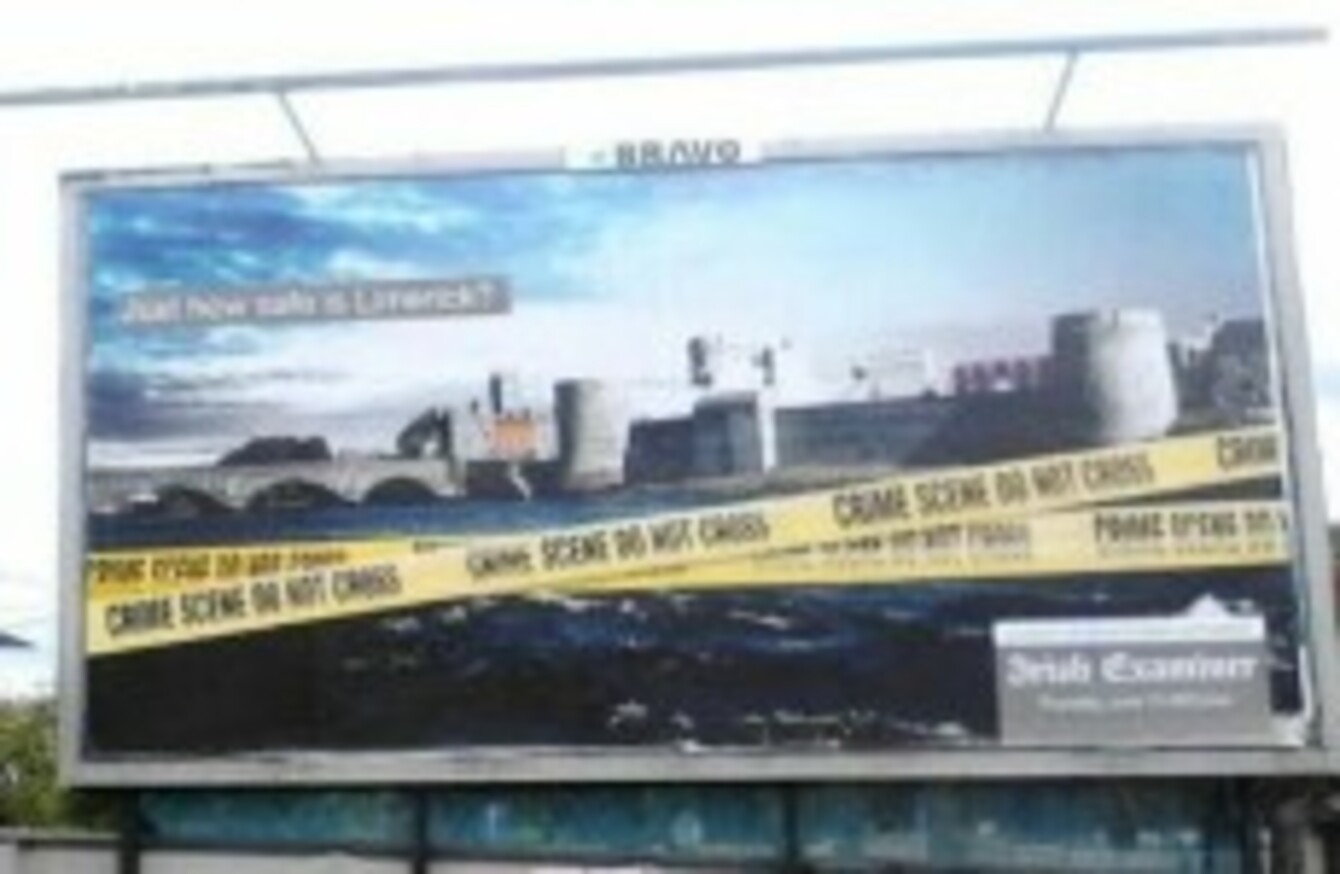 The controversial Irish Examiner billboard, which was defaced overnight
Image: Aoife Danagher
The controversial Irish Examiner billboard, which was defaced overnight
Image: Aoife Danagher
THE EDITOR OF the Irish Examiner has been defending a controversial billboard advertising campaign by the newspaper, which is running across towns and cities in Munster.
The Limerick version of the poster in particular has been met with massive local opposition. Erected late yesterday at Colbert Station, it was on display only for a few hours before being torn down.
The billboard showed a scene of King John's Castle overlooking the Shannon with yellow crime scene tape across the whole image, and a tagline  asking 'Just how safe is Limerick?'
Other designs in the series show scenes of Cork, Tipperary, Waterford, Kerry and Clare. The paper says the campaign is aimed at promoting a national investigation into crime in Ireland, and has asked that people 'reserve judgement' until the report is published.
Speaking to Limerick's Live 95FM, Examiner editor Tim Vaughan denied that the city – which in the past has had a reputation as a crime blackspot – was being targeted by the paper.
I think it's been misinterpreted in Limerick as focusing solely on Limerick – this is a national investigation into crime in Ireland.
He said he stood over the design of the billboards, and that it was 'unfortunate' that Limerick was the only place there had been such a reaction.
People are jumping to the wrong conclusion. This is not about Limerick – it's about Ireland. We have a similar poster outside Kent Station (in Cork city).
Asked whether the defaced billboard would be replaced, he said no decision had been made as yet.
There have been calls from locals for a boycott of the paper in the city. One newsagent told Live 95 he would no longer display the Examiner on his shelves, and that in future customers would have to ask for it by name.
The advertising campaign has also come in for criticism online. The majority of comments on the subject posted to the paper's Facebook page have been negative, with one person's statement that it was a 'disgraceful campaign' and that the paper wasn't fit to 'wrap chips in' indicative of the general tone.
Similar designs to the controversial Limerick billboard are being rolled out in other counties (Image: Irish Examiner / Facebook)
UL economics lecturer Stephen Kinsella said he had lodged a complaint over the poster with the Advertising Standards Authority of Ireland. He said the image used misrepresented the 'true nature of crime in Limerick city' and did so 'in a malicious and vexatious manner'.
He said recent CSO figures showed the city's reputation as a crime centre had waned in recent years.