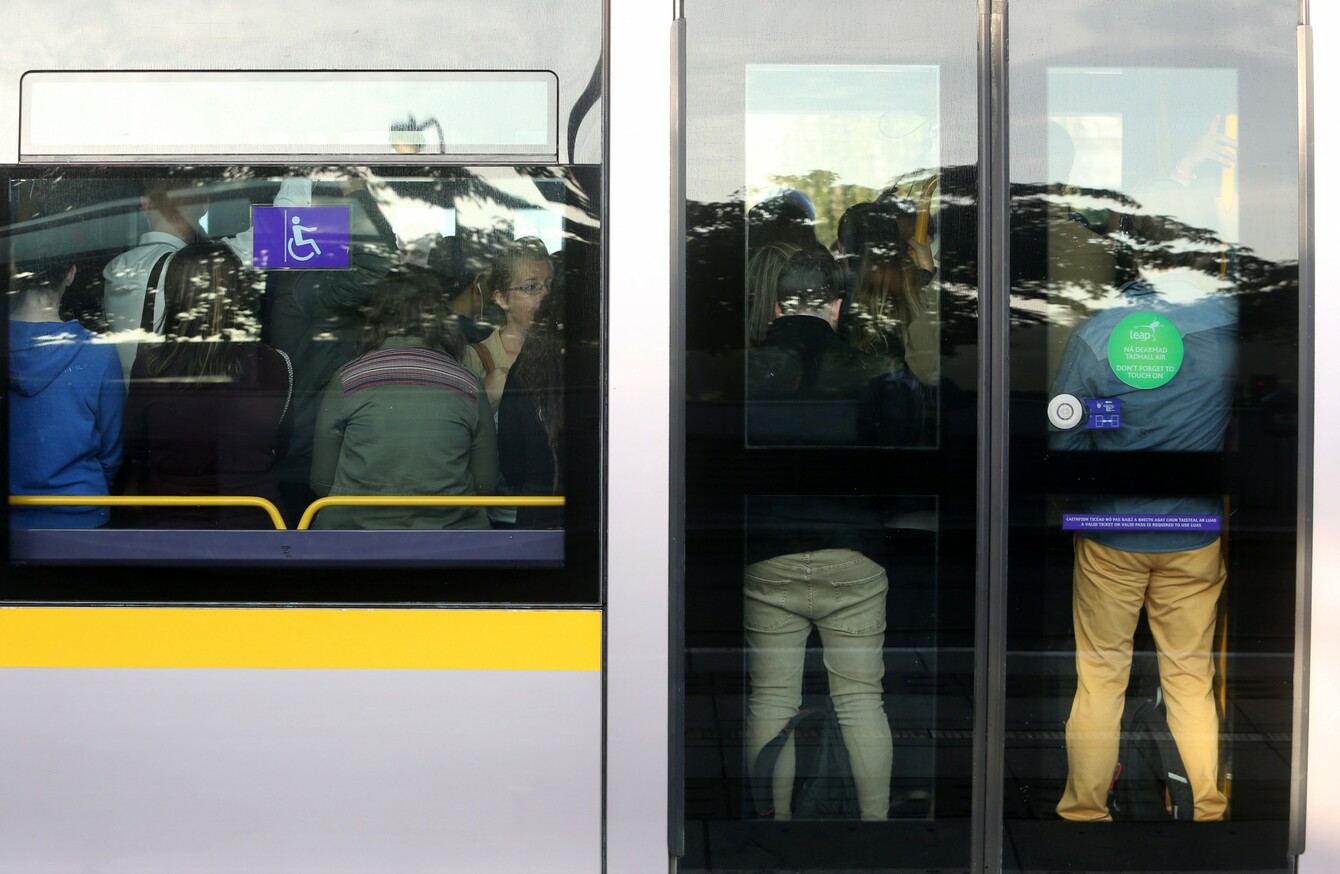 Image: Sam Boal/Rollingnews.ie
Image: Sam Boal/Rollingnews.ie
A TEENAGER WHO attacked and stabbed a Brazilian man on a tram after the man tried to defend himself with a fake taser has been sentenced to six years in prison.
There was blood on the floor of the Luas tram travelling towards Goldenbridge, Dublin in the wake of the incident on 6 May last year, Dublin Circuit Criminal Court heard.
Ross Behan (19) with an address in Benmadigan Road, Drimnagh, Dublin, pleaded guilty to assault causing harm to the man who was on his way to work. He also pleaded guilty to attempted robbery and possession of a knife.
Judge Melanie Greally described Behan's behaviour in the attack as "bizarre and threatening" before she imposed consecutive sentences totalling six years and suspended the final three years of the term.
Garda Aidan Shaughnessy said Behan approached the victim on the Luas and showed him his knife before telling the man to hand over his phone. The man stood up and, while pretending to produce his phone, took out a flashlight that "makes a sound like a taser", Garda Shaughnessy said.
A standoff ensued and as the Luas came to a stop, Behan stabbed the man in the forearm and fled.
His victim suffered a one-inch laceration to his arm and was taken to St James's Hospital for treatment. Behan was identified from CCTV footage and arrested shortly afterwards.
He also pleaded guilty to breaking and entering a house in Inchicore between 28 and 29 June and last year and stealing two cars.
He crashed and abandoned them both, the court heard. He has 27 previous convictions including for burglary and theft.
Apology
Behan handed up three letters of apology to the court. Eoin Lawlor BL, defending, said his client was on drugs at the time of the offences and "out of his mind". He was extremely remorseful for his actions.
Behan had a difficult childhood, with an alcoholic father who left when he was nine months old, the court heard. At the age of 10, Behan fell into a canal and was in a coma for four days.
"His mother can tell the court she was returned a different child to the one who went out to play that day," Lawlor said.
Counsel said his client wanted to spend additional time in jail so he could be better prepared for his ultimate release into the community. He said his client wanted to undergo counselling and engage with the Probation Service while in custody.
Judge Greally said it was "an unusual request" but accepted that he had settled into the regime in prison and was putting his time there to good use.
"However a prolonged incarceration will not ultimately best serve you or the community," the judge said.
She accepted that the root cause of both offences was Behan's drug addiction and ordered that he engage in drug treatment on his release.