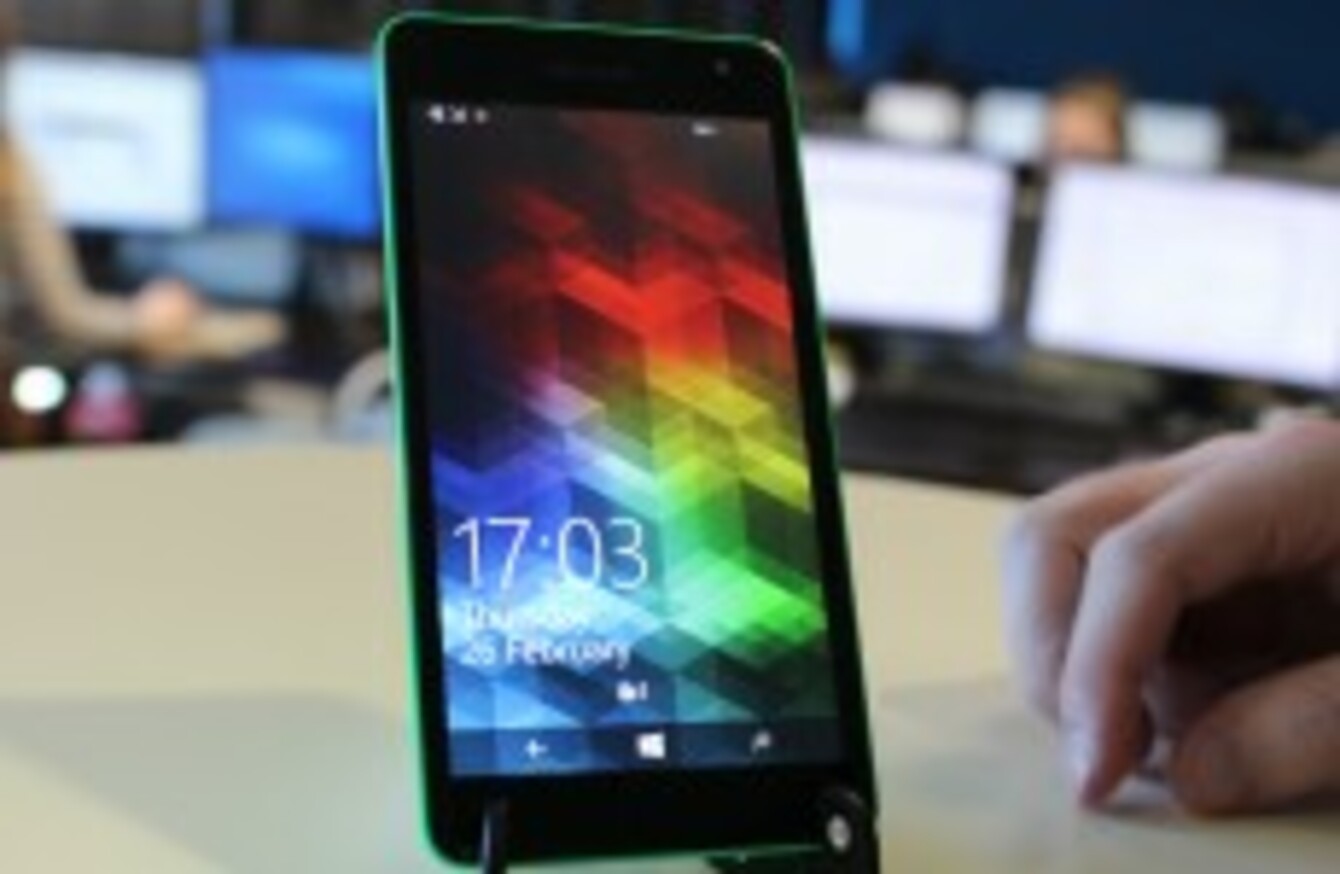 Image: TheJournal.ie
Image: TheJournal.ie
Score: 6/10
Verdict - It's big, cheap, and nice to use, but it's only for those who want the absolute basics.
SINCE NOKIA HAS left the smartphone race (in name anyway). Microsoft has taken the mantle and has wasted no time in pushing Windows Phone forward as a first-choice platform.
Part of that strategy involves Windows 10, which will allow all-in-one apps, but until it's ready, the other strategy is to flood the market with low and mid-range smartphones.
The Lumia 535 is one such device. One of the cheapest devices it's released (€115), it's certainly an aggressive attempt to capture that market but how does it fare?
Look and feel

Low price devices regularly go for a plastic backing and while the Lumia 535 doesn't shy away from this trend, it at least makes things a little brighter with vibrant (but plain) cases. The large screen (5-inches) is certainly a nice addition and one you wouldn't usually associate with that price range.
If you're looking for sharpness, you're going to be left disappointed as the resolution is quite low. It's good enough for videos and images, but you're definitely going to notice the drop in quality.
As expected, Windows Phone 8.1 continues the same concept as always – large tiles, simple interface and straightforward design – and the latest update Denim is included, which brings improvements to the camera (both speed and image quality) as well as folders.
Although if recent releases are anything to go by, app development for the platform seems to have slowed down – likely because of developers preparing for Windows 10's launch later this year. Still, the core apps are there and unless you absolutely have to have the latest apps, then this shouldn't trouble you.
Hardware & Software
With a low price point, you would probably guess that there are some concessions made with the hardware and you would be right, but if you're only focused on the basics, then you won't mind this.
Yet despite being designed for Windows Phone 8.1, there are moments where things get a little jittery. The low processing power means it takes longer for certain apps to boot up properly and that anything that places a demand on it will see it experience some slowdown. Basically, keep away from 3D games and you'll be fine.
One immediate problem is battery capacity. It's pretty low – 1,905mAh for those interested – although it will last longer than that figure implies. The screen is both low-powered and low-resolution meaning a single charge will last longer, but you will have to keep your eye on the power.
The other problem is there's no 4G capability, which is a pity since most new devices – even the lower quality ones – are providing it. If feels oddly short-sighted considering how it's going to become more prevalent as time goes on.
Both a front and rear 5MP camera means you will have average photos from the front, but taking selfies will at least be quite good. To be fair, Lumia Camera (the app) is one of the better native camera apps out there and provides tutorials on its settings – a nice addition considering how many of us rely on auto.
There are some small irks though. The positioning of the further options section is tough to tap on when you have the standard virtual buttons up against it. Also, while it doesn't take too much time to boot up – usually less than two seconds – it doesn't always get the brightness correct the first time around. You will usually have to refocus it at least once to account for this.
#Open journalism No news is bad news Support The Journal

Your contributions will help us continue to deliver the stories that are important to you

Support us now
The low-resolution screen doesn't help matters either when you're trying to judge the quality of a photo you just took.
That said, the photo quality is good considering the camera you're using. They'll be fine for quick photos and for posting on Facebook or Instagram, but don't expect them to be too detailed when you put them on a bigger screen.
Lumia 535

Lumia 535

Lumia 535

Lumia 535 Photo 1

Lumia 535 Photo 2

Lumia 535 Photo 3

Lumia 535 Photo 4

Lumia 535 Photo 5
Is it worth buying?
If you're tight on cash or getting a starter phone for someone younger, then it's certainly one to consider. It's cheap, it has a good front facing camera and both the software and hardware are bright and colourful.
Yet, it's unspectacular and if you have a little more to spend, you would probably be better served by the Lumia 735. Still, it will deal with most of what you throw at it which is all you can ask for really.
Pros
- Large, bright screen for a budget smartphone.
- Incredibly cheap.
- Decent front-facing camera.
Cons
- Low-resolution is more noticeable with larger screen.
- No 4G capabilities.
- Low-range specs will stumble under more demanding tasks.
The Lumia 535 costs €115 (SIM Free) and is available in Argos, and Microsoft's online store.