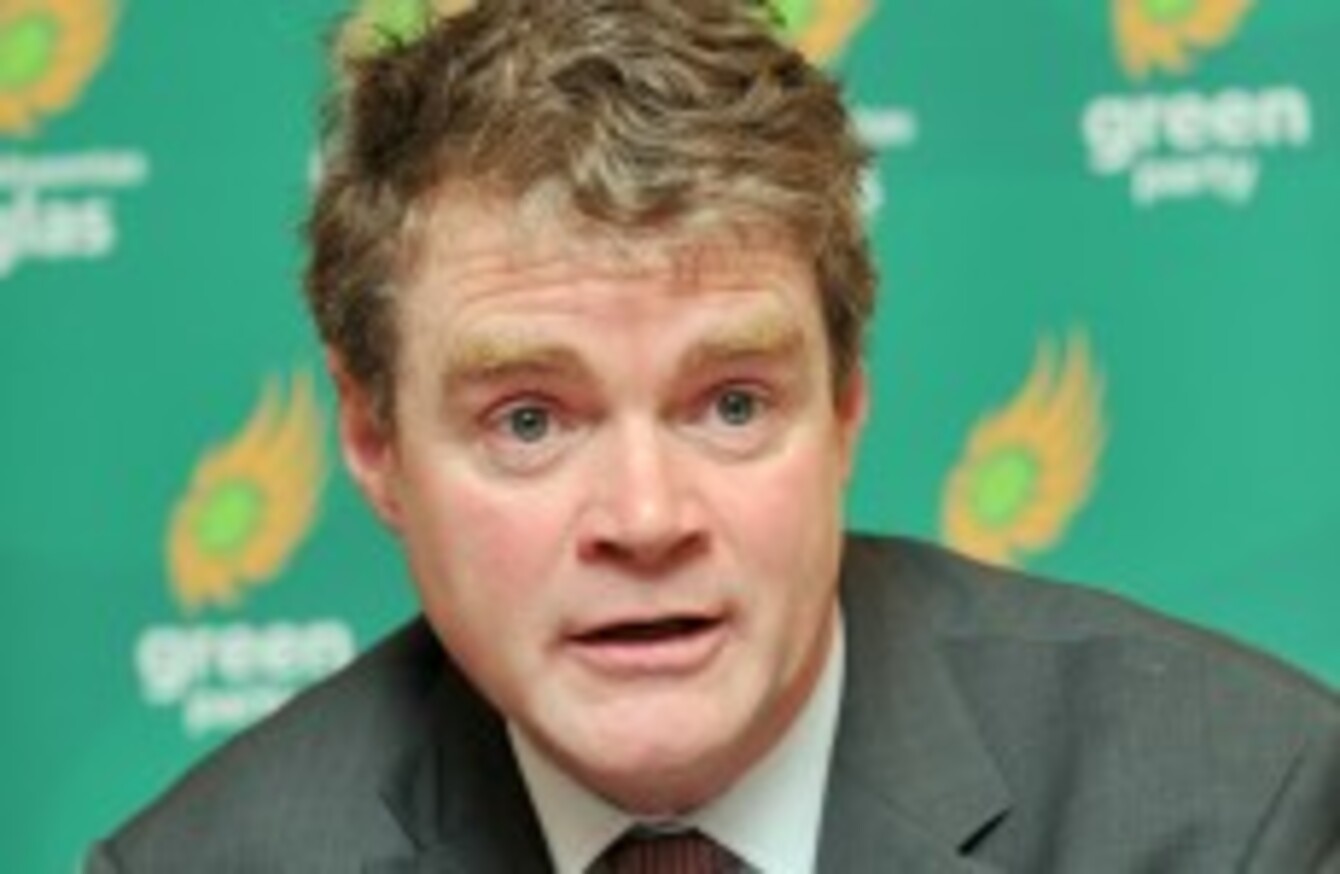 Image: Graham Hughes/Photocall Ireland
Image: Graham Hughes/Photocall Ireland
AFTER MORE THAN a decade in local politics – and a brief spell as a Senator – Mark Dearey feels he is ready to head to Brussels to represent Ireland at an EU level.
Dearey is the Green Party's candidate in the new Midlands North West constituency, and is currently a councillor with Dundalk Town Council.
He eventually reached the Seanad as a Taoiseach's nominee in Feburary 2010.
However, Dearey first came to prominence in 1994 in the form of nuclear politics, and his involvement with a case aimed at stopping reprocessing at the Sellafield nuclear plant in England, but was ultimately defeated.
"Dreaded lobbyist"
He's also no stranger to Europe – he worked as a "dreaded lobbyist" with Friends of the Earth in Europe, mainly in the area of environmental legislation.
"I do have a sense of what the undertaking will be," he told TheJournal.ie, "and I was on the European Affairs committee during my time in Seanad."
However, he recognises the struggle his party faces in gaining a foothold in these elections, and the key to that is convincing the public that a policy of sustainable development is what the country needs to recover.
Dearey said the public is starting to come around to this, realising that whatever way the economy recovers, it has to recovery in a different way than previous periods of growth.
"We haven't yet managed to find the kind of language that communications that people fully appreciate and want to support," he said.
Dearey is passionate on the subject of planning and is one of his key areas of policy, and the need to focus on how a lack of regulation led to the collapse of the economy:
"Planning that meets community needs rather than developer aspirations or gains."
Housing planning strategies need to link in more with how people can commute to places of work, he believes, leading to a more effective system of public transport.
Mark Dearey on…
How the Green Party have fared since the 2011 General Election wipe out…
To use an analogy from football, although we have been under enormous pressure, we have maintained our shape. The internal communications that [party leader] Eamon Ryan put in place since has been a huge help. The fact that we had a leadership contest after that, it was really helpful. It helped us work through what had happened and it meant that Eamon had a mandate from the membership to continue a process and to rebuild according to the messages he received through this contest. He's done a great job.
Ireland's Corporate Tax rate...
I do think our Corporate Tax rate is a fair response to our distance from the centre of the market, but we do need to very honest in terms of what the effective rate is.
The shelved plan to export wind energy from the Midlands…
The government has walked away from a massive opportunity for this country… Obviously on the ground communities will be relieved because the way in which the developers have gone about their business has divided communities and even families… none of it relating to community gain. Community ownership is really the way we need to go with it.
Energy sustainability…
Ireland is 88 per cent depend on energy imports.  That is not sustainable. The European average is 53 per cent. That is not sustainable, but its a lot closer to what is manageable. We need to address that and come up to solutions, and I think that is, if we can get the right development model in place.
Ireland's potential future with nuclear energy…
The problem is that industry requires a massive regulatory regime. In Britain, I estimate that there's 20 quangos in place. We would have to put a massive regulatory framework in place, and 20 years to build a station, and cost controls… the talk of nuclear playing a significant role in our energy future is grossly overstated.
Small businesses…
One proposal we have is a SME-focused public bank. Initial capital can come from the ECB, it's a provision from the Lisbon Treaty. If small businesses in rural areas knew they had access to that kind of lending, that tended to their needs and was run for them, you would see a huge easing in the credit restrictions.
And finally, on European politics facts and figures…
As we build up to the 23 May polling day, TheJournal.ie's been giving each European Election candidate we interview a quick pop quiz on the institutions.
How many candidates have currently been put forward for Presidency of the European Commission?
Em… presidency of the EU… no I don't know. [Answer: 6]
Name three.
Three? Let me think now… presidency of the European Union… em… No I can't, sorry. [Sample Answer: Jean-Claude Juncker, Martin Schulz, José Bové]
How many members are needed to form a political grouping in the European Parliament?
Hmm… em… I don't know. Sorry! [Answer: 25]
How many MEPs are there?
There's 766 now, and you're going to elect 750, plus one, the president. [Answer: 766 now, 750 + 1 in the next election.]