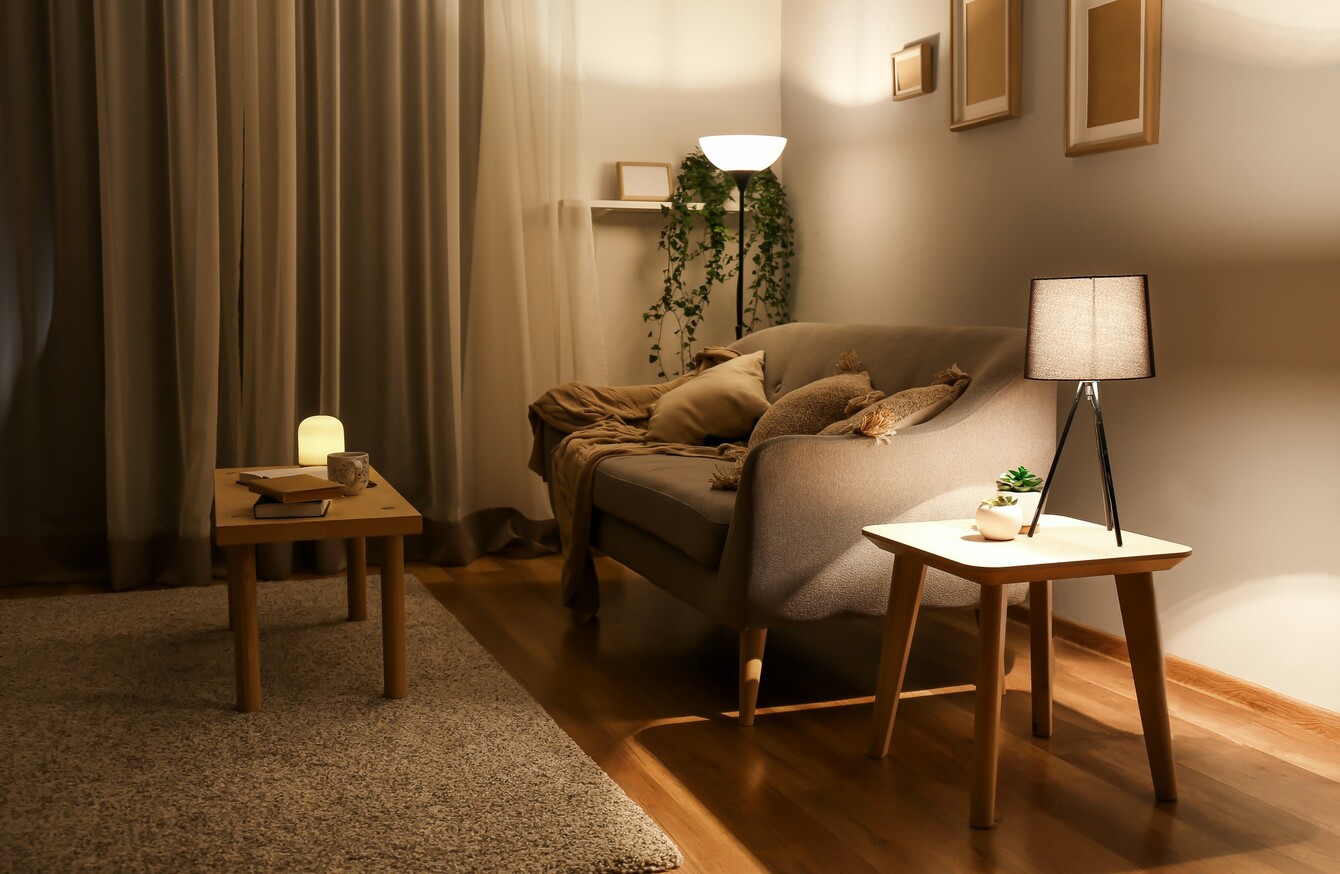 Image: Shutterstock/Pixel-Shot
Image: Shutterstock/Pixel-Shot
LAURA DE BARRA regularly brings her lifestyle and home maintenance masterclasses to the Glenveagh Home Magazine on TheJournal.ie. This week: how to get your living room lighting right for a cosy autumn night in.
The time has come to embrace the darker evenings and colder nights. Yes, we may be kissing summer goodbye, but the cooler temperatures bring a wonderful opportunity for cosy nights in.
The quickest and easiest way to create your desired atmosphere in a living space is lighting. When it comes to relaxing in front of a movie or settling down with a book, the big light won't cut it. Here are my tips for transforming your lighting just in time for those darker nights…
1. Choose the correct bulbs for your space and needs
The temperature of light is measured in kelvin (K). A lower kelvin bulb will offer a softer, warmer glow, while a higher kelvin option will throw out a cooler, brighter light. As a benchmark, 1700 kelvin would be close to the light you'd get from a candle. Between 2000 and 3000 kelvin is ideal for reading, but lower kelvin options are still great for adding atmosphere and calm.
2. Add a few lamps so you're not relying on the central light
Having one central light will never make a room feel as relaxed as it can be, as it highlights the entire room with no particular focus. If your room is multi use, this is an even bigger no as the other zones are not "turned off" – so while you are relaxing you cannot escape the open plan kitchen/home office/pile of clutter in the corner. For nights when you are using one particular zone, for example to read or watch a movie, switch off the big light and go for some smaller lamps instead.
3. It's not just the bulb, the shade matters too
If your shade is mainly focusing light up to the ceiling it will draw the eye up, creating a harsher, less cosy feel. Shades that focus the light down will create a softer atmosphere and make the area feel smaller and much more snug. 
Always position lamps so that the bulb is not exposed to your eye when you are sitting down – for atmosphere but also for the comfort of your eyes. They should always be covered by the shade and out of sight. If your table/shelf etc is low and means the bulb is exposed from the top of the shade, consider a shade with a closed top. 
4. Want to light up one small area? Try stick on LEDs
Stick on, battery powered lights are brilliant for highlighting bookshelves, non- functioning fireplaces, under counters and so on. The only caveat I have here is that many of these are designed to add light to workspaces so typically have brighter bulbs. Make sure you choose one with a warm glow rather than a bright, cool light for optimum relaxation.
#Open journalism No news is bad news Support The Journal

Your contributions will help us continue to deliver the stories that are important to you

Support us now
5. Be smart with your placement
Lamps are best placed next to where you will sit. In a living space this will usually be next to the couch or favourite armchair. If you just have table lamps to work with, pop them on a side table next to where you're perched. 
If you wish to make a room feel bigger, place another lamp at the opposite end of the room to the first one. Extension leads will be your friend here, but be sure to use them safely – avoid creating trip hazards and make sure you choose one that's high quality.
6. Love candles? Check the burning time before you buy
Candles are a great way to add a soft, warm glow to a room. However, you need to look out for burning time as you could end up going through multiple candles per week! You'll see the burning time on the packaging. Always trim your candles wick before you use her. When you relight a candle and don't do this, the wick is too long for efficient burning and will char the inside of the glass and that's why we get the black fog and smoking candles. It will also prolong the life of the candle itself.
Want more tips and hacks? Laura de Barra's debut book, Gaff Goddess: Simple Tips And Tricks To Help You Run Your Home is on shelves now, published by Transworld Ireland. Buy it here or in all good bookshops, and follow Laura on Instagram for even more cleaning and lifestyle tips.