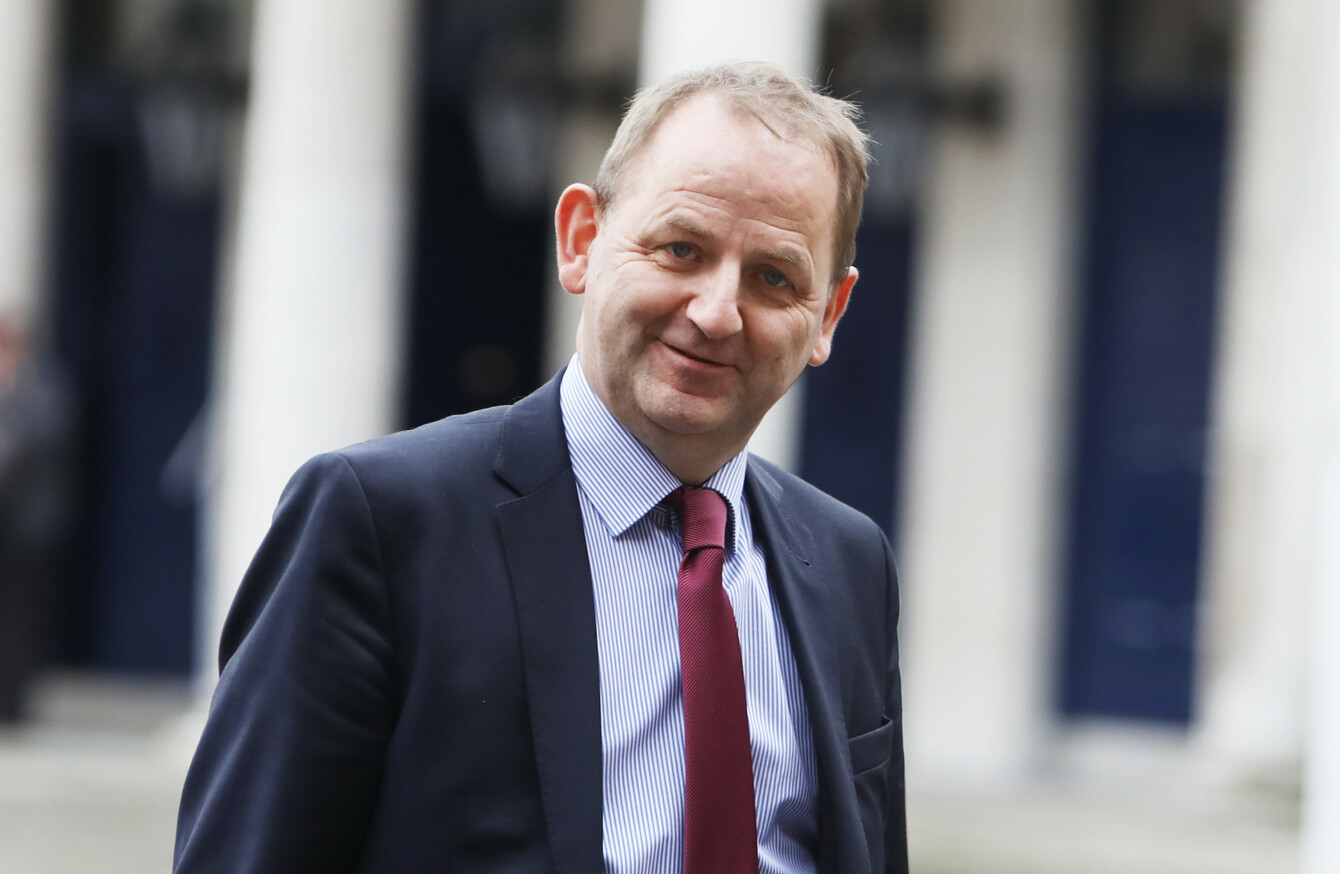 John McGuinness made the remarks about Maurice McCabe (pictured) at the Tribunal today
Image: Leah Farrell/Rollingnews.ie
John McGuinness made the remarks about Maurice McCabe (pictured) at the Tribunal today
Image: Leah Farrell/Rollingnews.ie
FIANNA FÁIL TD John McGuinness has told the Disclosures Tribunal that he believed he could have been "completely wrong" about Maurice McCabe after then-garda commissioner Martin Callinan told him the whistleblower was a sex abuser.
McGuinness was giving evidence again today at the Disclosures Tribunal, after yesterday saying that Callinan had made the comment that "he fiddles with kids" in relation to the whistleblower just after a PAC hearing on 23 January 2014.
Under cross-examination from a barrister representing Callinan, the Kilkenny TD was repeatedly pressed on his version of events regarding the infamous car park meeting on 24 January 2014, and reiterated on numerous occasions that he was giving the most accurate version he could of what happened.
Growing testy at times, McGuinness repeatedly insisted that Martin Callinan's recollection of events was incorrect, and that the former commissioner had indeed said to him that Maurice McCabe was a sexual abuser.
'Deeply concerned'
Yesterday, McGuinness told the Tribunal that, in that car park meeting with Callinan, the commissioner told him that Maurice McCabe was a sexual abuser, and indicated that a "file", which McGuinness inferred to be a criminal one, was being prepared.
The TD also said Callinan told him that trusting McCabe and following up the issues to do with the penalty points scandal could create trouble for the Public Accounts Committee, of which McGuinness was the chairperson.
Despite having met McCabe on a number of occasions, McGuinness told the Tribunal today that hearing this coming from the commissioner made him "deeply concerned".
He said: "It put me in a position where I believed I could be completely wrong about this and about Maurice McCabe."
When pressed on why he stopped on the motorway while driving home that same day to note down what had happened, McGuinness said:
I was already deeply upset over this. I didn't know what to do. I stopped and took the note. I believed I made the correct choice, I listened, I tried to analyse, I wrote down the things that concerned me.
What he wrote down includes the words "McCabe", "Sexual abuse!", "individual and family", and "don't trust him".
McGuinness was also questioned on if what Callinan allegedly said to him was different from the "tittle-tattle" around Leinster House which referred to McCabe as a "paedophile". He was also pressed on what distinguished this from the "kiddie fiddler" comment Callinan allegedly made the day before after the PAC hearing.
He said: "This was a meeting arranged by the commissioner. Things can be said in the heat of the moment. Here was a commissioner, making a decision away from that meeting, requesting a meeting with me. That is entirely different.
I wasn't in a position to take on the commissioner, as it were, by questioning his authority. He gave me that information as if he knew for a fact that that was the position. That's what caused me the worry and the fear.
On a number of occasions, McGuinness said that Callinan presented these matters "as fact" to him in that car park. In a short space of time, however, he said he came to believe that this information given to him was incorrect, based on his judgement of Maurice McCabe.
Why not say it earlier?
The first time McGuinness made a public statement about the car park meeting was in May 2016, when he addressed the Dáil on the matter, characterising what he heard as "vile".
Quizzed on why he waited that long, and why he hadn't told McCabe about the car park meeting at the time in January 2014, McGuinness said: "Roughly in February 2014, it was becoming clear that McCabe and his family were not in a position to take much more of this.
I decided what was said to me by the commissioner was wrong, it was told to me to serve the purpose of ensuring the PAC hearing would not go ahead. I decided I would not relay that story at that time to McCabe. I had witnessed this man being destroyed year on year [since I met him in 2011].
He also said that, as the penalty points issue was being dissected at length by PAC at the time, introducing these allegations would "further complicate all of those issues" and "give truth to the rumours that were being circulated".
Speaking later on this morning, McGuinness spoke of his respect for McCabe and said that, after being the subject of the rumours for so long, "I don't know how the man is sitting here at the Tribunal today".
He was also quizzed on a number of radio interviews that he had conducted from May 2016 onwards, after he had made the Dáil statement about the car park meeting.
McGuinness rejected all assertions that there were inconsistencies in what he said in those interviews, and what he has said in his evidence to the Tribunal.
#Open journalism No news is bad news Support The Journal

Your contributions will help us continue to deliver the stories that are important to you

Support us now
In one interview with RTÉ's This Week programme in May 2016 – after his Dáil statement – McGuinness said he had no notes of that meeting.
He told the Tribunal that he took the question to mean if he had a detailed transcript or detailed notes of the meeting, which he didn't have. He disagreed that the words he had jotted down after the meeting constituted the kind of "notes" he was being questioned about.
This led to this witty aside from Mr Justice Charleton, one of several throughout the day:
At various points, counsel for Martin Callinan put the former commissioner's version of events to McGuinness, who repeatedly disagreed and maintained that his own version was the accurate one.
The Tribunal continues this afternoon, with the closing of evidence from McGuinness.