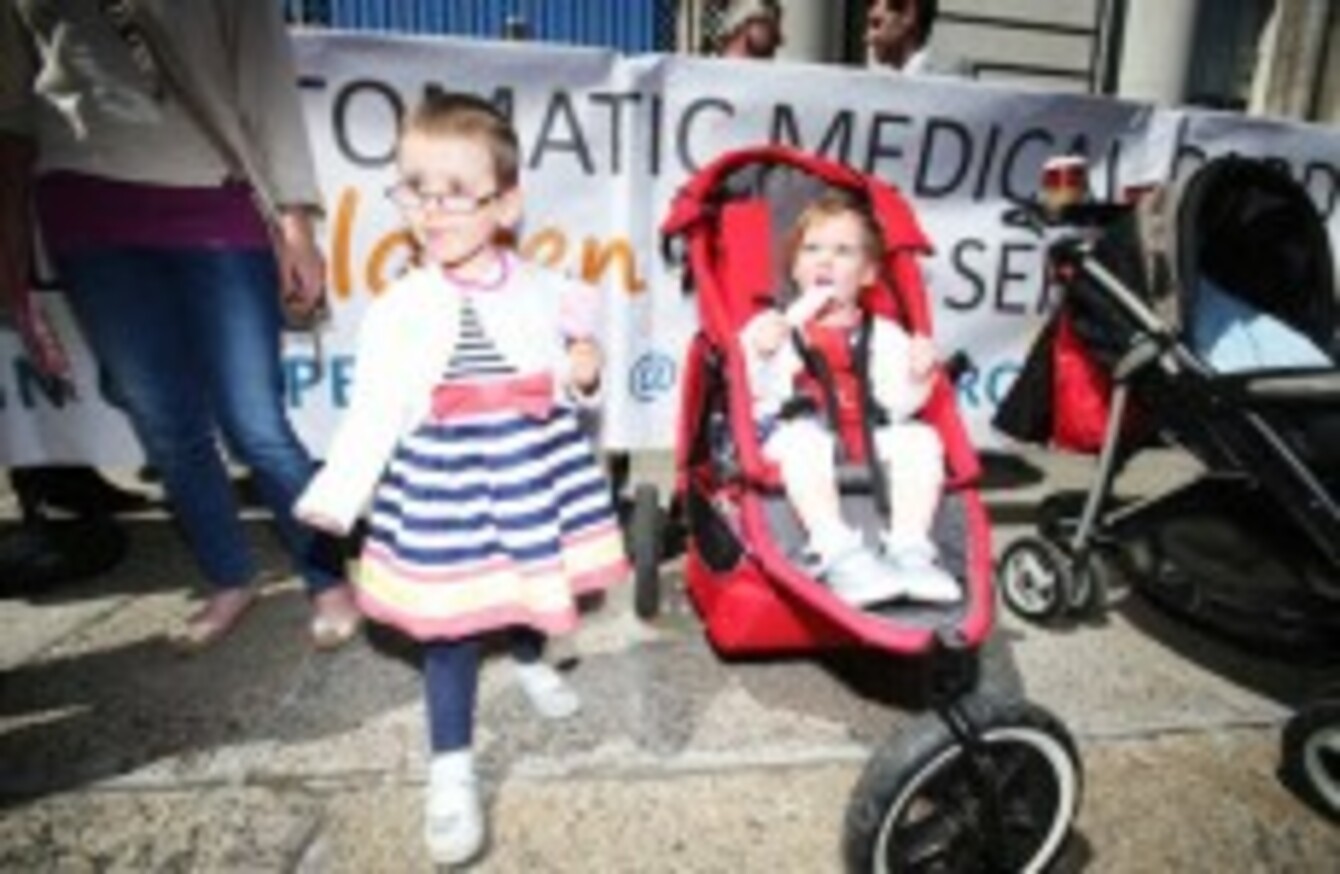 Sisters Aoife and Caoilann Keogh outside Government Buildings during Our Children's Health campaign protest
Image: Leon Farrell via Photocall Ireland
Sisters Aoife and Caoilann Keogh outside Government Buildings during Our Children's Health campaign protest
Image: Leon Farrell via Photocall Ireland
PEOPLE WHO LOST their discretionary medical cards under a review carried out by the HSE could have them restored after ministers discussed the prospect at Cabinet today.
There was no definitive decision taken on the issue but a government spokesperson confirmed this evening that there was a general discussion around the discretionary medical card issue.
This discussion included the unresolved issue of people who have already had their cards taken off them under the HSE review process that was ongoing for some 18 months before it was halted entirely by the government last week.
Discretionary 
Under the legislation the HSE can give a discretionary medical card to a family who have "undue financial hardship".
It does not have to be means tested like the usual medical card.
Up until last Thursday these cards were up for review, typically every three years according to the HSE.
Those reviews have now been stopped and the thousands of people who lost their medical cards are now campaigning to have them restored.
From January 2013 to April 2014 there was a fall-off of 16,000 discretionary medical cards.
From January 2013 to April 2014, there was a 22 per cent drop in those considered eligible for a discretionary medical card.
As of 1 April, there were 1,779,103 medical cards of which 49,596 are discretionary.
Campaign 
The Our Children's Health campaign group have been calling on the Government to amend the Health Act of 1970 so that any child diagnosed with a serious illness or congenital condition is automatically entitled to a full medical card.
They meet with Junior Health Minister Alex White on Friday afternoon and were told that reinstating medical cards was "not possible legally".
White said he would direct the HSE to urgently establish a protocol that would provide such cases with the full range of support, care and services that they would require.
He also added that further details would be provided early this week.
The matter is likely to be discussed again at Cabinet in the coming weeks as well as the Cabinet sub-committee on health.