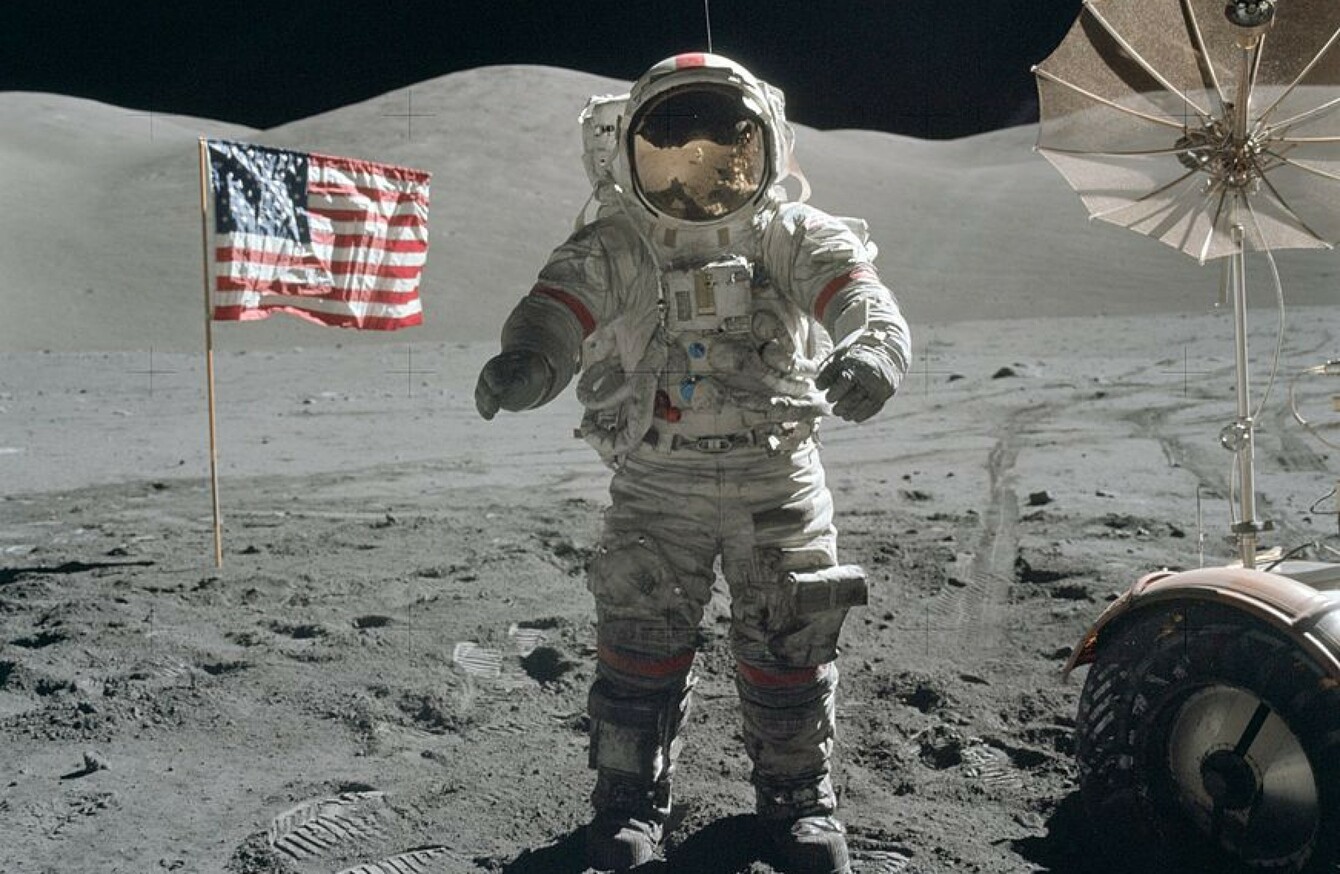 Cernan at the beginning of EVA 3 on the moon.
Image: NASA/Harrison H. Schmitt via Public Domain
Cernan at the beginning of EVA 3 on the moon.
Image: NASA/Harrison H. Schmitt via Public Domain
FORMER ASTRONAUT GENE Cernan, the last person to walk on the moon who returned to Earth with a message of "peace and hope for all mankind," died today in Texas following ongoing health issues, his family said. He was 82.
Cernan was with his relatives when he died at a Houston hospital, family spokeswoman Melissa Wren told The Associated Press. His family said his devotion to lunar exploration never waned.
"Even at the age of 82, Gene was passionate about sharing his desire to see the continued human exploration of space and encouraged our nation's leaders and young people to not let him remain the last man to walk on the moon," his family said in a statement released by NASA.
Cernan was commander of NASA's Apollo 17 mission and on his third spaceflight when he set foot on the lunar surface in December 1972.
He became the last of only a dozen men to walk on the moon on 14 December 1972 — tracing his only child's initials in the dust before climbing the ladder of the lunar module the last time. It was a moment that forever defined him in both the public eye and his own.
"Those steps up that ladder, they were tough to make," Cernan recalled in a 2007 oral history. "I didn't want to go up. I wanted to stay a while."
Cernan called it "perhaps the brightest moment of my life. It's like you would want to freeze that moment and take it home with you. But you can't."
Decades later, Cernan tried to ensure he wasn't the last person to walk on the moon, testifying before Congress to push for a return. But as the years went by he realised he wouldn't live to witness someone follow in his footsteps — still visible on the moon more than 40 years later.
"Neil (Armstrong, who died in 2012) and I aren't going to see those next young Americans who walk on the moon. And God help us if they're not Americans," Cernan testified before Congress in 2011.
"When I leave this planet, I want to know where we are headed as a nation. That's my big goal."
He was born in 1934 in Chicago and graduated from Indiana's Purdue University in 1956 with a degree in electrical engineering. He had been a Navy attack pilot and earned a master's degree in aeronautical engineering when NASA selected him in October 1963 as one of 14 members of its third astronaut class.
With the Apollo program under way, Cernan flew on Apollo 10 in May 1969. It was a dress rehearsal for the lunar landing on the next flight and took Cernan and Tom Stafford, aboard the lunar module Snoopy, to within 9½ miles of the moon's surface.
A documentary about his life, The Last Man on the Moon was released in 2016.