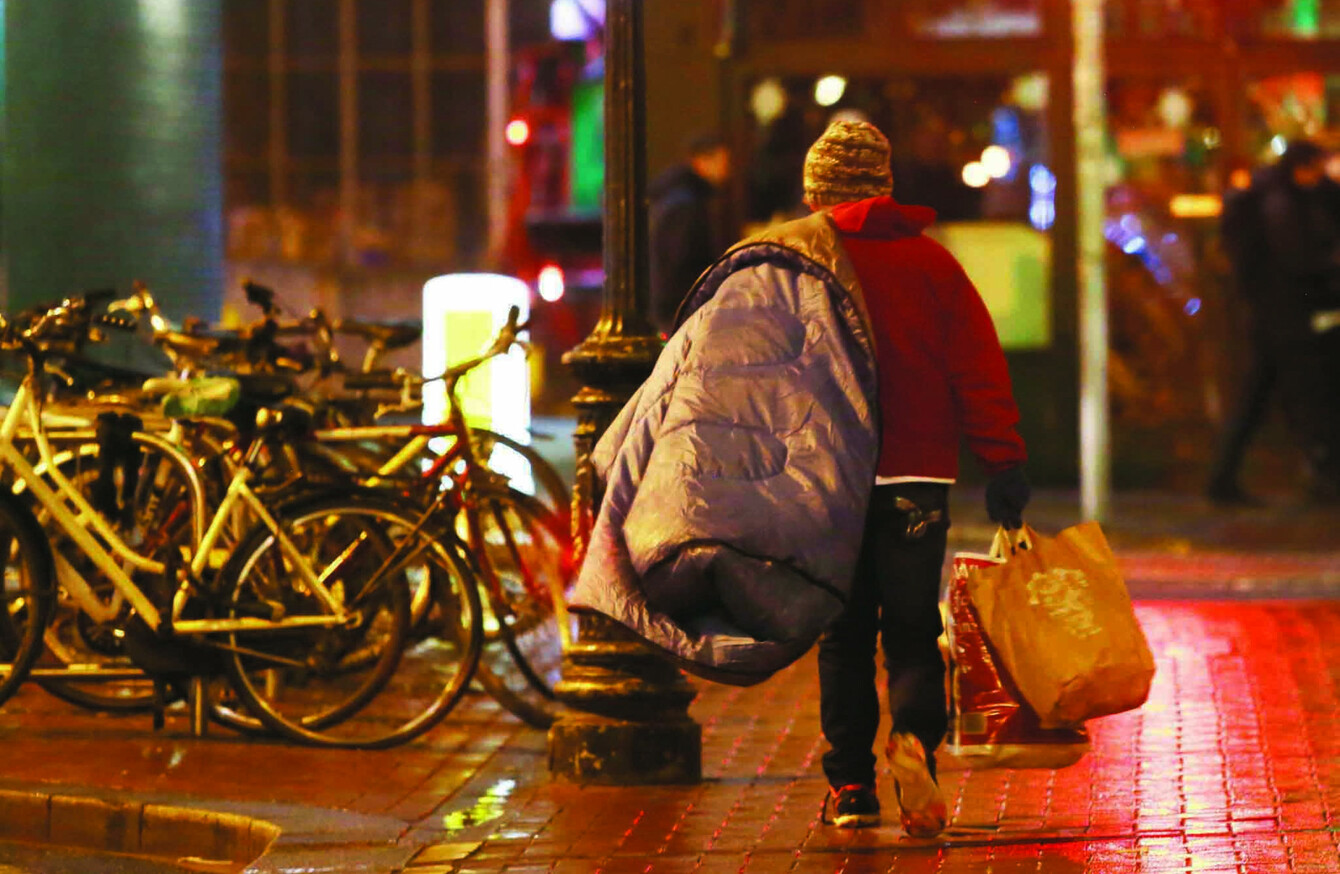 File photo
Image: Leon Farrell via RollingNews.ie
File photo
Image: Leon Farrell via RollingNews.ie
A LEADING HOMELESS and drug support charity has warned Ireland is facing a "deepening social crisis", as levels of homelessness continue to rise across the country. 
Merchants Quay Ireland (MQI) is launching its annual review for 2017 today. The review shows that there was again a rise in the number of people availing of its services across the board. 
MQI provides homeless outreach and drug rehabilitation services at every level of addiction. Its day centre on Merchants Quay in Dublin's south inner city provides food, medical and counselling support for at-risk and homeless people.
Its Night Café also provides yoga mats for up to 65 people to sleep on each night who have not been able to source a place to stay. In 2017, MQI's Night Café provided emergency shelter for 1,913 individuals. 
Commenting on the review, MQI co-founder and outgoing CEO Tony Geoghegan said that Ireland is "facing significant challenges". 
Speaking to TheJournal.ie, he said that it's "kind of an understatement at this point in time to say that we have a housing and homelessness crisis". 
You'd have to be living on another planet not to realise the extent of the crisis. 
Latest figures for July show that the number of homeless people and families in the State has increased to a new record level. 
The Department of Housing has recorded that there were 6,024 adults and 3,867 children in emergency accommodation during the week of 23-29 July.
But Geoghan stressed that the number of homeless people in Ireland has far surpassed 10,000. The figures from the Department of Housing records only those in Section 10 funded emergency accommodation. More on that can be read here. 
Just as Fr Peter McVerry noted last week at a press conference, Geoghegan said that a large number of people who are without homes don't get counted in these figures – such as rough sleepers, women in domestic violence and people in direct provision. 
'Now I'm married to her' 
Turning his focus for a moment to discuss homelessness and drug use, Geoghegan said that "one of the unfortunate kind of realities" in society is that "often what the general public see is really only the sharp face of homelessness and drug use". 
"They don't meet people who have come through the other end, that have gotten support, that have gotten a leg up, maybe gotten into treatment and maybe moved on with their lives," he said.
"That does happen … but we do need to place a greater emphasis on that." 
In a statement ahead of today's launch, Geoghegan noted: "I know from decades at MQI that people can recover. They can come out of addiction and out of homelessness.
"Society's role is not to find fault or to judge but to help people to find themselves in extraordinarily difficult circumstances. That is what Merchants Quay has been doing for decades and that is what I am sure it will continue to do." 
Because MQI is often the first place homeless people living with addiction turn to for help, the charity sees its Health Promotion Unit (HPU) is an important part of early intervention. 
The HPU provides people who use drugs with information about the risks associated with drug use and the means to minimise such risks. It also offers people who use drugs a pathway into treatment. 
Last year, 2,583 people used the service, an increase of 3% on 2016, of which 443 were new clients. 
James, a former MQI service user and drug user, could have ended up part of a tragic set of statistics such as the ones above, the annual report notes.
During his addiction struggles, MQI's needle exchange programme protected his basic health until he was ready to work on his recovery process. 
Years later, James has written to MQI to say thank you for the help it provided:
I've two beautiful sons. I've a beautiful wife. If I'd had HIV or Hepatitis C from risky injections, I would never have had a chance with that girl. Now I'm married to her. 
The numbers behind homelessness
Last year, MQI helped 10,417 people with needs spanning homelessness, addiction and mental health. 
The charity again saw a huge increase in the number of healthcare interventions it provided in 2017, with the total almost doubling in two years. 
It provided 8,224 healthcare interventions last year, up 8% compared with 2016. Meanwhile, 419 people were supported by its mental health team, a 33% increase on 2016. 
The charity's Riverbank Centre provided 107,504 meals to people who are homeless in 2017. 
Tony Geoghegan is today retiring after serving 27 years as chief executive of Merchants Quay. 
 If you need to talk, please contact:
Samaritans 116 123 or email jo@samaritans.ie
Aware 1800 80 48 48 (depression, anxiety)
Pieta House 1800 247 247 or email mary@pieta.ie (suicide, self-harm)
Teen-Line Ireland 1800 833 634 (for ages 13 to 19)
Childline 1800 66 66 66 (for under 18s) 
With reporting by Cormac Fitzgerald