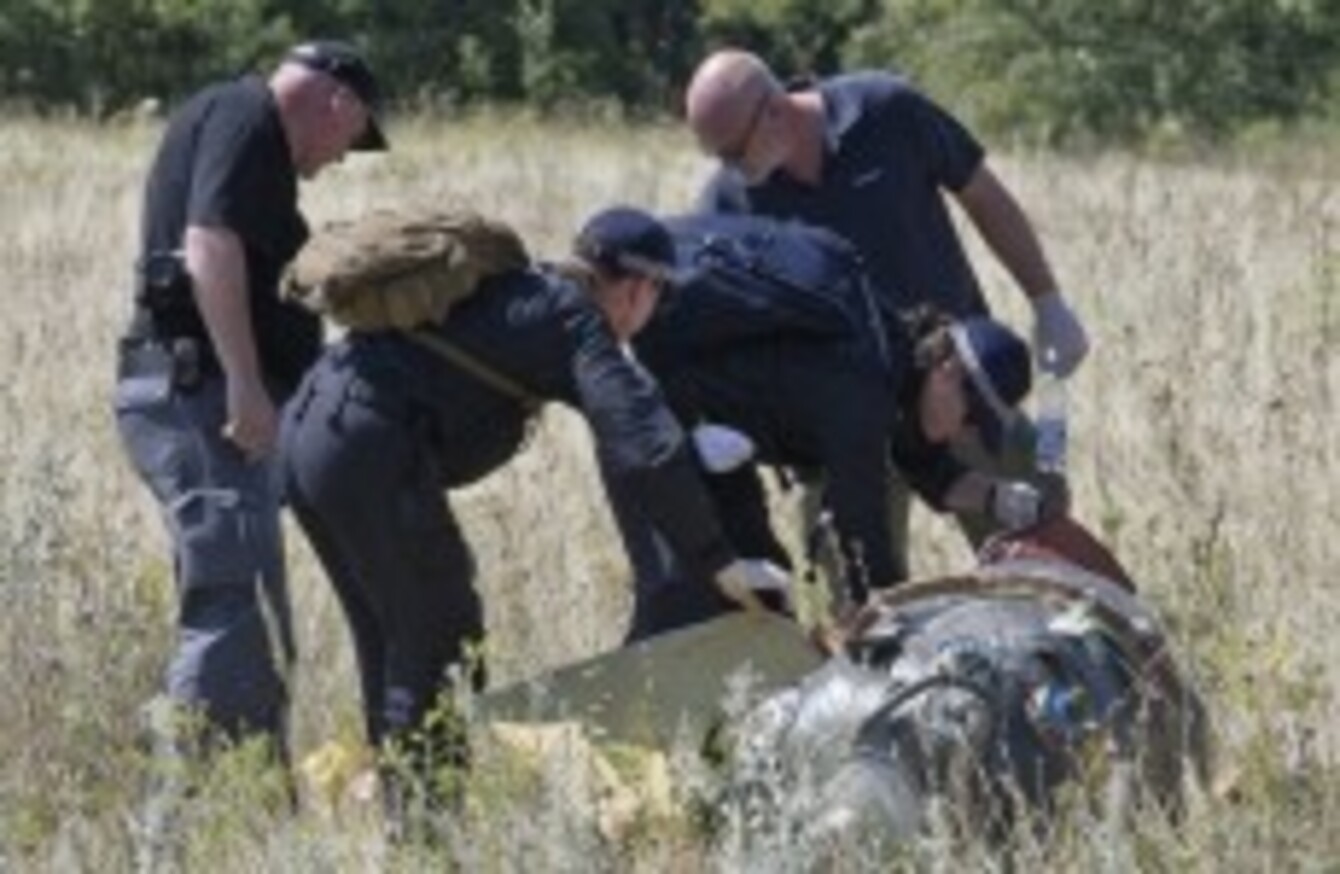 Image: AP/Press Association Images
Image: AP/Press Association Images
INTERNATIONAL EXPERTS ARE continuing their painstaking probe at the vast crash site of downed flight MH17 in eastern Ukraine, deploying sniffer dogs to help find any remains still left at the scene.
Some 70 Dutch and Australian police investigators were back for a second day to scour through the wreckage, while those leading the hunt have warned the grim task could take some three weeks to complete.
An AFP journalist, asked by the probe team to remain a few hundred metres from the investigators, saw search crews fanning out across a field and occasionally bending down to collect and bag objects.
A refrigerated ambulance van was on site to store any remains found, while armed rebel fighters kept an eye on the gathered journalists.
However, shelling has hampered search efforts, with investigators being forced to leave one area of the crash site.
The shooting down of the Malaysia Airlines plane more than two weeks ago, killing all 298 people on board, refocused world attention on the conflict in Ukraine and pushed the United States and European Union into imposing the toughest sanctions against Moscow since the Cold War.
Washington accuses insurgents of blowing the airliner out of the sky with a surface-to-air missile likely supplied by Russia, while Moscow and the rebels have pointed the finger at the Ukrainian military.
Australian Prime Minister Tony Abbott welcomed the recovery of more remains from the crash site after a bulk of the investigators managed for the first time Friday to reach the site after being thwarted by days of clashes between government troops and rebel fighters.
More than 220 coffins have already been sent back to the Netherlands, which lost 193 citizens in the July 17 crash, but more body fragments remain lying out in the cornfields where the plane came down.
"It is good that… we've had, for the first time, large numbers of Australian and Dutch police on site, large numbers of investigators on site who have been able to begin a thorough, professional search," Abbott told reporters.
But he warned that the probe at the crash site covering 20 square kilometres (eight square miles) would be "a long and slow process".
Even as the international team managed to begin work at the site, the fighting that had impeded their probe continues to rage across eastern Ukraine.
And some EU diplomats have warned that recent sanctions could actually embolden Putin by convincing him he has nothing to lose now by going all-in over the Ukraine crisis.
Stoking those fears, the Pentagon said Russia was continuing to reinforce its military presence along the border with Ukraine.
In a telephone call with Russian leader Vladimir Putin on Friday, US President Barack Obama expressed his "deep concerns" about Moscow's increased support for separatists rebels waging a brutal conflict against Kiev that has claimed more than 1,150 lives since mid-April.