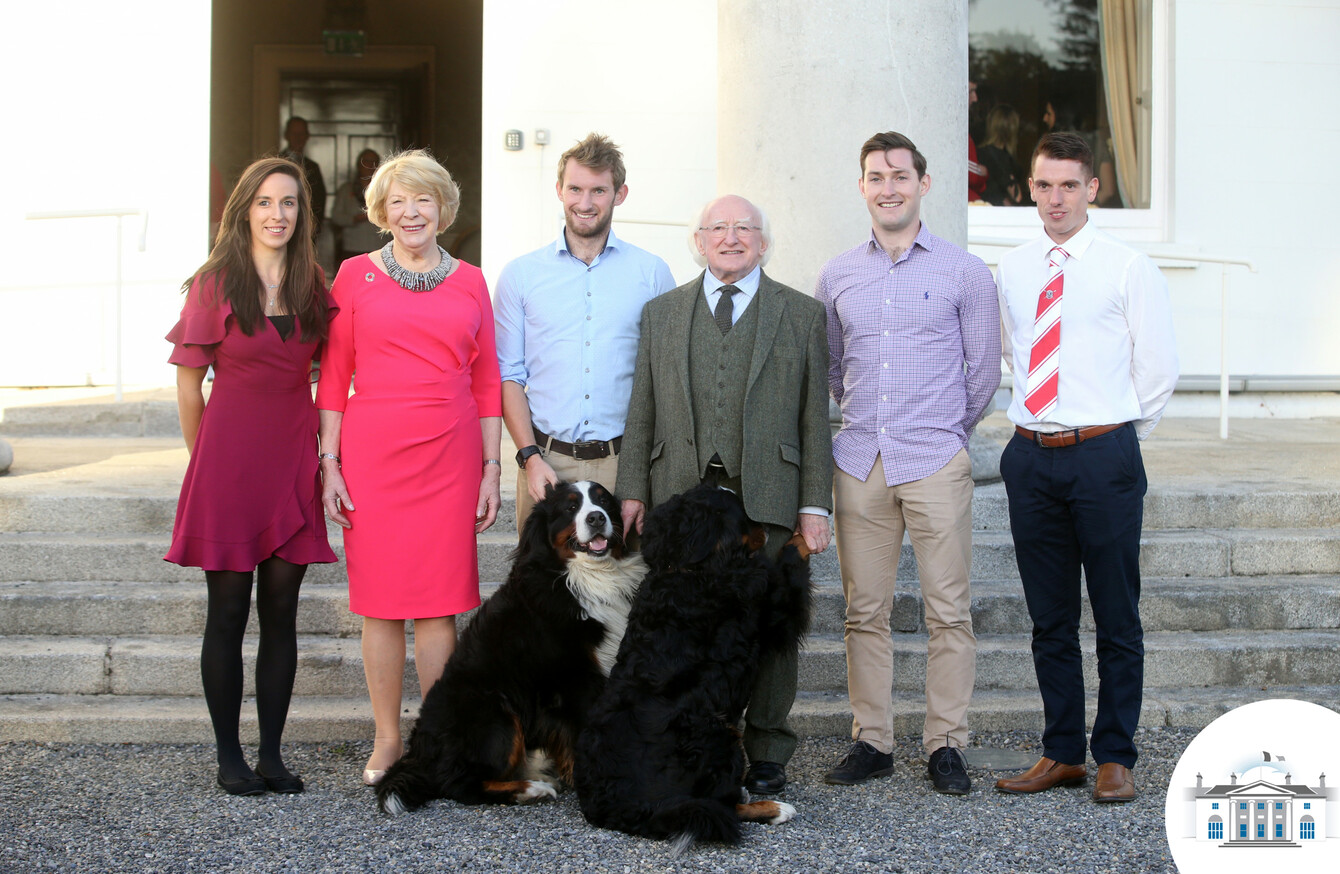 President Michael D Higgins with members of Skibbereen rowing club and his dogs Síoda and Bród.
Image: Sam Boal/Rollingnews
President Michael D Higgins with members of Skibbereen rowing club and his dogs Síoda and Bród.
Image: Sam Boal/Rollingnews
HALF OF THE debates in this year's Áras race have now taken place, and one of the recurring talking points has been the spending associated with the Office of President.
Discussion about presidential spending has been ongoing since the start of the campaign, when proposals to make the office subject to Freedom of Information laws were floated.
However, it emerged at the Public Accounts Committee last month that the president has received an unaudited annual payment of €317,000 since 1998.
One of current president Michael D Higgins' election rivals, Peter Casey, has made a point of directly challenging the incumbent about his spending.
In particular, he has claimed that the Irish public pays for Higgins' two dogs, Bród and Síoda, to be groomed.
The Claim
Claim: President Michael D Higgins' dog grooming bills are paid for using public money.
During the last two debates, Casey has raised very specific claims about Higgins' expenses.
In last Saturday's debate on RTÉ Radio's Saturday with Cormac Ó hEadhra, he called the president's spending – particularly his use of private flights – "nonsense" and queried how he spent his salary, saying: 
Your rent is paid, your driver's paid, everything is paid for. Your food's paid for, your nice suits are paid for. What do you spend your money on? Why do you need €250,000 [sic]? Even your dog grooming bills are paid for.
At the time, Higgins said he has only requested the use of a helicopter 14 times during his presidency, and noted that his travel arrangements are not decided by him.
After the debate, a spokesperson for the Michael D Higgins campaign said that Casey's claim about dog grooming bills was "false and ludicrous".
"All the costs of the dogs' upkeep are met from the President's own funds," the spokesperson said.
Then, during last night's debate on RTÉ's Claire Byrne Live – in which Higgins took no part – Casey went on a similar offensive as part of his opening salvo.
Asked what he thought about the absences of the president and Sean Gallagher, Casey reverted to last weekend's debate.
"It's hard to defend the indefensible," he said.
"The last time, during the last debate, he just couldn't defend the use of the Lear jet. He couldn't defend the expenses for the dog. There was no reason why."
Later in the debate, Claire Byrne read a statement on behalf of Higgins to dispute the claims.
She said:
A spokesperson for the President has been in touch to say that the allegations for the expenses on the dog are completely inaccurate, and we're happy … we're happy to clarify that … When somebody makes an inaccurate claim, it is my job as a fair moderator to correct that, and that's all I was doing in that instance.
But is the claim inaccurate?
The evidence
According to the website of the Office of the President, the direct costs of the office last year were €3.6m.
This included the cost of salaries of 27 staff members, rewarding 405 Irish people at home and abroad who reached the age of 100, and postal and travel expenses. Also listed among the office's costs is €391,000 allocated for 'Training and Development, and incidental expenses'.
As mentioned already, the Public Accounts Committee also revealed last month that the president receives an annual allowance of up to €317,000, although it is possible that not all of this is spent – because the payment isn't audited, we simply don't know.
Higgins also earns an annual salary of €249,014 and draws an annual NUI Galway pension worth €19,000 which he is privately free to spend on whatever he likes as much as anyone else.
Meanwhile, the cost of dog grooming is not consistent, and tends to vary depending on where a person brings their pet, and what kind of service is paid for.
Higgins' two dogs are Bernese Mountain Dogs. Quotes provided to TheJournal.ie to have a Bernese Mountain Dog groomed ranged from €85 to €110, with one groomer saying the breed requires grooming at least every six weeks.
This would suggest that it would cost between €680 and €880 for a Bernese Mountain Dog such as Higgins' to be groomed each year.
TheJournal.ie asked the Campaign to Re-elect Michael D Higgins for any proof that would indicate the cost of the president's dog grooming and how it is paid for. The campaign strongly denied the claim, but did not provide the requested proof.
A campaign spokesman said:
The bizarre claim that public money is used to pay for any costs related to the upkeep of the president's dogs is completely unfounded and inaccurate.
During an interview on The Last Word on Today FM this evening, Higgins addressed the issue of his dog grooming fee. He said he paid for the grooming himself, but did not give a figure.

#Open journalism No news is bad news Support The Journal

Your contributions will help us continue to deliver the stories that are important to you

Support us now
TheJournal.ie also attempted to ask a spokeswoman for Peter Casey whether his campaign could provide any proof that the cost of grooming Bród and Síoda was paid for using public money, but received no reply.
The Verdict
It is hard to know what exactly is meant by the claim that Higgins pays for Bród and Síoda to be groomed using 'public money'.
The implication from Casey seems to be that Higgins pays for his dog grooming outside of his salary by using money earmarked for presidential expenses.
However, without any proof from the businessman, his claim is not well founded.
Technically, it could be argued that any money Higgins spends could be seen to be public money. As president, he is a public servant whose salary is taxpayer-funded, which would mean that even if he pays for dog grooming using his annual earnings, the bill is paid for using public money – but this would be a very pedantic definition.
However, it seems unlikely that this was what Peter Casey was claiming when he made the allegation in the first place. 
Higgins' campaign spokesman has described Casey's claim as "bizarre", "unfounded" and "inaccurate".
Meanwhile, TheJournal.ie asked Higgins' campaign for documents or other evidence to show how Higgins' dog grooming bill was paid and who paid for it, but did not receive this.
Verdict: Peter Casey did not provide any evidence to show why he believes the bills are paid for with public money. The President's campaign strongly denied Casey's claim.
Without evidence to prove or disprove the claim either way, the allegation that Higgins pays for his dogs to be groomed using public money is UNPROVEN.
This does not mean the verdict is likely to be true or false, it simply means not enough information has been provided. Peter Casey has not been able to back up his claims with evidence, but at the same time President Higgins has not been able to provide us with documents or evidence which show how much the grooming bills cost or how they are paid for.
A verdict of unproven means:
The evidence available is insufficient to support or refute the claim, but it is logically possible.
TheJournal.ie's FactCheck is a signatory to the International Fact-Checking Network's Code of Principles. You can read it here. For information on how FactCheck works, what the verdicts mean, and how you can take part, check out our Reader's Guide here. You can read about the team of editors and reporters who work on the factchecks here.