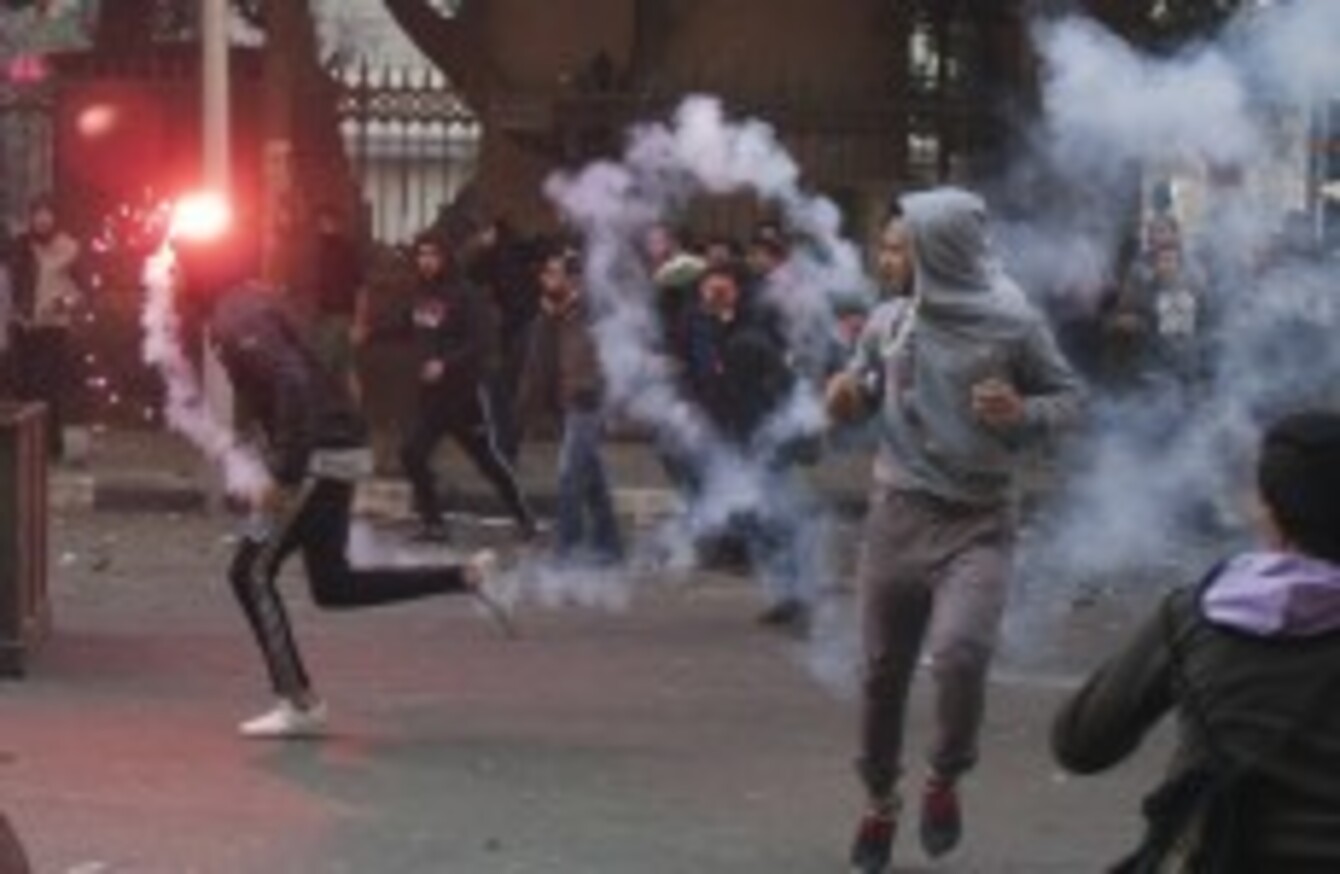 Egyptian anti-military protesters, mostly supporters of ousted Islamist President Mohammed Morsi, clash with security forces in downtown Cairo earlier this week
Image: AP Photo/Ahmed Ashraf
Egyptian anti-military protesters, mostly supporters of ousted Islamist President Mohammed Morsi, clash with security forces in downtown Cairo earlier this week
Image: AP Photo/Ahmed Ashraf
EGYPT'S OUSTED PRESIDENT Mohamed Morsi was defiant as he went on trial today for a prison break during the 2011 uprising, as a police general was killed in the latest attack on security forces.
The trial, and other violence in which a police guard was gunned down outside a Cairo church, came a day after the military backed army chief Field Marshal Abdel Fattah al-Sisi, who led Morsi's ouster in July, to run for office in his place.
Angry
Morsi, dressed in a white prison uniform, gesticulated angrily from the glass cage in which he and 21 co-defendants were held.
"Who are you," he demanded to know, adding:
Do you know who I am? I am the president of the republic. Who are you? Let me hear your voice; I don't hear you.
In response, a judge said: "I am the president of the Cairo Criminal Court."
Among those in the dock was the supreme guide of Morsi's now-banned Muslim Brotherhood, Mohamed Badie.
In all, 131 people are on trial, including dozens of members of the Muslim Brotherhood, the Islamist Palestinian movement Hamas and Lebanon's Shiite militant group Hezbollah.
Most of them are being tried in absentia.
Reading the charges, a prosecutor said the "Muslim Brotherhood defendants coordinated with Hamas and Hezbollah to spread chaos and trigger the downfall of the state.
Eight hundred foreign militants and jihadists infiltrated through illegal tunnels and seized a 60-kilometre (37-mile) border stretch. They attacked security and government buildings and killed many police officers.
He added that three prisons were attacked and more than 50 policemen and prisoners were killed, while more than 20,000 "criminals" escaped.
The trial was adjourned until February 22.
Killing
Meanwhile, Police General Mohamed Saeed, an aide to interior minister Mohamed Ibrahim, was killed outside his west Cairo home by a gunman who escaped on the back of a motorbike, security officials said.
Al-Qaeda inspired group Ansar Beit al-Maqdis, or Partisans of Jerusalem, said it carried out the killing and threatened similar attacks against the army chief and interior minister.
Also today, gunmen opened fire from a car at policemen guarding a church in the capital, killing one and wounding two. One was arrested, while two others fled on foot.
Since July, Egypt's Christian community has faced several attacks, with pro-Morsi Islamists accusing them of backing his ouster.
Precarious security situation
Today's shootings underline the precarious security situation across Egypt since the 2011 overthrow of veteran strongman Hosni Mubarak, with the violence having worsened since Morsi's ouster.
At least 1,400 people, mostly Morsi supporters, have been killed in a relentless crackdown on Islamists, according to Amnesty International, while scores of policemen and soldiers have fallen to militant attacks.
Since Thursday, at least 13 policemen have been killed across the country, while four soldiers were killed in Sinai, according to an AFP tally.
Morsi is already on trial for inciting the killing of opposition activists during his presidency and faces two other trials that have yet to begin.
Today's trial date was symbolic as it marked the third anniversary of the prison break from Wadi Natrun jail, which took place as the uprising against Mubarak approached a fever pitch.
Morsi and several Muslim Brotherhood leaders had been arrested by Mubarak's security forces two days earlier to stop them from participating in protests called for January 28, 2011.