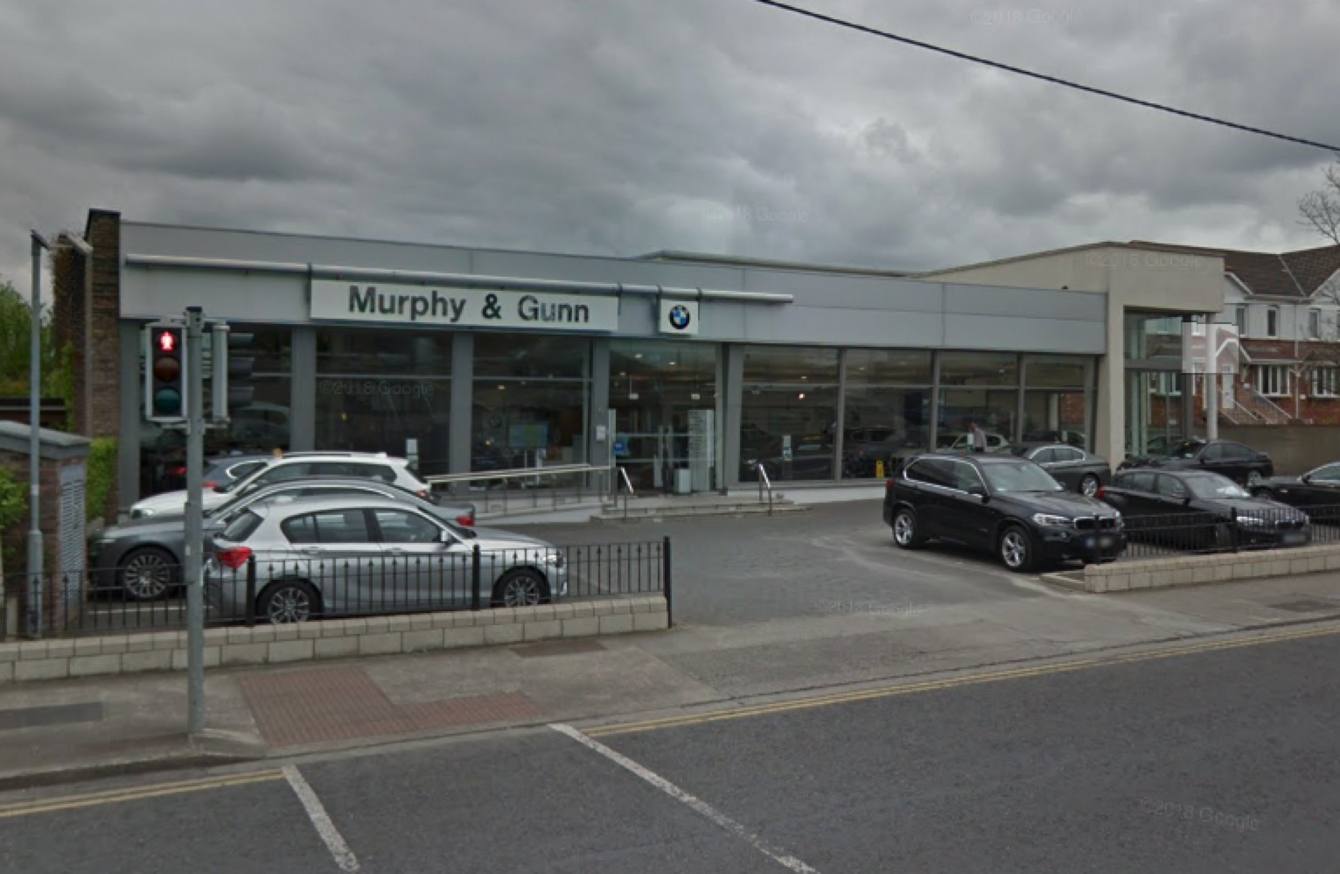 Image: Google Maps
Image: Google Maps
A WELL-KNOWN CAR dealership group will close one of its Dublin locations when its franchise arrangement with BMW comes to an end.
Murphy & Gunn, which has two Dublin-based outlets, confirmed its BMW dealership in Milltown will cease trading from 1 October.
The company noted that its Rathgar dealership will be unaffected by this decision and continue to trade normally.
The German car giant BMW revealed earlier this year forthcoming changes to its distribution arrangements in Ireland.
A statement released by Murphy & Gunn's directors, Tom and Stephen Murphy, said the move to wind up the dealership has come after an "extensive review" of its Milltown business and is a direct consequence of BMW's new plans in the Republic. 
"While the business had initially hoped and planned to take a very different route after October 1, the negative impacts from the adverse publicity around that decision changed the basis of assessment," the statement read.
The directors added that after analysis of options available to the business, it was clear there are "several significant uncertainties and challenges in the marketplace, many beyond our control".
"We have thus been forced to accept that the Milltown operation will not be viable without the franchise, and that, as directors, we have no option but to wind up on a voluntary basis before losses are incurred."
Fora contacted Murphy & Gunn for comment but received no response at the time of publication.
A spokeswoman for BMW said: "We were saddened to learn that Murphy & Gunn announced that it has decided to wind down its business at Milltown and not to continue its relationship with us.
"We have had a long-standing relationship with Murphy & Gunn and it will continue to have BMW Ireland's continued full support as it winds down."
Five decades
BMW has over a dozen dealers in its Irish network. Murphy & Gunn has been a franchise dealer for the German car giant since 1968. 
The Milltown-based business will continue to trade until the beginning of October, according to the company.
"There is an unplanned and unwanted end in sight, we have plenty of cars to sell at Milltown."
Murphy & Gunn said the closure will affect 37 staff across sales, service, parts and administration roles at the south Dublin operation. The directors added that the company has entered discussions with staff over redundancy packages. 
The most recent set of consolidated accounts published by Murphy & Gunn showed the group registered €59.5 million in sales during 2016. 
During the 12-month period, the firm also made a profit of €1.1 million but was still sitting in the red with accumulated losses of €3.7 million. 
Earlier this year, the Society of the Irish Motor Industry showed that the Irish car market is "shrouded in deep uncertainty" as imports outpace new registrations.
The most recent figures published by the group showed that sales of new 182 vehicles dropped by 2.75% in July of this year compared to the same month last year.
Sign up to our newsletter to receive a regular digest of Fora's top articles delivered to your inbox.
Written by Killian Woods and posted on Fora.ie