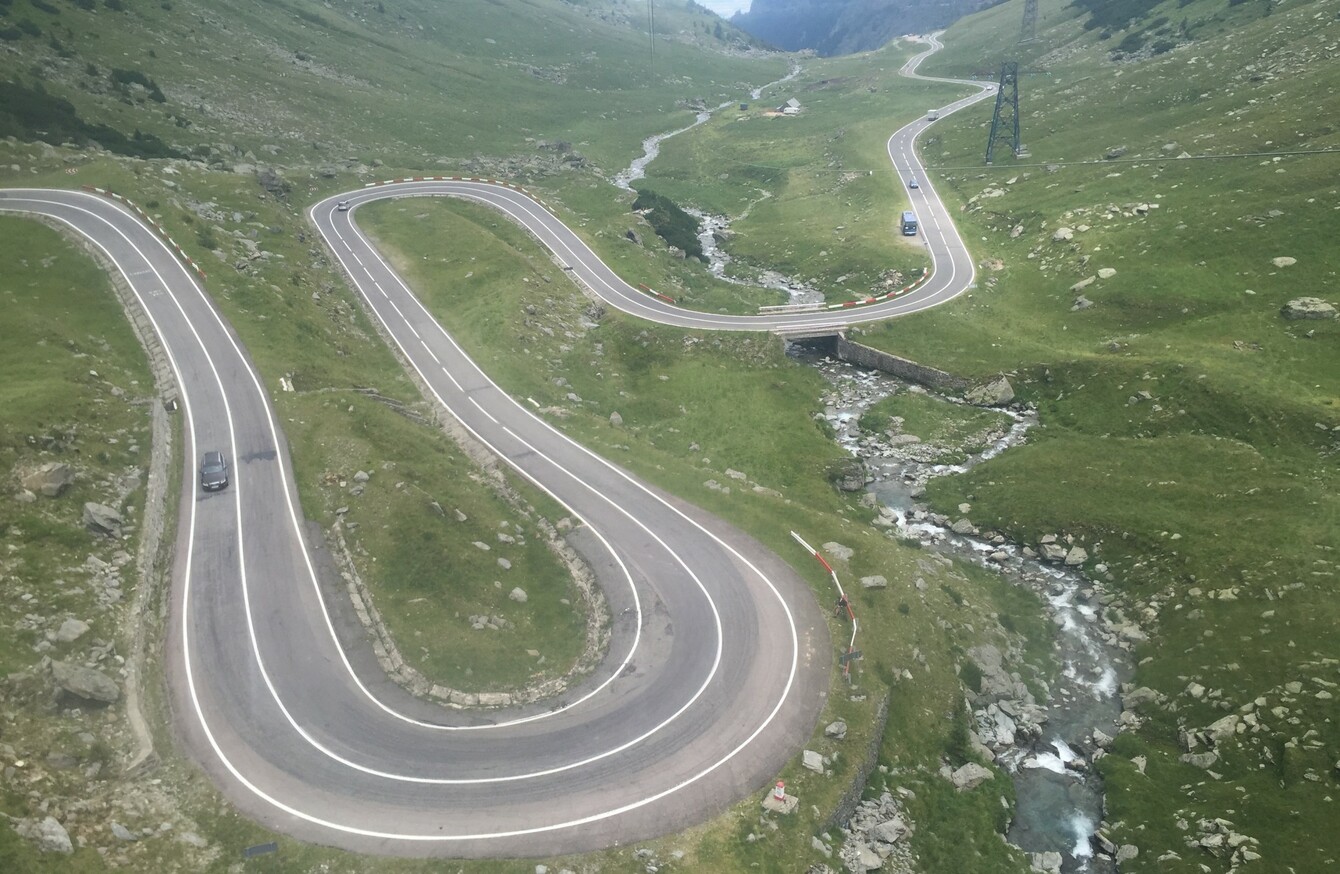 Each week, TheJournal.ie/DoneDeal motoring mag will feature a reader's best road trip. If you'd love to see your top trip featured, email us on melanie@thejournal.ie
MY BEST ROAD trip was travelling the world's greatest driving road in a Dacia Duster with my best friend.
Who: Melanie May and Vicci-Marie Hands
Route: Transfăgărășan Highway, Romania
Distance: 260km
Time: 2 days
When: July 2016
Vehicle: Dacia Duster
This adventure started with a YouTube link and a note saying 'we should do this'. The video was of three idiots doing stupid things in cars. Thirty minutes later myself and my best mate Vicci had booked our tickets.
We were going to Romania because Top Gear went to Romania.
Yes, Romania, you know, the land of vampires and eh, Transylvania, and, well, shamefully I didn't really know what else apart from what I learned from Top Gear – that Romania has the Transfăgărășan Highway, which Clarkson described as "the most amazing road I've ever seen".
The Top Gear Trio took a Ferrari, Lambo and Aston Martin on their road trip. We took Romania's finest, a Dacia Duster. We were keeping this real.
We looked on this as a real-world challenge. Would this road be the best driving road in the world if it wasn't done in a supercar? We were about to find out.
We landed in Bucharest and got a taxi to the hotel where the Dacia was waiting for us. It was all shiny and new and had all the bells and whistles attached. It had heated seats, not exactly needed in the 36-degree heat, unlike the air-con which was on full blast constantly. It also had Bluetooth connection, 12V ports, radio and most crucially sat-nav and four-wheel drive.
We hit the road and I tried not to get us killed as I got used to driving a manual, left-hand drive car on the right-hand side of the chaotic roads. But soon enough I got used to it. The 7C highway out of the capital city was fairly empty and the journey became effortless.
A few hours later we reached Curtea de Arges, the official start of the Transfăgărășan Highway. From here we drove about 25 minutes to the ruins of Poenari Citadel, one of the main fortresses of Vlad III the Impaler.
Up until this point, we knew that we were driving the Transfăgărășan Highway, even though nothing told us as such. However within moments of leaving the ruins the road began twisting tightly until it opened up at the Vidraru Dam.
From here, the road started its relentless winding and curving around the mountains. The Dacia's low gears were really getting a workout as I was constantly changing gears. I was exhausted. But the Duster was really impressive and handled everything the road through up at it. It felt really planted and both Vicci and I remarked how safe we felt in it.
Finally, after 232kms and 9.5 hours of driving, we reached our rustic cabin in the woods, our home for the night.
The next day Vicci got in the driver's seat. The road began climbing more steeply but it finally began to change from narrow dirt roads to wide swathes of tarmac. The thick forest that accompanied use at the start of the road was replaced by a sheer drop on one side and golden coloured rocky mountains on the other.
#Open journalism No news is bad news Support The Journal

Your contributions will help us continue to deliver the stories that are important to you

Support us now
Again, the bends were relentless but this time, they were fluid and open and the tarmac was mostly smooth.
As we neared the top of the mountain we entered Romania's longest road tunnel, the 890-metre long Capra tunnel which led us to the recreational area of Lac Bau.
It was here, high up in the mountains that we could look out over Transfăgărășan highway and see what a feat of engineering this road is. We were both a bit lost for words as we couldn't quite fathom how this road ever came to be. When you see this grey ribbon of road winding its way through this forest it is just so hard to believe how anyone could have built such a wonderful road in such wilderness.
The road down from here was just pure fun to drive – but it ended too soon. Within 30 minutes the road levelled off and became boring highway again. Essentially the actual Transfăgărășan Highway is roughly only 100km long. Far too short.
I really wanted to go back and drive the road again. But we didn't, we kept going and we continued the rest of our holiday in quirky Romania.
The Dacia Duster was a perfect car for doing this road trip because we could park the car anywhere without worrying about it getting stolen or drawing any attention to ourselves what soever.
We even abandoned the Dacia on the roadside whilst we went off on a three-hour hike. Do you think the Top Gear guys did that with the Ferrari?
At the end of the Top Gear Romania episode, Clarkson says of the Transfăgărășan Highway: "We were wrong, this is better than the Stelvio, this is the best road in the world".
Well, as I have never driven the Stelvio, I guess I should go and do that next. For research purposes, of course.