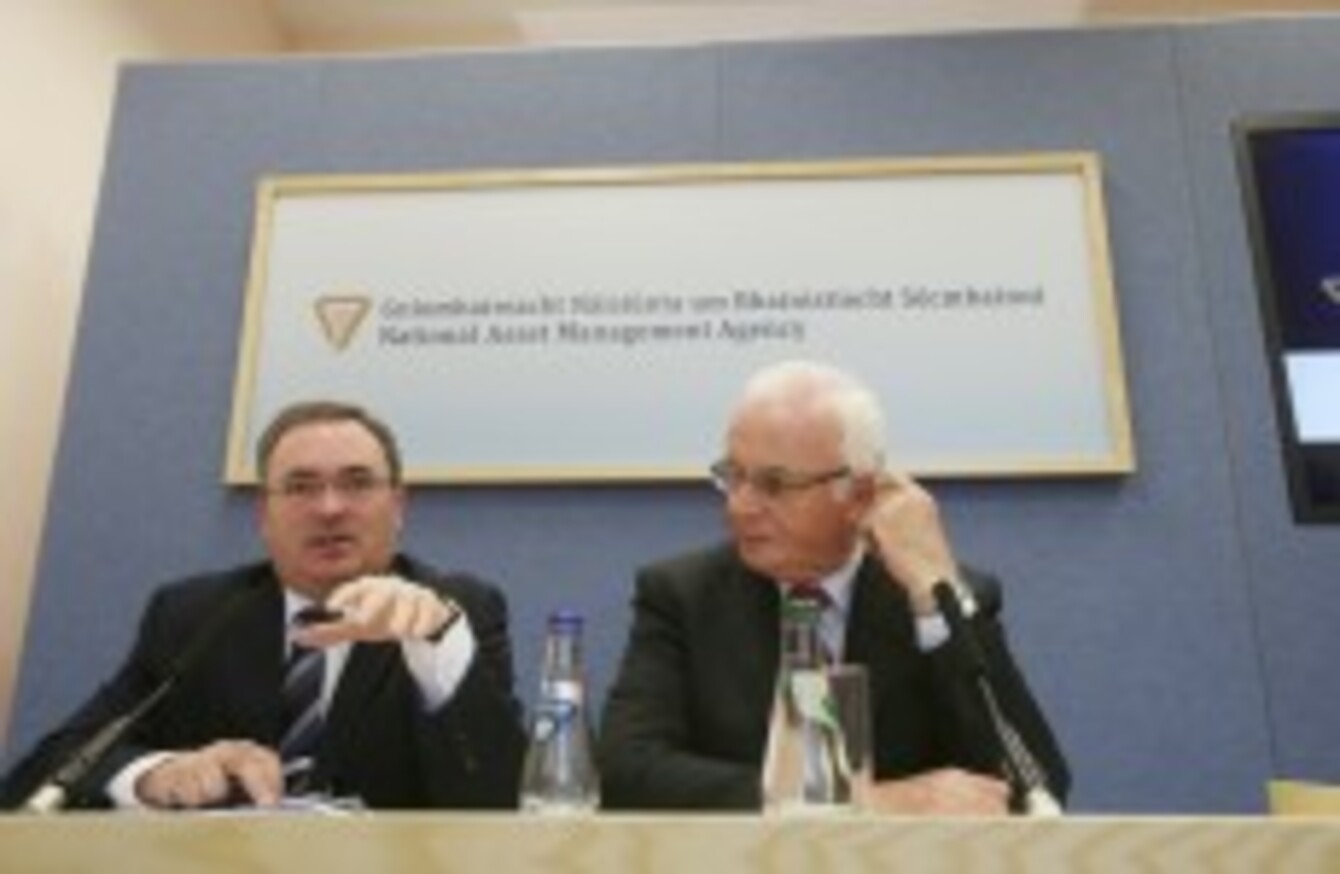 Image: Leon Farrell/Photocall Ireland
Image: Leon Farrell/Photocall Ireland
THE NATIONAL ASSET Management Agency has revealed that it pays 134 developers a total of €11 million every year in wages.
The average wage is €70,000 per year, with three developers pulling down €200,000 per year each.
The figures were revealed at the Public Accounts Committee today after questioning by Independent TD Shane Ross.
Nama chief executive Brendan McDonagh defended the cost, saying that fees for other service providers would be higher.
"The alternative is to remove the debtor, appoint a receiver, who will appoint an asset manager, and the costs will eventually be a multiple of that."
He said that in addition to the top three developers, 15 are paid between €150,000 to €199,000 per year, 36 are on a pay scale of between €100,000 and €149,000, 50 are pulling down between €50,000 and €99,000, while 30 are on €49,000 or less.
Auctioneer costs
It also emerged that the State's bad bank has paid around €144 million in auctioneers fees since it was set up.
The auctioneers fees relate to the disposal of around €14 billion worth of properties.
Ross rejected Nama's assertion that it had managed to achieve a competitive price for auctioneering services.
He said that NAMA's estimate that it had paid around one per cent of sale dividends "is very high, especially when you consider you've got the advantage of scale."
Nama also disclosed details of €52 million it paid to the banks it was acquiring loans from, which was used to pay staff within the banks to help NAMA administer the loans.
Political appointees
Ross also alleged that a recent appointee to the board of NAMA, who is a trustee of the Fine Gael party, is a "political appointment".
He said: "It's a political appointment of someone who has obviously been a political activist in the past."
He said that Nama's decision not to include the person's Fine Gael connections on her published CV was unfortunate.
"It's important to examine whether these appointments are being made regardless of political credit."
Nama chairman Frank Daly defended the appointment, while acknowledging the appointees role in Fine Gael.
"I look at the individual on the basis of their experience and skill set."
He continued: "I do not believe in any way that the Nama board has been politicised."
Bonus payments
Daly said that Nama is likely to pursue a meeting with Finance Minister Michael Noonan about better ways to retain staff at the agency, which does not currently pay performance-related bonuses to staff.
He said that some sort of incentive plan to encourage staff to stay with Nama was needed, as the employees have other opportunities within the job market. He said that the agency's inability to retain staff is "detrimental" to its work.
Given that Nama is working towards being wound up, he said that staff are being asked "to do their utmost in effect to work themselves out of a job."
Selling loans at a loss
Under questioning from Fine Gael TD Kieran O'Donnell, chief executive Brendan McDonagh admitted that Nama had made a loss on the sale of some loans it acquired when it was set up.
I'd love to be in a position to sell everything we acquired for more than we acquired it, but the reality is that the Irish property market dropped 25 per cent in the first three years after acquisition, and we still have to generate cash.
One particular portfolio, linked to loans in Northern Ireland was sold in two tranches for a total €1.8 billion after being acquired for €2 billion from the banks. The original value of the loans were €5.7 billion.
The state's bad bank paid a total of €32 billion for bad loans associated with lending during the country's property boom.
1916 site
In response to questions from Sinn Fein TD Mary Lou McDonald, Brendan McDonagh said that the agency had put aside €6 million for the potential development of the Carlton cinema site, which is viewed as a key battleground from the 1916 rising.
Plans to develop the area have been opposed by several groups, including the relatives of the executed leaders of 1916.